Wolfgang Van Halen's Heart-Wrenching Musical Tribute To His Father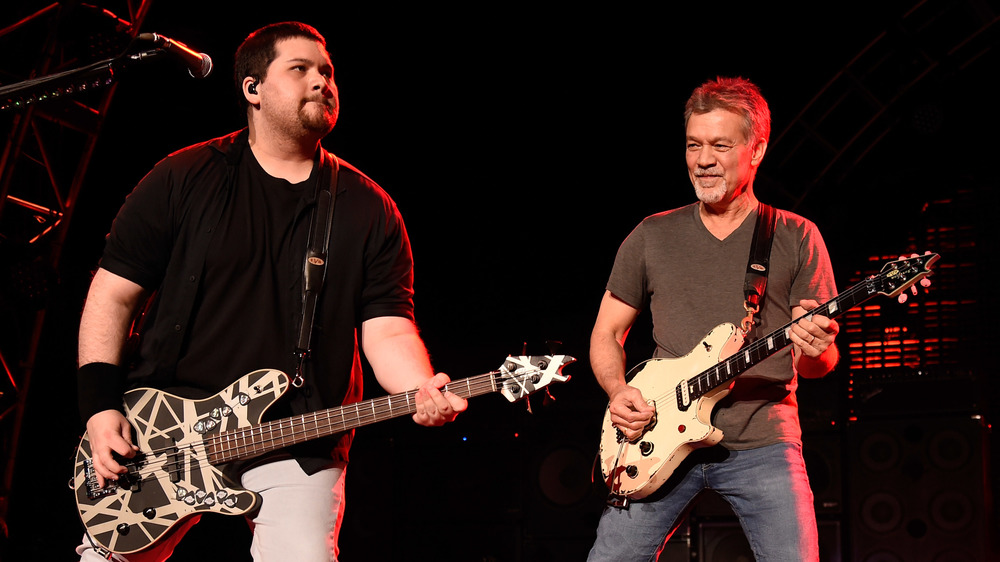 Kevin Mazur/Getty Images
Lots of kids aspire to follow in one of their parents' footsteps, but not everyone actually does it — and very few have the privilege of following in the path of a major music talent. Among the lucky few is Wolfgang Van Halen, son of rock legend Eddie Van Halen who died in October after a valiant battle with cancer (via NPR). The rocker's son, an accomplished bassist, joined Van Halen at age 15 in 2006 (via Ultimate Classic Rock), and continued to perform with them on tour in addition to working on his own solo projects.
Though his dad's marriage to actress Valerie Bertinelli was marred by infidelity and drug use before their divorce (per Today), the split didn't affect Wolfgang's relationship with his dad. The musical father and son were very close, and Eddie's death, while not unexpected, still devastated Wolf. On his Twitter feed, he wrote a message that read in part: "He was the best father I could ever ask for. Every moment I've spent with him on and off stage was a gift. My heart is broken and I don't think I'll ever completely recover from this loss."
Still, artists have a way of expressing their grief in beautifully creative ways, and Wolfgang Van Halen is no exception. As announced in Spin, he just released his first solo song and music video, "Distance," a loving memorial to his dad.
'Distance' includes Eddie Van Halen's last message
Written while his father was still alive but ill with throat cancer, Wolf's loving song says, "No matter what the distance is, I will be with you/No matter what the distance is, you'll be okay." The official video includes heartwarming home videos spanning Wolfgang's life with Eddie from infancy to young adulthood.
But the real kicker comes at the very end, when the music fades and a voicemail from Eddie comes on: "I'm so happy to have you as my son, and I'm so proud of you. I love you so much. Call when you get a chance; I just want to hear your voice, okay? I love you (kissing noise)." Wolfgang, 29, said in a statement (as reported by USA Today) that his "incredibly personal" song was something most people would identify with. "I never intended 'Distance' to be the very first piece of music people would hear from me, but I also thought my father would be here to celebrate its release," he added. "This is for him. I love and miss you, Pop."
Proud mom Valerie Bertinelli posted her own reaction to her son's touching tribute. In a tweet Monday night, she said, "Watching Distance video for the millionth time and the overwhelming feeling of wanting to go back in time is hitting me hard right now." Wolf replied, "Love you, Ma."
Pass the tissues.