Inside Tori Spelling's Relationship With Tiffani Thiessen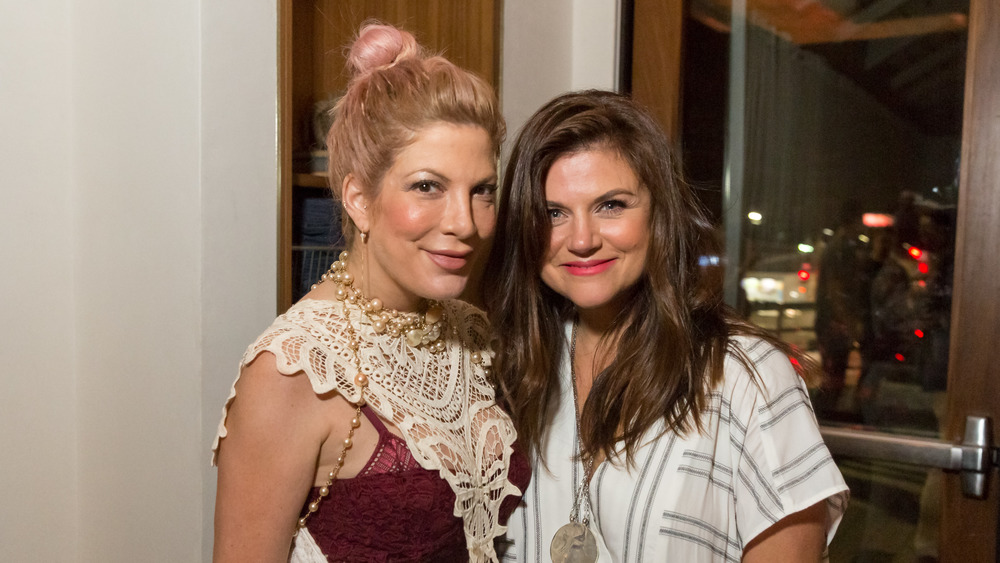 Greg Doherty/Getty Images
The year was 1994, and actress Tiffani Thiessen — then known to fans as Tiffani Amber Thiessen — would join the cast of Beverly Hills, 90210, playing Valerie Malone (via Today). Tori Spelling, the daughter of the show's creator, Aaron Spelling, had already been playing Donna Martin for four years (via IMDb). It seems on set all was fine between the two actors — they were even friends. But Thiessen and Spelling had a "falling out" according to the brunette beauty, which she spoke about in a 2012 interview with Howard Stern (via Bustle).
"Our kids go to the same school, and she's moved on," the actress also told Stern, adding, "I'm glad she's happy, and she's having tons of kids and she's great. I'm happy for her." Meanwhile, Spelling shared her side of the story in a 2010 interview with Ryan Seacrest, saying, "She doesn't talk to me anymore." So what happened to drive the two now-moms apart?
Tiffani Thiessen apparently didn't agree with how Tori Spelling handled her divorce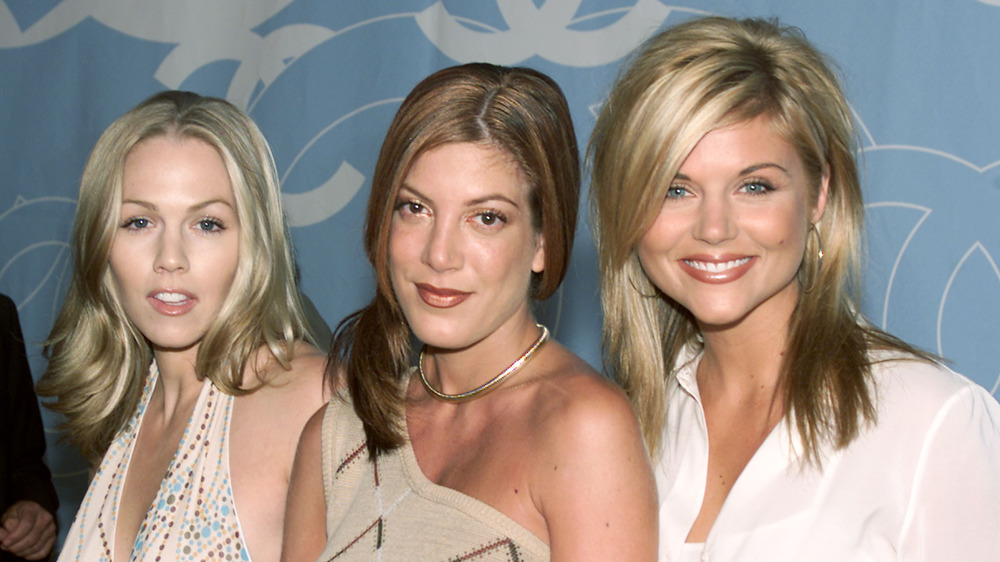 Kevin Winter/Getty Images
According to Us Weekly, when Spelling cheated on her first husband, Charlie Shanian, with her now-husband, Dean McDermott, in 2006, "[Thiessen] took Charlie's side over Tori's." Thiessen admitted to Stern about the couple's split, "It was a hard situation for everybody. We were close with Charlie... my best friend was Charlie's roommate. It was hard" (via Page Six). But she insisted she was the one who got hurt by Spelling, not the other way around.
No matter who hurt whom, the bad blood flowed for many years, with Spelling appearing on an episode of RuPaul's Drag Race in 2017 along with fellow 90210 alum Jennie Garth, and referring to Thiessen, saying, "Yes, we know her as 'That which we don't speak of.'"
Okay. So, it seems the relationship between the two women may not be 100 percent patched up, but at least they haven't spoken ill of one another in some years — at least in public. Meanwhile, Thiessen did not join the Spelling-helmed reboot of the show, BH 90210, due to "scheduling conflicts."