Ariana Grande's 34+35 Music Video Had An Unexpected Inspiration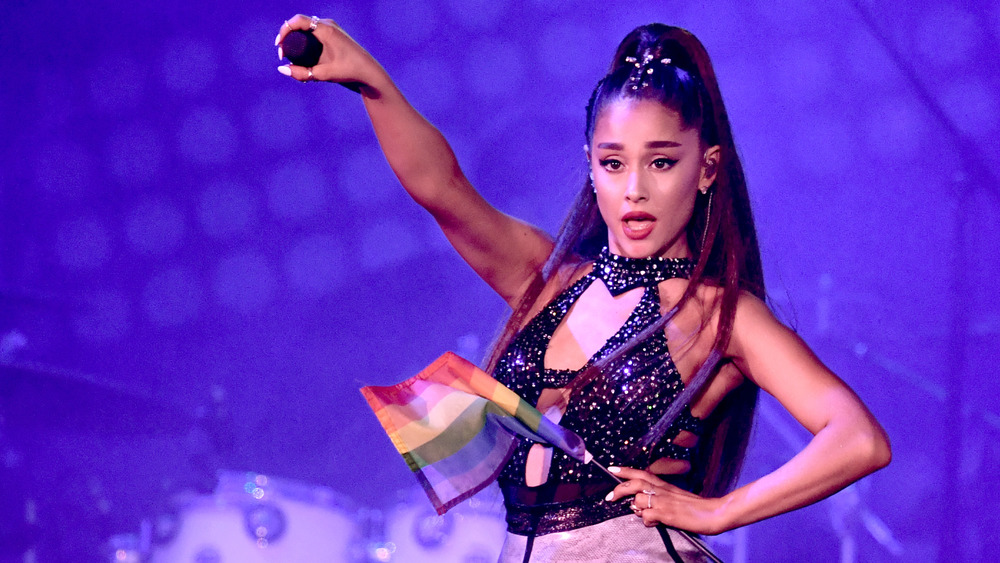 Kevin Winter/Getty Images
Not content with playing the literal President of the United States in her previous music video, "Positions," the titular track off of her latest album, singer-songwriter Ariana Grande has re-imagined herself as a scientist working in a robotics lab for her latest output, "34+35." Naturally, the effortlessly glamorous pop star is wearing a flattering lab coat and some huge platform heel boots while conducting her all-important research, because she's still Ariana Grande. 
With the video released on Nov. 17, 2020, "34+35" is one of the raunchiest songs on her Positions record (but we'll leave it to you to do the math). "I just think it's ridiculous and so funny and stupid," Grande previously told the Zach Sang Show of the tune. "We heard the strings that sounded so Disney and orchestral, and full and pure. And I was just like, 'Yo, what is the dirtiest-possible, most opposing lyric that we could write to this?'"
That said, the accompanying video is enjoyably silly. The musical clip sees Grande studiously taking notes behind a coronavirus-appropriate screen while, on the other side, an equally-glamorous looking robot version of the pop star sputters as she tries in vain to bring it to life. There are dance routines aplenty, of course, and everybody looks sleek and fabulous. But in spite of the video's many cool touches, its ending has a decidedly goofy feel — primarily because of its obvious inspiration.
Ariana Grande is feeling groovy, baby
The Director X-helmed video for "34+35" finishes with the robot version of Ariana Grande finally waking up and turning the singer herself — along with her lab colleagues — into sexy robots, too. Their look is undoubtedly a reference to the fembots that feature prominently in the Austin Powers movies (it's unclear whether the Grande varieties have guns hiding in their steel breasts, however). They're clad in fluffy nightgowns with big hair in an ode to the James Bond-skewering movies, in which the titular character ultimately defeats the fembots by, well, being sexier than them.
"The thing about this song that has been my fear since the beginning," Grande said of the seductive track on the Zach Sang Show, "is that it would distract from the vulnerability and the sweetness that is the rest of the album." But we have no doubt the pop star's fears will prove to be unfounded. 
"34+35" is the sophomore single off her sixth studio offering, Positions, which was released on Oct. 30, with the titular track featuring its own instantly iconic video directed by Dave Meyers. Indeed, Grande has proven herself to be a remarkably fast worker when it comes to releasing new music, as her previous effort, thank u, next, only came out in February 2019. Given her new choice of career in this latest video, fans are joking that the glam singer is cycling through each Barbie job. We'll just have to wait and see which one she chooses next.