How Michelle Obama Reacted To Barack Winning The Nobel Peace Prize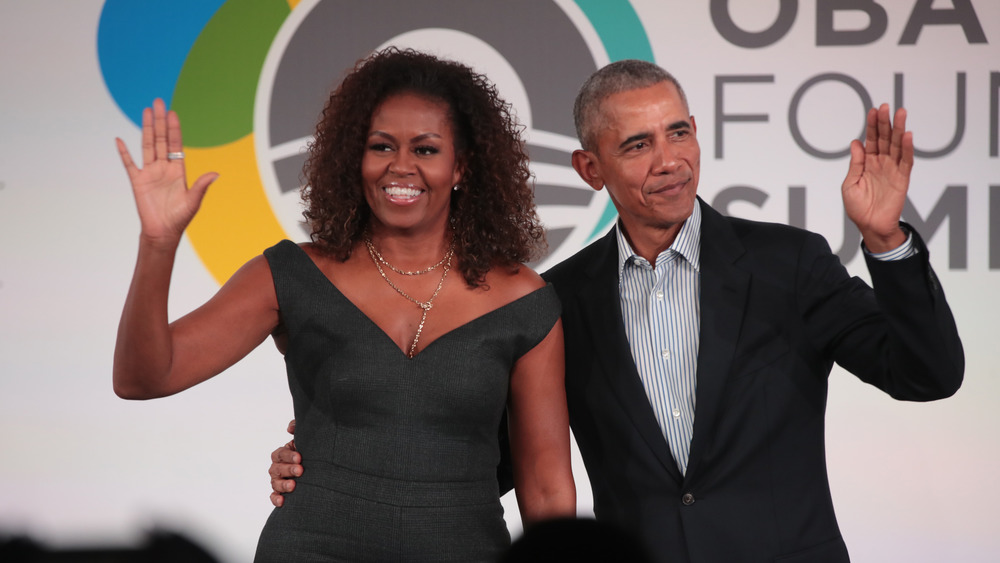 Scott Olson/Getty Images
When it comes to former President and First Lady Barack and Michelle Obama, they are definitely couple goals, and not just because, as a recent article in Vogue pointed out, that during his historic election night win in 2008, Barack adoringly said, "I would not be standing here tonight without the unyielding support of my best friend for the last 16 years, the rock of our family, the love of my life," but more so because the seemingly "perfect" couple are both vocal about how there's no such thing as a fairy tale romance and all marriages take hard work to succeed.
Earlier this week, the former POTUS released his new memoir A Promised Land, confirming what Michelle Obama wrote in her own book from 2018, Becoming, that the Presidency put a huge strain on the couple's relationship, and in revealing that, they have, as Vogue points out, "redefine[d] what #couplegoals look like—not glossy, uncomplicated romance but an enduring partnership, complete with highs and lows."
A repeating theme in Obama's new book, in relation to his relationship with the matriarch of his family, is that her indifference to what USA Today called the "pomp and pageantry" of all things political served the vital role of keeping him grounded and focused on what was important. A perfect anecdote to exemplify that is how Michelle Obama reacted when her husband told her he had won the Nobel Peace Prize.
Michelle Obama was perfectly nonchalant when Barack Obama got the news he won the Nobel Peace Prize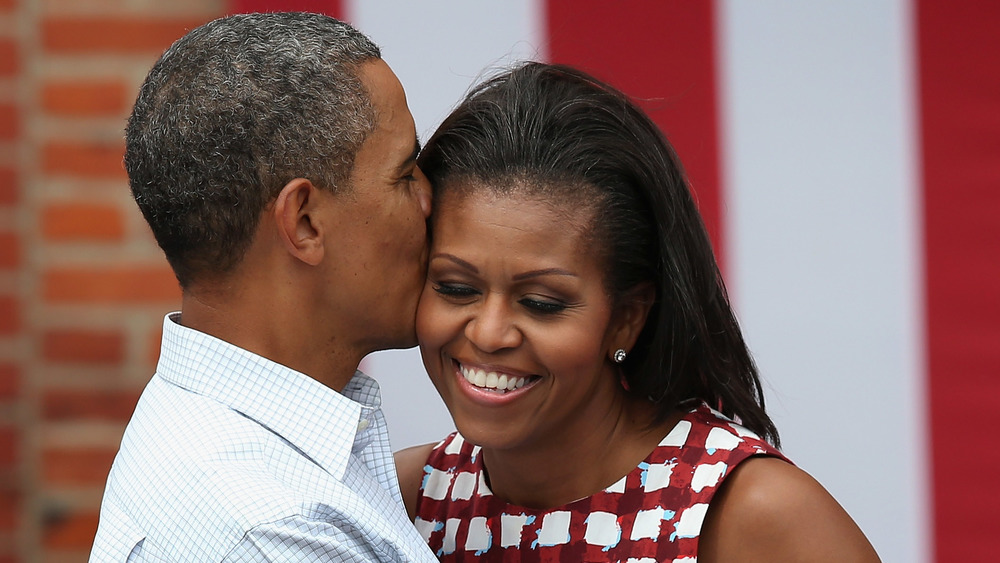 Scott Olson/Getty Images
In A Promised Land, Barack Obama recalls the adorably hilarious interaction between the former first couple when he awoke to an early morning phone call in 2009 revealing he was awarded the Nobel Peace Prize by the Norwegian Nobel Committee. Praised for his "extraordinary efforts to strengthen international diplomacy and cooperation between people," in light of the wars in Iraq and Afghanistan, the award was a high honor for a president barely a year into his first term. In an exchange every long-time married couple can relate to, Obama wakes his wife telling her, "I'm getting the Nobel Peace Prize." And what does the former First Lady do? She tells him, "That's wonderful, honey," before rolling over and going back to bed (via Fox News).
Barack Obama doesn't gloss over the fact that he put his family through a lot during his political career, and the theme of his memoir which in its dedication reads, "To Michelle—my love and life's partner," comes back to the fact that his wife in what he perceived as her ability to look past his accolades and the prestige of the Presidency kept his ego in check and always made him question his motivations to the benefit of his family and the American people (via Vogue).