The Truth About Julianne Hough And Nina Dobrev's Relationship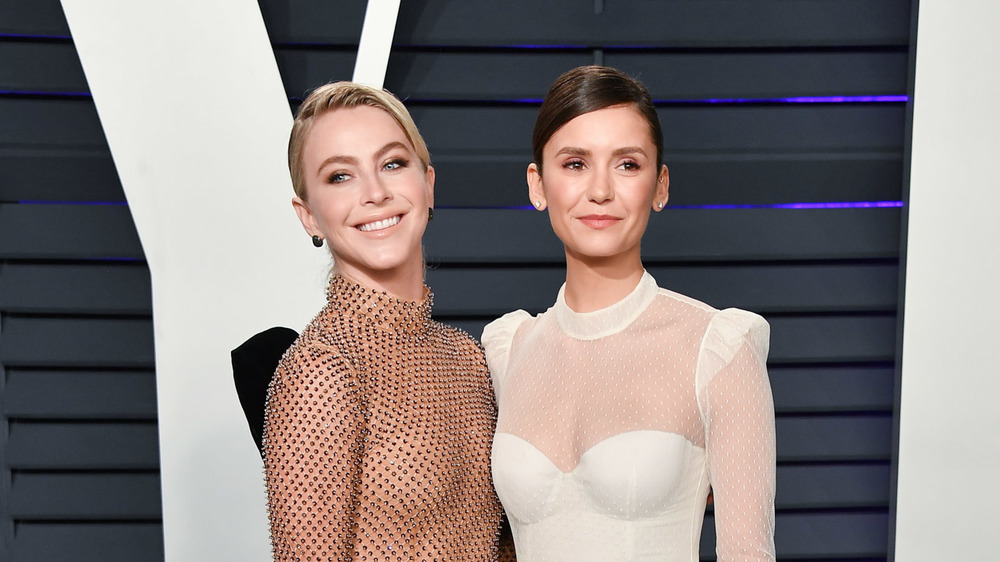 George Pimentel/Getty Images
When it comes to Hollywood besties, Julianne Hough and Nina Dobrev are about as adorable as it gets. The pair have been there for each other during heartbreak, gone on plenty of adventures, and constantly show their support and love for one another on social media. They're pretty much the epitome of strong female friendship — and we love to see it.
It all started in 2012, when they met through their hairdresser. "We've known the same person, Riawna Capri, who cuts and colors and does our hair," Hough told E! News in 2013. "She's like, 'You guys have to meet.' We've just been like joined — connected at the hip." 
They haven't worked together professionally — yet — but Dobrev once came pretty close to joining Hough on Dancing With the Stars. In 2015, a source told Hollywood Life that Hough would have been thrilled to have the Vampire Diaries actress on the show as a celebrity contestant. The source confirmed that Dobrev had officially been asked to join the dance competition, but it never materialized. That might've been for the best, as Dobrev would have been paired with Hough's brother and her ex-boyfriend, Derek Hough.
They have similar personalities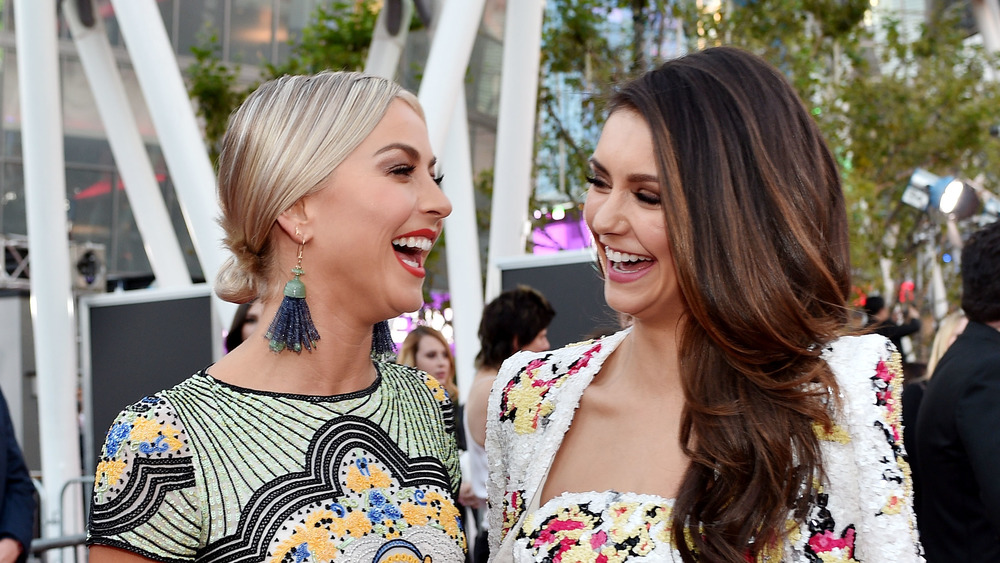 Stefanie Keenan/ama2015/Getty Images
Like many best friends, Hough and Dobrev have bonded over common interests and outlooks on life. When she covered the mag in 2013, Dobrev told Cosmopolitan: "It's been cool to find an active buddy—there are lots of girlie girls around. We don't talk about makeup; we talk about life."
That doesn't mean they always take themselves seriously, though — in fact, it's quite the opposite. The pair have been known to share silly photos of each other on social media, like in this Instagram post from Nina Dobrev earlier this year. The photoset shows the two ladies in Mammoth Mountain, where they're striking funny poses, laughing, and hugging each other. In one image, Dobrev lifts her leg in the air while leaning against Hough. In the caption, she wrote, "I can't believe this is illegal now." Hough then responded, "That leg has always been illegal."
In 2018, the pair spoke about their similarities in an interview for People's Beautiful Issue. "We are goofy, we like to laugh, we like to play with our dogs and hang out and watch movies and get ready together and go places together," Dobrev told the magazine. "We just like to be around each other."
They have always been there for each other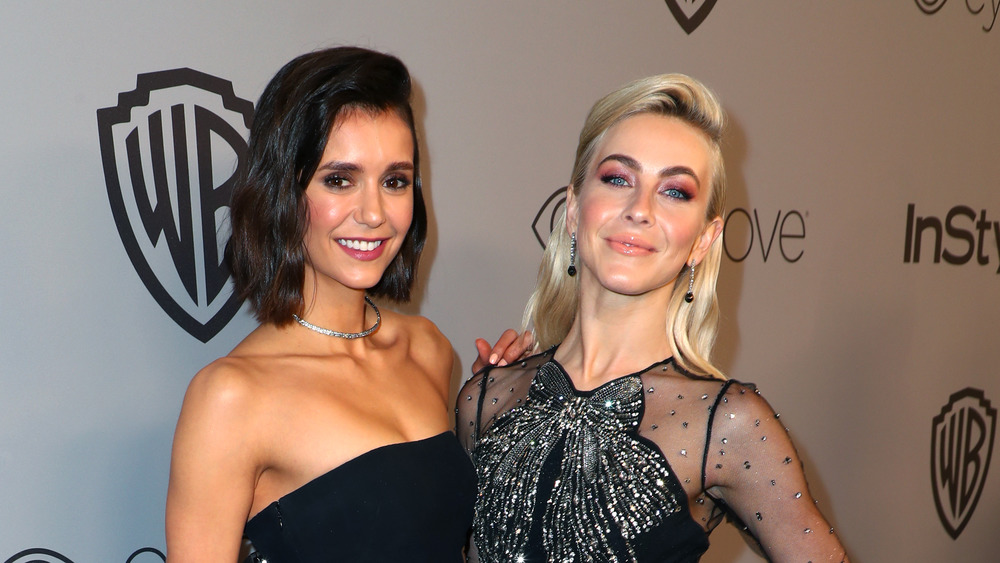 Joe Scarnici/Getty Images
Hough and Dobrev have been there for each other throughout life's most important moments. Dobrev served as a bridesmaid in the wedding of Julianne Hough and Brooks Lainch, later gushing about the experience in an Instagram post. "I love you dearly, and I'm honored to have had the pleasure of being your bridesmaid, Jules," she wrote in the caption. "I'm so happy I could be a part of celebrating your special day, and couldn't be happier that you're MARRIED."
They've also shown up for each other when times were tough. In 2019, Hough rushed to Dobrev's side when she was hospitalized for a severe allergic reaction, Good Morning America reports. Dobrev fully recovered, and later shouted out her friend for being there for her. "Jules was with me and the doctors at Cedars were AMAZING so back at home now, and I'm OK," she shared on social media.
Hough also left the launch party for her new single to be there for her bestie, Dobrev revealed on the Chicks In The Office podcast in 2019. "She was having a launch party and this whole thing, she performed it for the first time," the actress said during the interview. "And I didn't realize that that was that night and I was going through something and I texted her and she literally left her own launch party to come, like, be the shoulder for me to cry on at my house... that's a best friend. That's a true friend."