Here's Why Farmhouse Sinks Aren't All They're Cracked Up To Be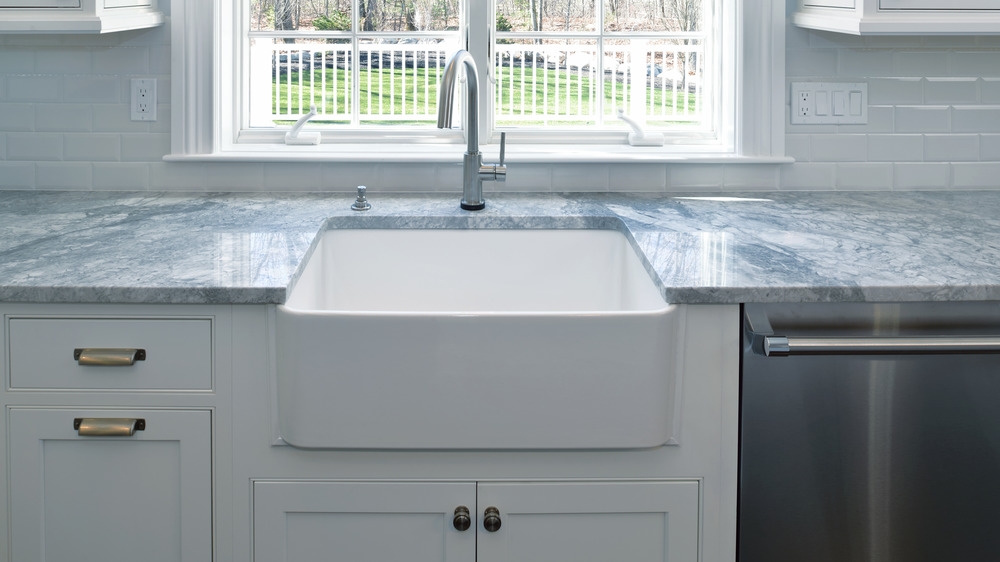 Shutterstock
If you have ever dreamt of redesigning your kitchen, you've probably drooled over pictures of deep-basined, spacious farmhouse sinks. Farmhouse sinks have a rustic, old world feel and they've been a trendy kitchen item for several years now, but there are several things to keep in mind before you take the plunge and get one (via Real Simple).
The deep basin is one of the features that makes a farmhouse sink so popular, but, according to Real Simple, because of that design feature, you're likely to accidentally break more glasses or dishes than with a regular sink. If you're washing dishes and something slips, it has farther to fall and making for a higher chance of breakage. If you're investing in a farmhouse sink, you should also invest in a sink protector (via Southern Living).
As far as cleaning goes, designer Sara Cannon told MyMove that, "because farmhouse sinks are set into the counter, it makes for easy and seamless cleanup." But it's not all sunshine on the cleaning front.
Farmhouse sinks can be a challenge to integrate into your current setup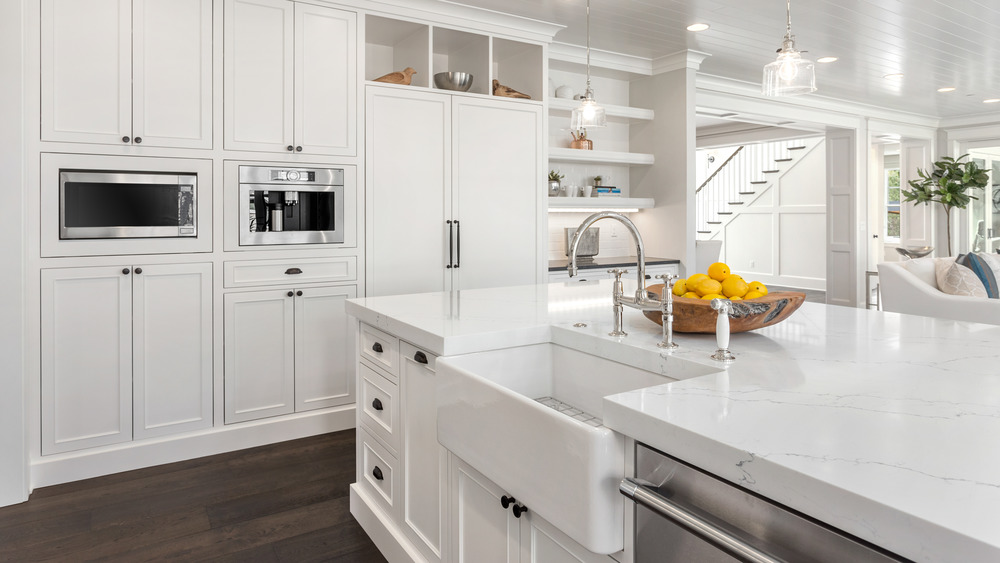 Shutterstock
For the classic white porcelain farmhouse sinks, the sink itself may be more prone to staining and it will easily show dirt (via Real Simple). Each material used for a farmhouse sink has its pros and cons. Some things to consider, according to design blog Annie and Oak, are that stainless steel ones may be more likely to scratch, and copper or cast iron ones have a much higher price point.
You can't go just on looks and price point alone; you should figure out if you can safely install one. Since they're so big, they're often quite heavy. Before installing, you need to make sure the cabinets beneath the sink are strong enough to support the weight of not just the sink, but the water when the sink is full (via Chicago Tribune).
That's not to say you should shelve your farmhouse sink dreams, just make sure you realize what you're getting yourself into.