Hilaria Baldwin's New Photo Of Her Rainbow Baby Has People Talking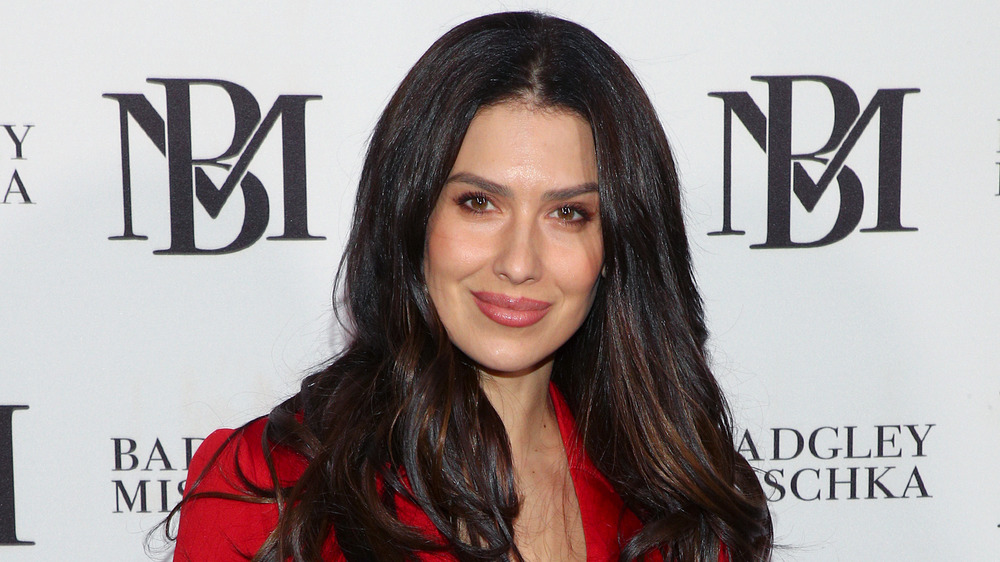 Astrid Stawiarz/Getty Images
Coming off of a gnarly ankle break, Hilaria Baldwin is finding a reason to be grateful. The new mom of five took to Instagram to share a sweet photograph of her rainbow baby, whom she welcomed earlier this year (via People). A rainbow baby is a baby born after miscarriage, stillbirth, or loss (via Parents). Baldwin, who is married to actor Alec, suffered a miscarriage at four months pregnant last year (via USA Today). She also lost another baby earlier in pregnancy the same year.
Happily, Baldwin announced she was expecting again post-loss in April, and the family was blessed with baby Eduardo Pau Lucas in September (via Us Weekly). Alongside a photo shared just days after the yoga teacher announced she'd injured herself while out running, the mama said, "My rainbow baby was touched by a rainbow from a prism in the window yesterday...I'm so happy you are here." The image shows baby Eduardo, nicknamed "Edu" wearing all white, smiling, while a rainbow dances across his belly.
The rainbow baby theme is very meaningful for many parents
Many celebrity friends commented on how cute Hilaria Baldwin's baby is, including Katie Couric and Rosie O'Donnell. But for moms who have also welcomed rainbow babies, the image is far more meaningful. Rainbow pregnancies and babies have inspired countless rainbow-themed photo shoots featuring the colorful symbol as a way of celebrating the beauty that can come after the storm of very painful and life-altering loss (via Today's Parent).
It's important to note that welcoming a rainbow baby can be a very emotional experience for parents, with rainbow mom, parenting coach, and lactation consultant Leigh Anne O'Connor telling Romper, "Parents who have a rainbow baby may have conflicting emotions, great joy for this new baby, fear of losing this baby who is here, and in some cases there can be guilt feelings."
There's no doubt plenty of parents can relate to all of those emotions. Meanwhile, here's wishing Baldwin continued joy with Edu as she recovers from her ankle break at home.