Donald Trump Jr.'s COVID-19 Diagnosis Has People Talking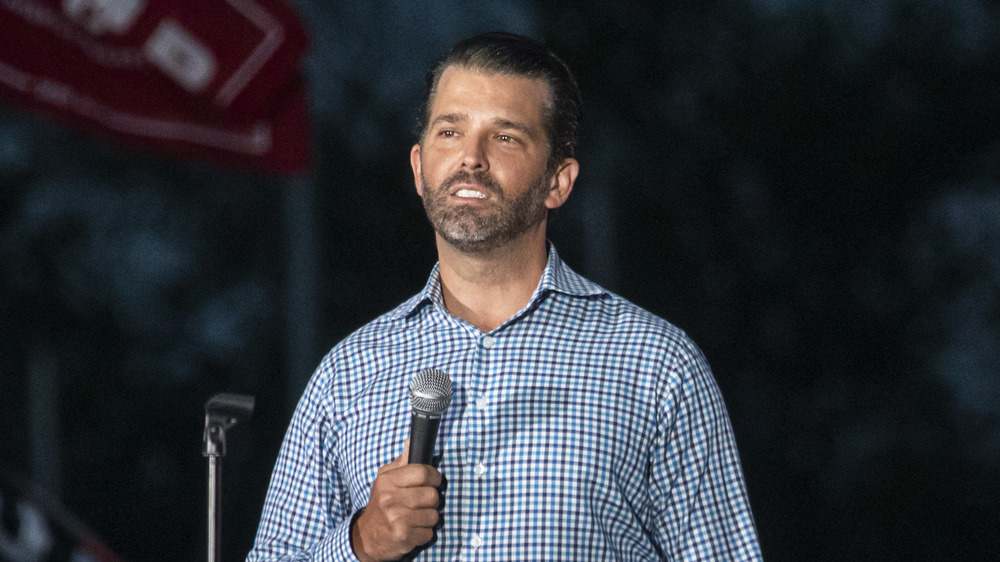 Scott Legato/Getty Images
It might feel like years since President Donald Trump, First Lady Melania, and youngest son Barron tested positive for COVID-19, but with all three fully recovered and back on their feet, there is news that another member of the Trump family has tested positive for the virus. A spokesman for Donald Trump Jr. said, "Don tested positive at the start of the week and has been quarantining out at his cabin since the result. He's been completely asymptomatic so far and is following all medically recommended COVID-19 guidelines."
As it reported Don Jr.'s diagnosis, NBC said the president's oldest son was also was part of a group of more than 100 people who was at his father's election night party. He's also since been on the road at meetings to talk about his father's election loss. Other people at that party who have had coronavirus and have since recovered include Housing and Urban Development Secretary Ben Carson, White House Chief of Staff, Mark Meadows, and a number of other Trump campaign aides (via NBC). Don Jr.'s girlfriend Kimberly Guilfoyle also tested positive back in July.
Within minutes of the announcement, Donald Trump Jr. was trending on Twitter, with memes aplenty claiming the top spots.
Donald Trump Jr. has said controversial things about the pandemic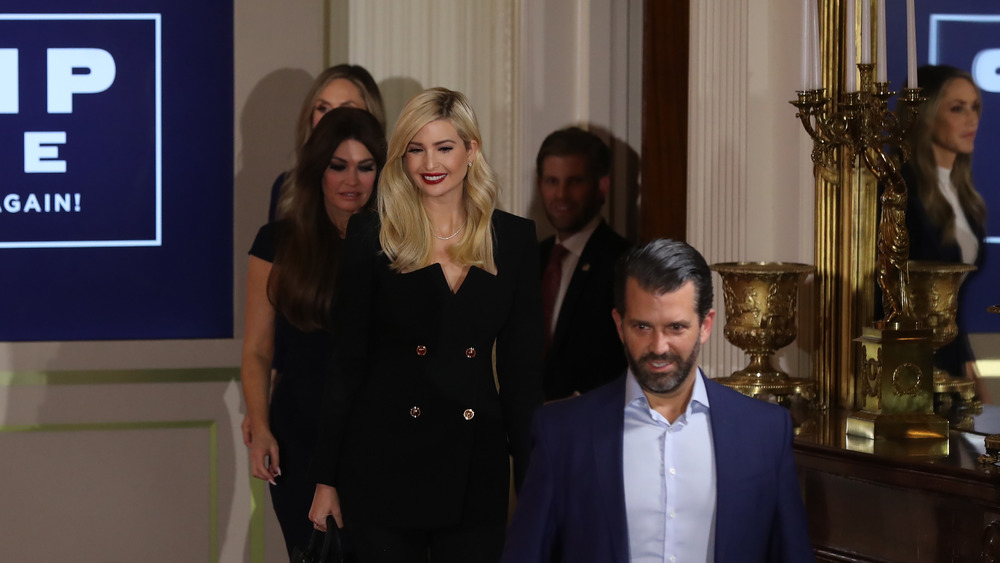 Chip Somodevilla/Getty Images
Donald Jr. has made quite a few controversial comments about the pandemic while he campaigned for his father. Just before the election, on October 30, Trump's eldest son was on Fox News saying, "... I went through the CDC data because I kept hearing about new infections but I was like why aren't they talking about deaths — oh, oh, because the number is almost nothing" (via Vanity Fair).
He went on to say: "Because we've gotten control of this thing, we understand how it works, they have the therapeutics to be able to deal with this. If you look at that, look at my Instagram, it's gone to almost nothing. We're outperforming Europe in a positive way so well because we've gotten hold of this." 
He also addressed his father's Democratic party rivals, by saying, "That's all they've got so they gotta put fear — they want to shut down the country. Why don't we just shut down for 10 or 15 years, Laura, why don't we do that? Your kid can learn on their iPhone, they can go to school on their iPhone for the next five years, I'm sure that won't affect their education."
Since then, there's been a 73 percent increase in the average number of cases reported per day, and a 63 percent increase in the daily number of deaths. Today, nearly 12 million people in the country have been infected, and at least 253,000 have died (via The New York Times).