Kamala Harris Reveals Her Secret To The Perfect Thanksgiving Turkey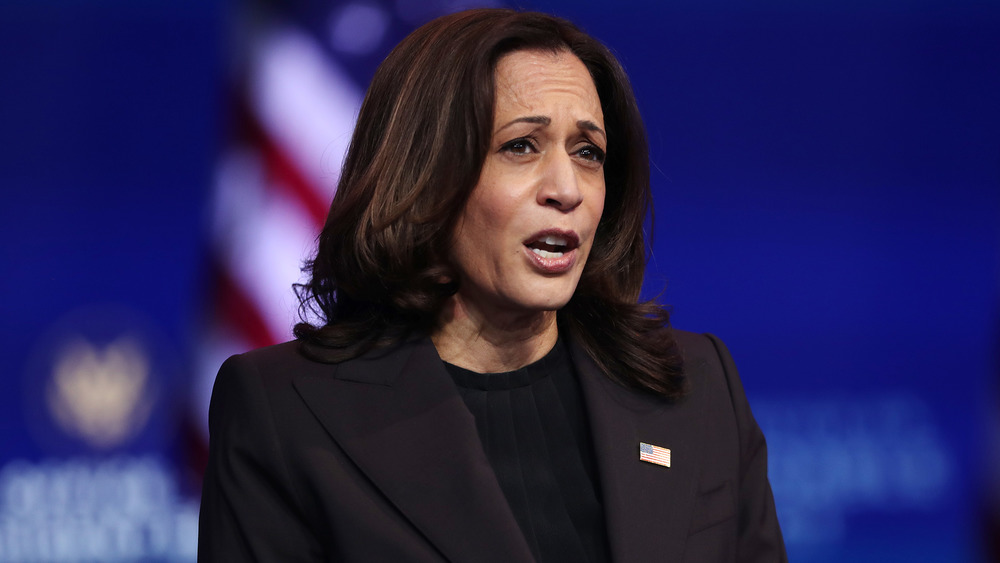 Joe Raedle/Getty Images
Vice President-Elect Kamala Harris isn't just a political powerhouse, but also quite the pro in the kitchen. Harris learned to cook as a child from her mother and a neighbor, who she thought of as a second mother. "My mother used to tell me, 'Kamala, you clearly like to eat good food," she told Glamour. "You better learn how to cook.'"
Many people might struggle to cook the perfect turkey for Thanksgiving, but you won't find an underseasoned or dry turkey on Harris' Thanksgiving table. Harris actually revealed her secret to the perfect Thanksgiving turkey last year, although her viral hack has been making the rounds again this year as the holiday approaches. Harris shared her recipe with Washington Post journalist Jonathan Capeheart during a 90 second break between interviews, right before appearing on PoliticsNation, and Capeheart tweeted her response.
"How much does @KamalaHarris like to cook?" he wrote in the caption of the video. "She answered my husband's ? about brining a turkey about 1 min before going on [air]. I recorded her response 'cause I don't cook and she was speaking a foreign language. Face with tears of joy #kamalacooks."
Kamala Harris' Thanksgiving turkey is all about the brine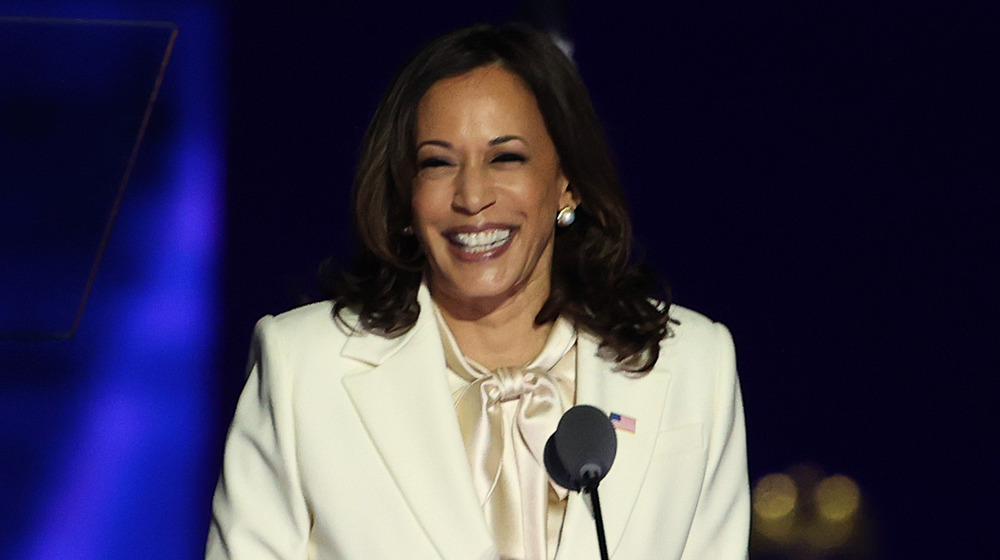 Tasos Katopodis/Getty Images
Harris' no-nonsense approach to cooking a turkey is no less than we'd expect from the soon-to-be VP. Harris recommended starting with a fresh turkey, using "a pot of water, couple bay leaves, a little sugar, a little cup of peppercorns, you could even do a slice of orange — something like that" for a wet brine — if you have the time for that.
Harris pointed out that "a dry brine is easier," though, recommending brining for a minimum of 24 hours, although "48 hours is best, if you have the time." For the dry brine, Harris said to cover the bird in salt and ground pepper. "The salt and pepper all over it, just like lather that baby up, on the outside, in the cavity," she said.
Harris also advised seasoning under the turkey's skin. "Mix [the salt and pepper] up with some thyme, a little rosemary if you want," she said. "[Put it] under the skin with some butter, before you're going to cook it, so that that butter will just melt in there. And then get a nice big bottle of cheap white wine to baste with butter."