Barack Obama Reveals How The Pandemic Has Changed Malia And Sasha's Relationship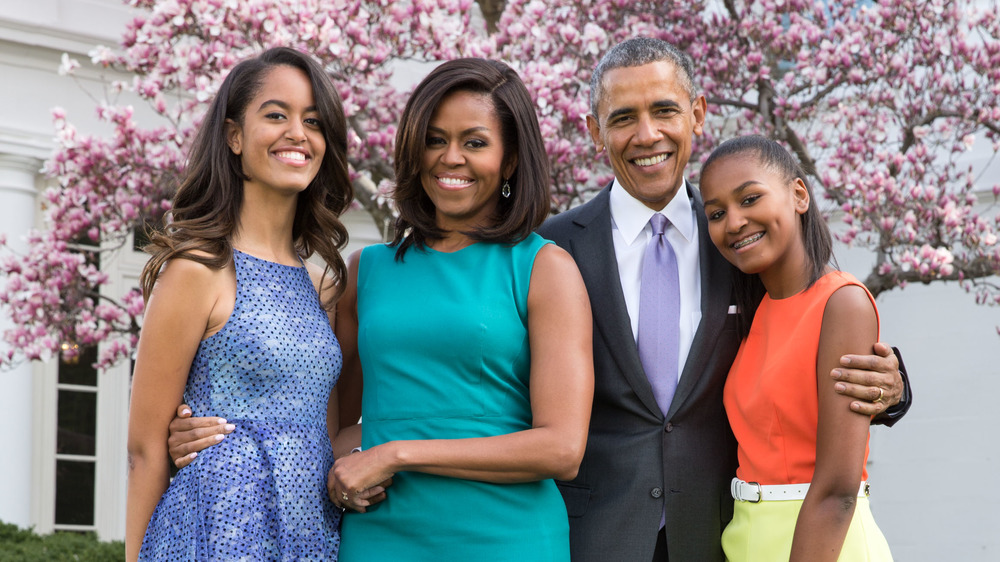 Handout/Getty Images
Before the COVID quarantine, Malia Obama was kicking it up at Harvard with her uber-rich British boyfriend, smoking cigarettes outside of Cambridge sandwich shops (via The Daily Mail). "No longer facing that same scrutiny — being able to let all of that leave your mind, creates so much more space," Malia said in her mother, Michelle Obama's Netflix documentary (via Elle). For her part, Malia's younger sister, Sasha, who's studying at the University of Michigan, is busy making waves on TikTok with her undeniable rapping abilities (via E!). And it seems that both of them have used the COVID-19 lockdown to bond.
At least, that's what their dad, says. Barack Obama recently told People that "for Michelle and me as parents, to have this bonus time where your kids are having dinner with you every night and we're playing games and watching movies together." Obama further mused that, "I think part of what's been also wonderful is seeing Malia and Sasha become such great friends."
How the Obama family weathered the COVID-19 quarantine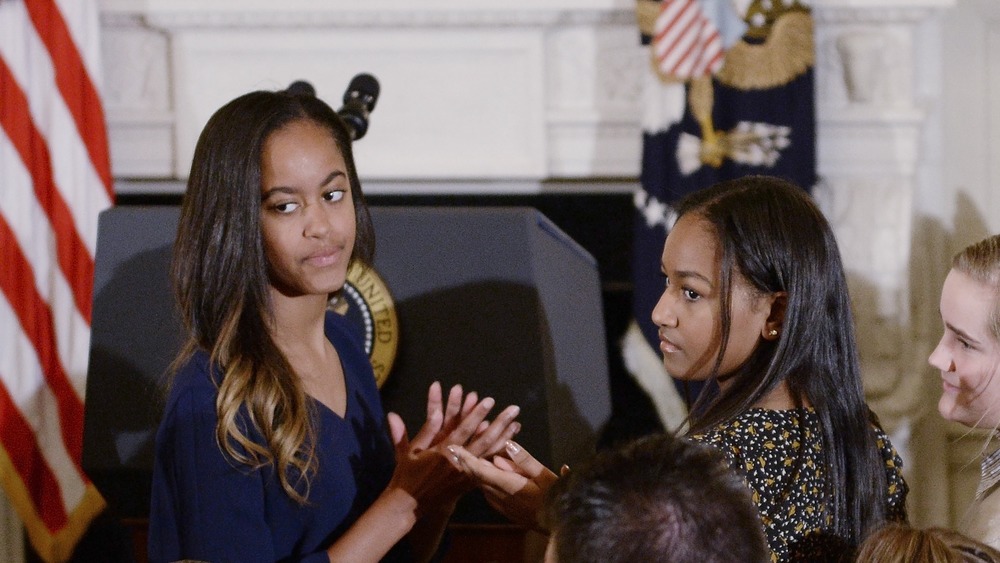 Pool/Getty Images
Michelle Obama described how her family was passing COVID-19 quarantine earlier this year to Conan O'Brien (via Elle). "There was sort of the early stages where we were all being organized and we would spend the days apart doing our respective work," she said, "The girls were still in classes in the spring, and so we would be working and then doing a little exercise, and then come together in the evenings. We would have these activities. We would have cocktails, and then we would work puzzles, and play games." Later in the summer they went to stay in Martha's Vineyard, where they "could be outside a little more." And, when September started, Malia and Obama returned to classes in "Zoomland." "They're no longer thrilled about being with us," Michelle Obama reflected.
What kind of games brought the Obamas together during quarantine? "So Barack has taught the girls spades, so now there's this vicious competition," Michelle explained via her podcast in August (via The Guardian). And yet, the family remained united. "Now [Sasha and Malia are] both old enough, where they just enjoy each other's company," Barack told People, "and to be together as a family and see how they've become these marvelous young women — there's been no greater joy than that."