Diamond Expert Reveals How Expensive The RHOSLC's Rings Really Are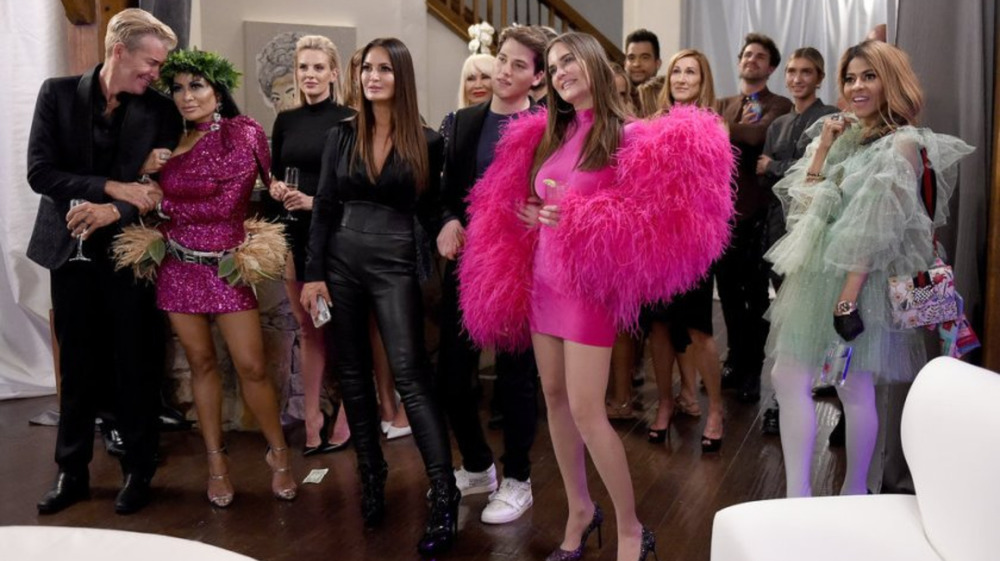 Bravo
The Real Housewives of Salt Lake City is the latest addition to Bravo's unstoppable Real Housewives franchise. The stars of RHOSLC  — Jen Shah, Whitney Rose, Heather Gay, Lisa Barlow, Meredith Marks, and Mary Cosby — seem, on the surface, like the usual types that populate these shows. They're loud, glamorous, wealthy, and more than willing to engage in on-screen drama. One lady picks up fast food in her Porsche, another celebrates a wedding anniversary with a sexy striptease, and a third is even married to her step-grandfather.
The big difference with this gaggle of gals, though, is they're all members of the conservative Church of Jesus Christ of Latter-day Saints or were at some stage. Living in Salt Lake City is inherently different to, say, Beverly Hills or even Potomac. Still, that doesn't stop them flashing the cash, as evidenced by their impressive collection of blinding jewelry. Michelle Demaree, founder and CEO of Miss Diamond Ring, spoke to The List about the ladies' stunning bling.
Meredith Marks knows what she likes
Chicago native Marks is a jewelry designer herself, so it makes sense her own wedding ring is nothing short of spectacular. Demaree advises hers is an "iconic Harry Winston style Cushion with Tapered Baguettes, creating a three-stone ring." Marks' main stone is around "3.5 to 4 carats," according to Demaree, "with 15 to 20 point baguettes on each side." Given that Marks' stone is not colored, Demaree reckons it's "most likely an E or F color, and easily in the six-figure price range." She describes it as a "classic look" for the glamour-puss.
On her tumultuous marriage to husband Seth, which is detailed on season one of the show, Marks told ET, "Seth and I met, we met when we were 23 years old. We have grown up together, so no matter what happens between us, we are always, like, childhood friends almost, in a weird way."
Lisa Barlow believes more is always more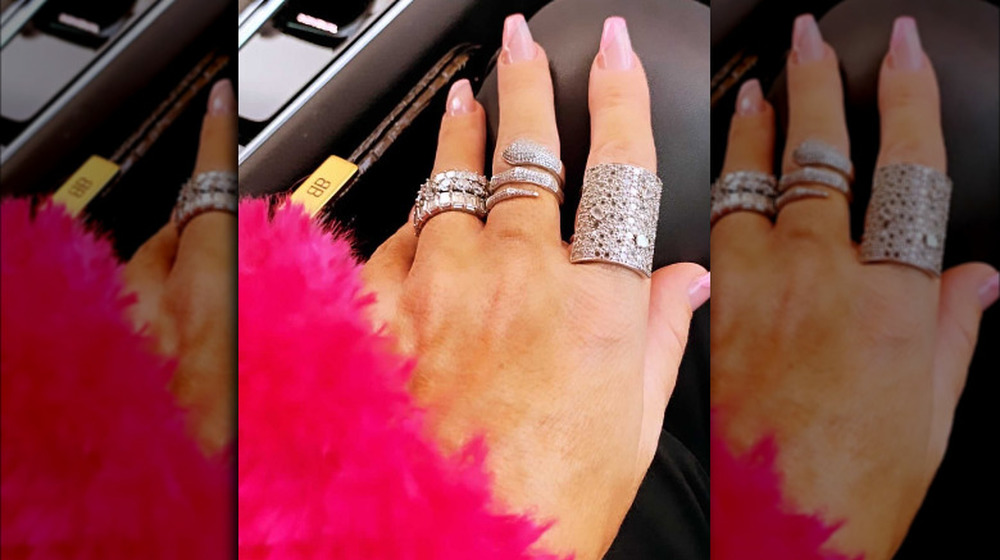 Provided by Michelle Demaree
When it comes to jewelry, Barlow definitely subscribes to the idea that more is more. Demaree advises she typically sports "three large, stunning diamond rock eternity bands, two round brilliant cut rings and one emerald cut ... [which is] around 1/2 carat — 75 points for each stone, which means just one of those bands has likely 8 to 10 carats, making it easily mid two-figures in value." As she explains, "Emerald cuts need to be high quality to give off the glam."
The RHOSLC star, similar to castmate Marks, sports a trendy colorless ring, which is "in the VVS 1/2 range, meaning it's nearly perfect quality." Elsewhere, Barlow's "round brilliant eternity bands (one medium and one large) add approximately 7 to 8 carats in diamond weight to her hand, and are likely also near colorless with top cut grade for maximum sparkle." These stunning rings totaling 17+ carats retail for anything "from $10,000 to $100,000," according to Demaree. 
Mary Cosby is proudly unconventional
Cosby is used to fielding questions about her unconventional marriage, but there's no denying her wedding band is a stunner. As Demaree gushes, "This old-money gem brings a wealth of spiritual insight mixed with fashionably worn ICE." She details how Cosby typically wears, "six-figure valued, 7-carat round diamond drop earrings, 2-3 carat diamond disc rings on her right hand probably between $15 and $30,000, and multiple large carat diamond crosses with Chanel everywhere in between."
Defending her "arranged" marriage to her grandmother's ex-husband, in an interview with People, Cosby described her situation as "blessed." As the reality star explained, "It was kind of in my grandma's will for us to marry. She said 'If anything ever happens to me, Bobby, I want you to marry one of my girls because they'll look out for you.'" More than two decades later, the happy couple has more than proved the haters wrong.  
Whitney Rose's ring is a timeless classic
Rose is the closest thing the RHOSLC has to a rock chick but, when it comes to jewelry, the mother of two keeps it classic. Demaree describes her wedding ring as, a "timeless Tiffany-inspired yellow gold, 3-carat round brilliant high set solitaire," which would be valued at around "$75 to $150,000." Rose "pairs it with a thick pave diamond band stacked next to it." As Demaree notes, "Yellow gold always looks amazing on blondes," so the reality star has chosen well.
Rose was hesitant about joining the cast of the Bravo show, due to the impact doing so might have on her children. She explained to ET, "I really worry for my children in the community, because what their friends' parents maybe now view, or think of Justin [her husband] and I." As Rose argued, "As wild as I am, as much fun as I have, choices I make, I'm a damn good mother and they're my first priority." 
Jen Shah keeps it Shahmazingly real
Shah is the "Shahmazing" queen of sparkle on RHOSLC. As Demaree explains, she's "representing her Polynesian/Asian heritage, with big, bold sparkling bands that are generally 1-inch thick." Shah's stunning "diamond pave band appears to be four rows, connected as one, symbolic of her family of four being one power unit, kissed with several carats of sparkling diamonds looking in the range of $15 to 20,000." Out of the entire cast, Shah definitely isn't afraid to stand out.
She converted to Islam upon learning the LDS church had a history of excluding Black people, deadpanning to the Los Angeles Times, "It's like, could I pick any more diversity? Let's just make my life as difficult as possible in Utah. We ticked all the boxes." Shah is proud to showcase a different side of Salt Lake City, advising, "I felt like I needed to represent that it's not just Caucasian, blond-haired, blue-eyed women that run successful businesses here."