Taylor Swift Just Dropped Some Surprising News For Fans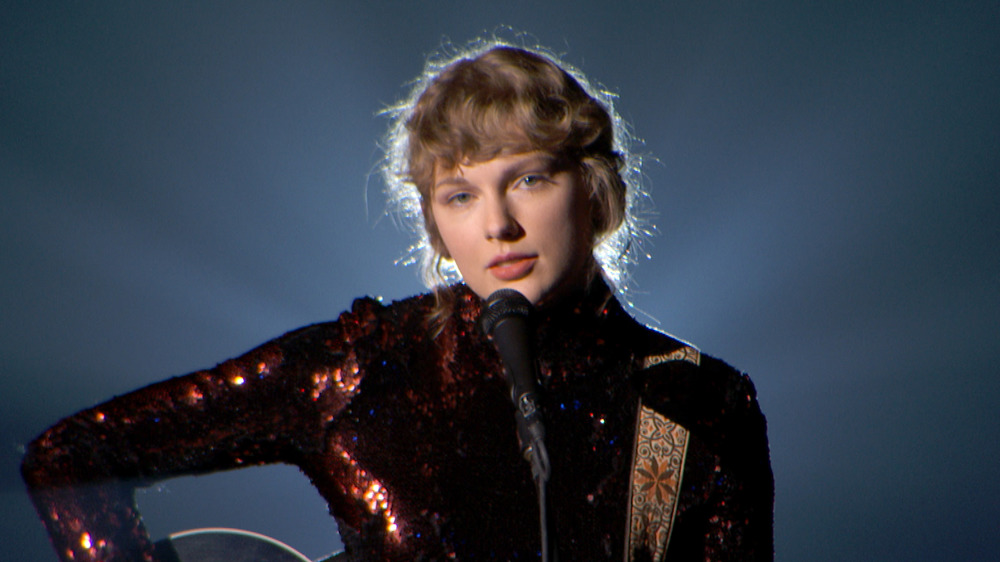 Acma2020/Getty Images
Taylor Swift is clearly living her best life in quarantine and has used the time in isolation to churn out some incredible work. The superstar stunned fans in July when she casually announced that she was dropping an entire album no one even knew she was working on. "Most of the things I had planned this summer didn't end up happening, but there is something I hadn't planned on that DID happen," she wrote on Instagram. "And that thing is my 8th studio album, folklore. Surprise."
Folklore would already have been a big enough gift, but Swift has decided to give fans another treat as the holiday season approaches. Again, her announcement was completely unexpected because 2020 Taylor Swift is all about surprises.
As Swifties know, 13 is the singer's favorite number (per MTV), and Swift is fond of using that number as an Easter egg. Folklore was released on July 24, a date which fans quickly realized had a secret meaning as the digits of the date add up to 13.
Taylor Swift is 'so excited for you to see' her concert film
True to form, Swift announced her latest news on another date where the digits add up to her lucky number. "Well it's 11/24 and 24-11=13 so I've got an announcement," she wrote on Twitter. "You haven't seen this film before... folklore: the long pond studio sessions will be out tonight at midnight PST on @DisneyPlus! #folkloreOnDisneyPlus."
A trailer for the film accompanied the tweet. Disney announced in a press release (via Good Morning America), that the concert film features Swift performing each song from her album in order, accompanied by her co-producers on the album, Jack Antonoff and The National's Aaron Dessner. Bon Iver's Justin Vernon, who also collaborated on the album, makes a guest appearance.
"I'm so excited for you to see it," said Swift in a recording aired on Good Morning America. "It was an amazing experience getting to really jump into the album with the people that I made it with, and I really hope you enjoy it."