What In Wonder Reveals About Shawn Mendes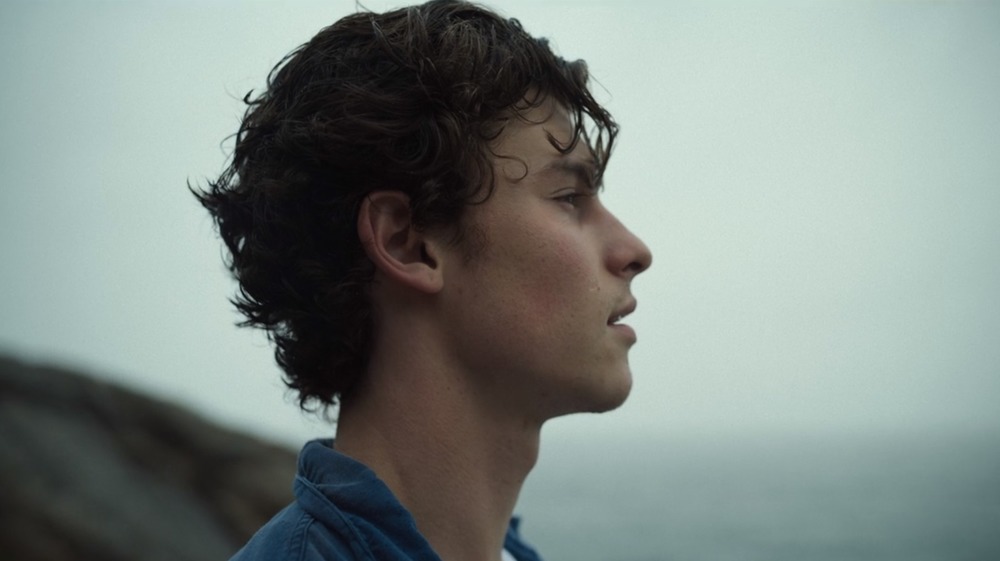 Netflix
Documentaries like the one Shawn Mendes released are a great way for viewers to see a new side of a subject. Whether the film is autobiographical, informational, or the retelling of a story, the vulnerability and raw footage that comes with documentaries is often eye-opening.
Many singers and performers have released documentaries to show fans another side of themselves and their lives cut off from the stage or from the limiting scope of social media. In 2020, Taylor Swift released her expository pic Miss Americana on Netflix and showed the world a whole new side of her, one that many had not known. In November 2020, Canadian pop star and heartthrob Shawn Mendes also took to Netflix to release his documentary Shawn Mendes: In Wonder and, with its release, showed fans rare footage from his early career, giving the inside scoop on his life and music journey.
So what did the documentary tell us? It explained how insanely busy Mendes' life has been since he found fame online, what a toll his tour took on his voice, and that he is just a young adult like so many trying to find his footing. Want to know more? You're in luck, here are the details revealed about Shawn Mendes in his new documentary.
Shawn Mendes had security protecting him from fans when he was 15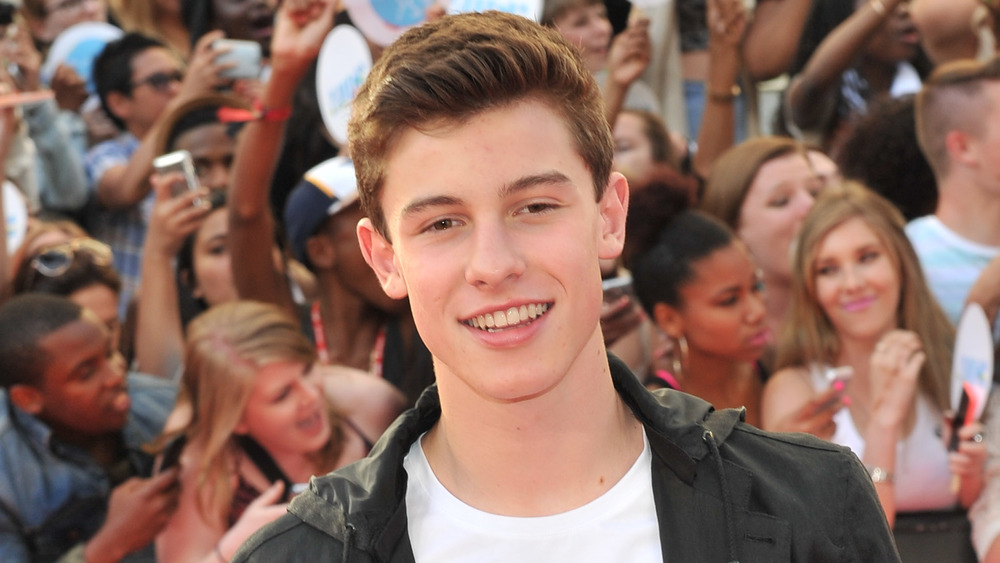 Sonia Recchia/Getty Images
Fans can be overwhelming, and that's been Shawn Mendes' reality for some time. His first concert was held in Toronto, Ontario when he was just 15, as his documentary, Shawn Mendes: In Wonder, showed. In Wonder showed footage that Mendes' dad had filmed on what looks like an old iPhone, saying, "This is nuts," when hearing all his son's fans outside. "What, even to go to the bathroom, he has to go with security?" his dad asked. As soon as Mendes stepped out into the hall, female fans could be heard screaming. "Did you see that?" his sweet dad asked. "'I love you.' Holy moly." 
It was clearly a reality that would become the norm for Shawn Mendes. In 2018, video surfaced of him making his way through an airport, and in usual form, he stopped and took photos with fans. But it clearly all got a little too much for him when people started to swarm, as noted by Seventeen. In the surfaced video, he can be heard saying "You guys aren't listening. I'm not gonna be able to get home on time," clearly indicating that he'd had enough. Here's your daily reminder that celebrities are people too.
Shawn Mendes revealed that it's been hard to keep himself grounded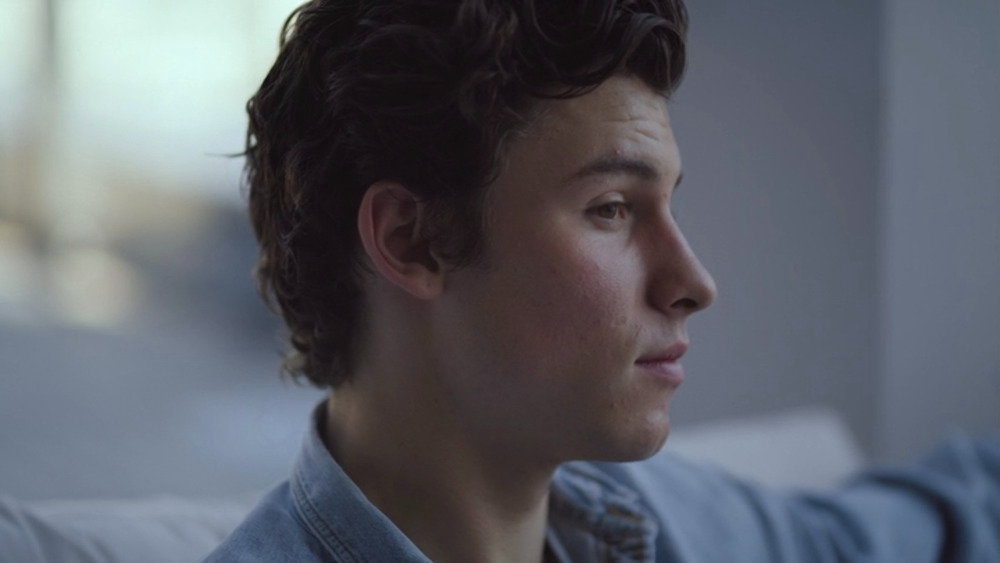 Netflix
Fame can certainly go to your head. With the screaming fans and the whirlwind tours, it's easy to lose your footing. It's clearly a reality that Shawn Mendes is aware of, and in a very vulnerable moment of his documentary, he shared his thoughts on his career. 
While sitting in a close-up interview during the film, Mendes was asked a fairly deep question: "So this thing you started doing in your bedroom, making Vines for the love of it — is it hard to protect that pure thing that started it all?" Mendes remained contemplative for quite a while before just nodding his head yes. His lack of an audible answer made the moment almost that much more powerful. 
The interviewer was, of course, referring to how Mendes' career began, as he started out just posting six-second videos on the video app Vine. As noted by Headlines and Global News, Mendes was the third most-followed musician on the app, and because of his massive following and natural talent, he landed a deal with Island Records (part of the Universal Music Group).
Shawn Mendes and Camila Cabello shared this sweet moment together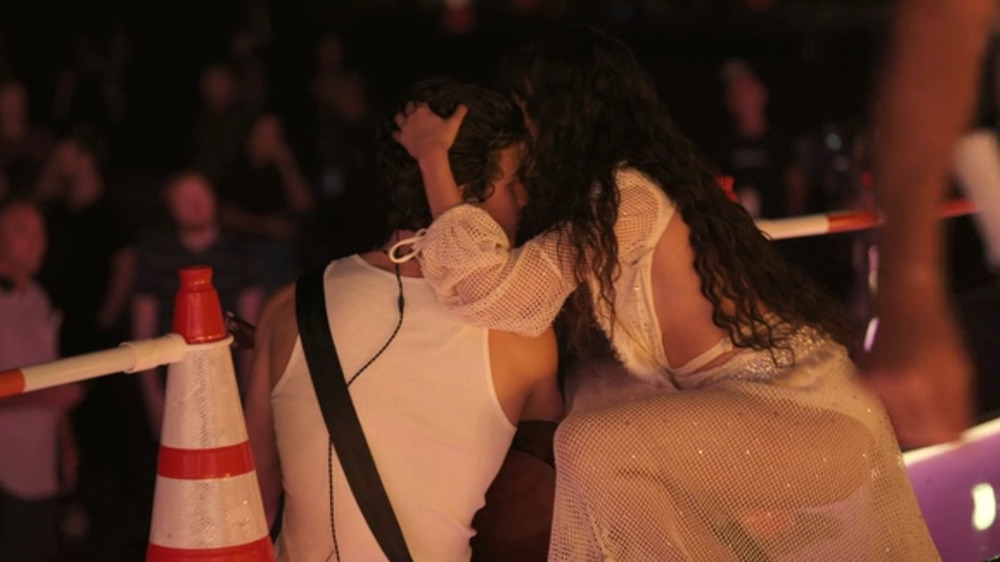 Netflix
Shawn Mendes and Camila Cabello have always caused quite the stir, in part due to their romance that was rumored, then confirmed, and then teased on stage. And things really got steamy after they released their duet "Senorita" in June 2019. Mendes and Cabello started dating in July 2019, as noted by Glamour, and were a couple by the time of their highly anticipated performance at the 2019 MTV awards. In Shawn Mendes: In Wonder showed footage of the two preparing to take the stage together. 
In the backstage clip, Mendes was seen off to the side of the stage strumming at his guitar, and Cabello walked up to him. She dropped down to the floor and put her head on her boyfriend's shoulder in the cutest way possible. She could then heard saying, "I love you, do you know that?" Mendes responded by saying, "I know," before Cabello sweetly kissed him on the forehead. For a couple that has been pretty private, this was such a sweet moment caught on camera. It was the rare footage that fans had been dying to see.
Shawn Mendes' cover of this song set off his career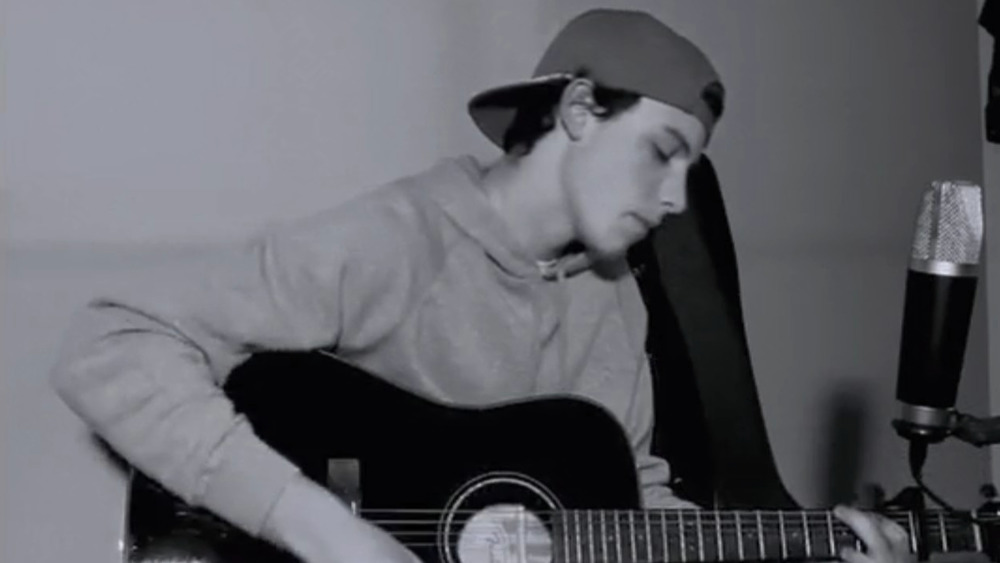 Netflix
The early days of Vine and YouTube were a great way for singers to be discovered, and Shawn Mendes was no exception. Mendes' manager, Andrew Gertler, searched the internet for the heart-wrenching ballad "Say Something" by A Great Big World in 2013, and one of the first things to pop up was Mendes' cover that he had posted online. 
"I was just taken aback a bit. It was like 'This is really incredible,'" Gertler shared in Mendes' documentary. "[I] reached out and we FaceTimed Shawn and his mom. Immediately Shawn just starts grilling us with questions about how the music business works, why he might need a manager," Gertler recalled. "I just said to them, I was honest, I was like I don't know everything but I'm going to sit here and spend every minute of my time figuring it out with you." 
Their working together paid off because, by 2014, Mendes' first single broke into Billboard's Top 25, "making him the youngest artist in history to debut in the Top 25 with a debut single," as noted by Idolator.
Shawn Mendes keeps himself grounded by surrounding himself with friends
With his busy career, it's no surprise that Shawn Mendes keeps himself grounded by surrounding himself with good friends. As the documentary Shawn Mendes: In Wonder reveals, his childhood friend Brian Craigen is the person who keeps him in check. 
"I'm so lucky to have a friend like Brian. He works hard at keeping me in the real world," Mendes said. "Without him ... I'd probably be pretty crazy." Mendes revealed that Craigen keeps him close to his friends back home, and that, due to the nature of his life and career, he's "probably closer with my friends from home now than ever." "They were all supporting me from the first time Life of the Party came out and now we're here together," Shawn said. "I want them to look around and be proud of it and be like 'This is just as much ours as it is his.'" 
In an interview with The Times in 2018, Mendes said he turns to his friends and spends time with them as a form of therapy. "Sometimes it just takes stepping out of your world to get perspective," he shared.
Shawn Mendes revealed that he's written songs about this one special person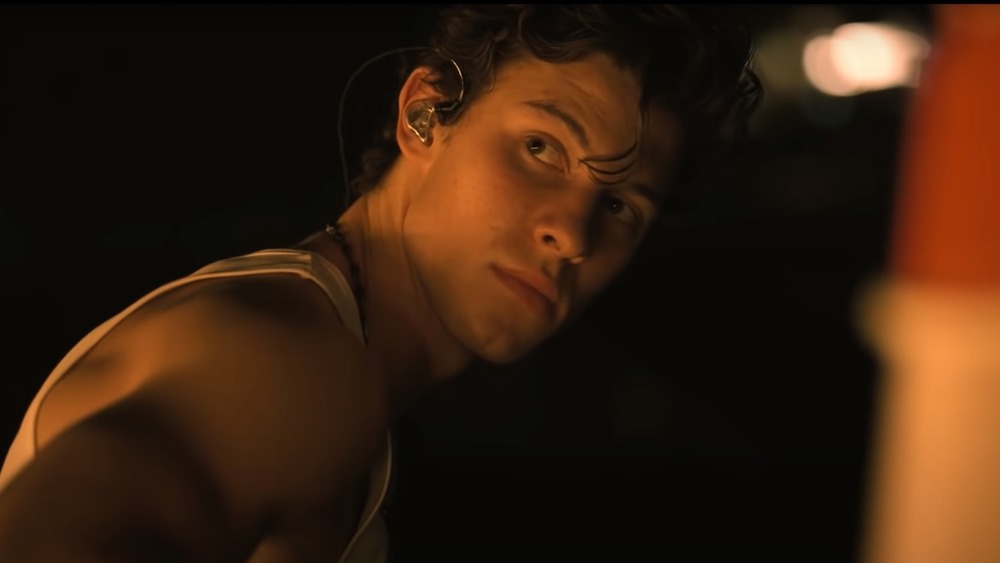 Netflix
In the documentary Shawn Mendes: In Wonder, Shawn Mendes revealed that every song he's ever written has been about Camila Cabello. "We're in New York, and my song comes on the radio, and the fact comes up that it's about her," Mendes said. "And I'm like 'Yeah, it's about you. Everything's about you. They've always been about you.'" He continued, "She goes 'What do you mean?' I'm like 'They're all about you. Like every song I ever wrote.'" Cue the tears. 
Apparently, Cabello had no idea that Mendes was writing for and about her, even though he thought she knew. He went on to describe their relationship since being a couple and how his songwriting might be impacted. 
"I don't think I'll be able to write songs that really do it justice, that can really capture the things and the feelings with her," he said. "I think it's like when you see a moon or stars and you try to take a photo of it with your iPhone, and then you just can't, it just doesn't look good... It's not supposed to be captured, you know? It's just supposed to be for us." Excuse us while we go cry. 
Shawn Mendes' sister revealed that he didn't love the idea of being famous when he young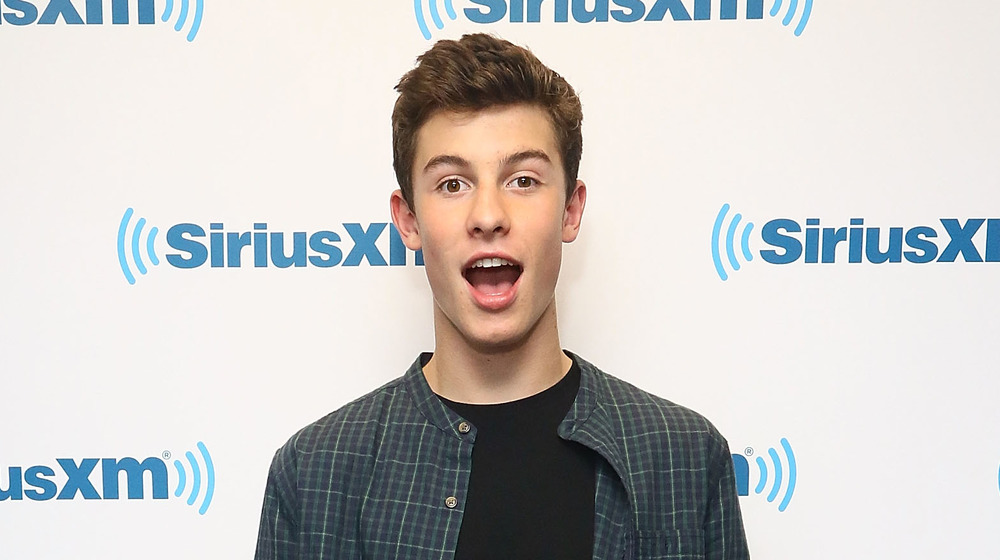 Astrid Stawiarz/Getty Images
Leave it to a younger sister to spill the truth. In the documentary In Wonder, Shawn Mendes' sister, Aaliyah, said that "when he first started singing, he wasn't the greatest," and so as he got better, she questioned him about life in the spotlight. "I asked him if he wanted to be famous one day, and he shut the whole idea down so fast," she said. "He was like, 'No I don't want to be famous. It seems awful.' I don't know if he remembers that, but I remember it like it was yesterday." 
In the documentary, Mendes quipped back and said that he had "obviously changed [his] mind," but the singer has shared in the past how becoming famous at such a young age impacted his life and mental health. In an interview with The Times in 2018, he was asked about his anxiety and his journey as a musician in the spotlight. When asked if the pressures of fame had gotten to his head, Mendes said, "It's hard to say because I haven't experienced anything else ... But being famous definitely didn't help."
Shawn Mendes still spends time in his childhood bedroom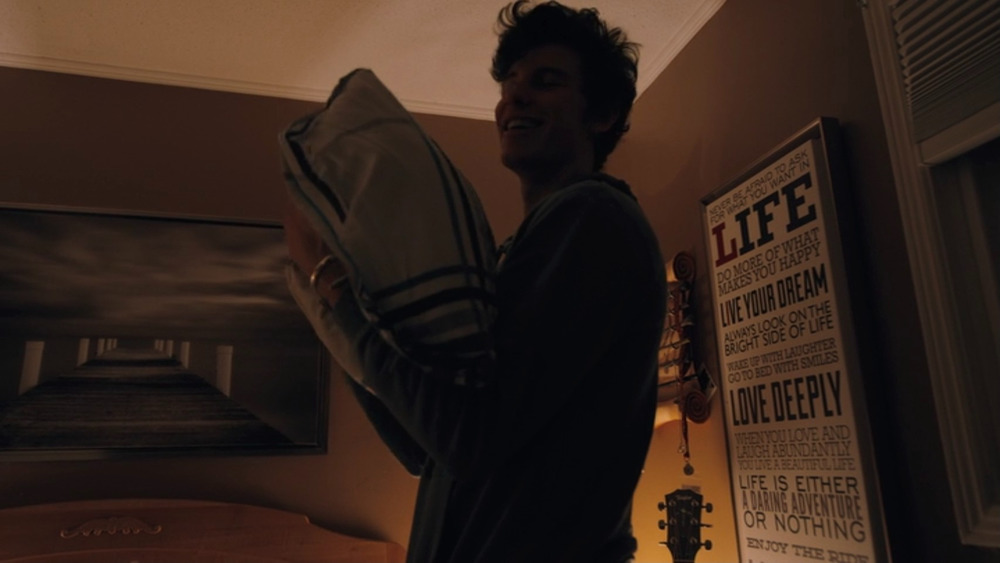 Netflix
Perhaps the most heartfelt footage from Shawn Mendes' documentary, Shawn Mendes: In Wonder, came from his trip home. While visiting his parents, he took the crew into his childhood bedroom and reflected on what it felt like to be back in the place where his career started. "I went from a small bedroom in Pickering to playing in front of a few thousand people in a couple years," he said during the documentary. "This is the room I recorded all the Vines and stuff in. It's pretty small in here right?" And like many adult children who visit home, Mendes went headfirst into a pillow on his bed and just breathed deeply, clearly feeling comfort.
The footage of his bedroom revealed a wall of guitars, a hanging piece of wall art with inspirational quotes on it, and, of course, a stuffed animal on the bed. Mendes then went into the kitchen where his mom joined him. She, like so many moms, said that "he only comes home to eat," and that every time he comes home, he's hungry. Sounds like every early-20s kid coming home from college.
Shawn Mendes used to rely on daily manifestations to motivate him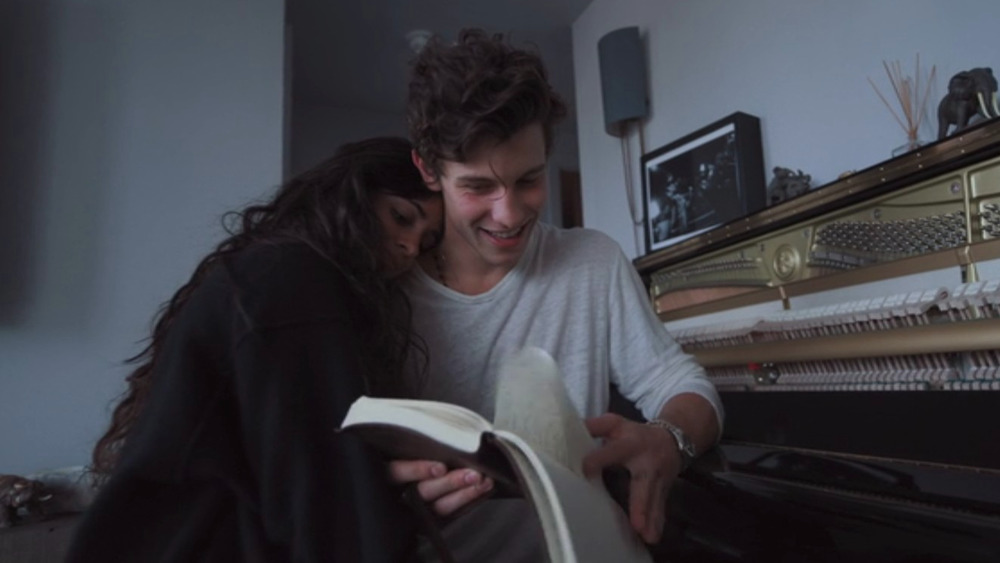 Netflix
Setting your intentions is a great way of staying focused, and Shawn Mendes used to do just that. "I went through a big phase where I used to write this over and over again, 'I control my brain with my voice,'" he shared. But his daily manifestations weren't just about his voice. "This was two weeks before we put Rogers Centre on sale, November 24, 2018. I wrote 'Here we go, I will sell out the Rogers Centre,'" he said. "And on November 25th, 2018, I sold out the Rogers Centre. That's why this s**t works because I wrote it in my manifestation journal." 
It's easy to write it off as the success of a famous musician, but other celebrities have shared what manifesting has done for them. Icon Oprah Winfrey shared that it's a practice she engages with too. "You control a lot by your thoughts," she said (via O, the Oprah Magazine). She continued, "When I started to figure that out for myself I became careful of what I think and what I ask for? ... What else can I manifest, because I have seen it work. I have seen it happen over and over again." So be like Shawn Mendes and Oprah, manifest your best life.
Shawn Mendes was originally nervous he wouldn't be good enough and would need a band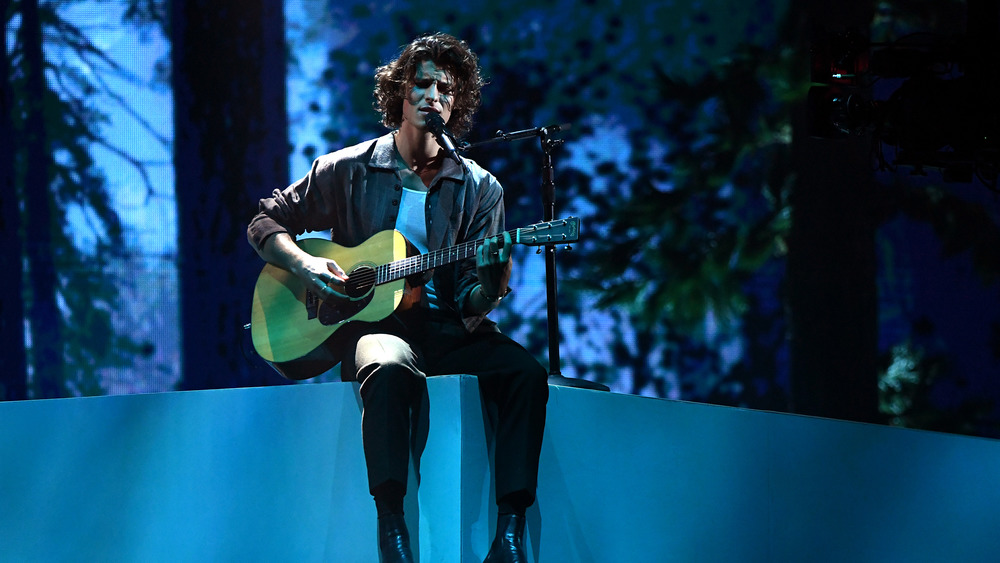 Kevin Mazur/ama2020/Getty Images
It's pretty understandable that a young musician would be nervous, but Shawn Mendes was scared that he wouldn't sound good enough if he alone was on stage. "I would always say to [manager Andrew Gertler], 'I need to get a band because I'll sound bad on my own' and he'd say, 'No man just get on the stage, you and the guitar,'" Mendes shared during his Netflix documentary. "Having the confidence was all based off of those first couple years of performing with just a guitar." We don't blame him for being nervous — who wouldn't be scared to be up on a stage by yourself?
Luckily for Mendes, he had some help along the way from singer-songwriters he looked up to. As noted by Rolling Stone, Mendes got the advice from another folksy-pop singer, veteran musician John Mayer, who helped him fine-tune his work. "He listened to a bunch of the songs and gave great pieces of advice through the music and production and lyrics," Mendes said. So when you're feeling nervous, just speed-dial John Mayer and everything will be ok.
During a world tour, Shawn Mendes' voice started to cut out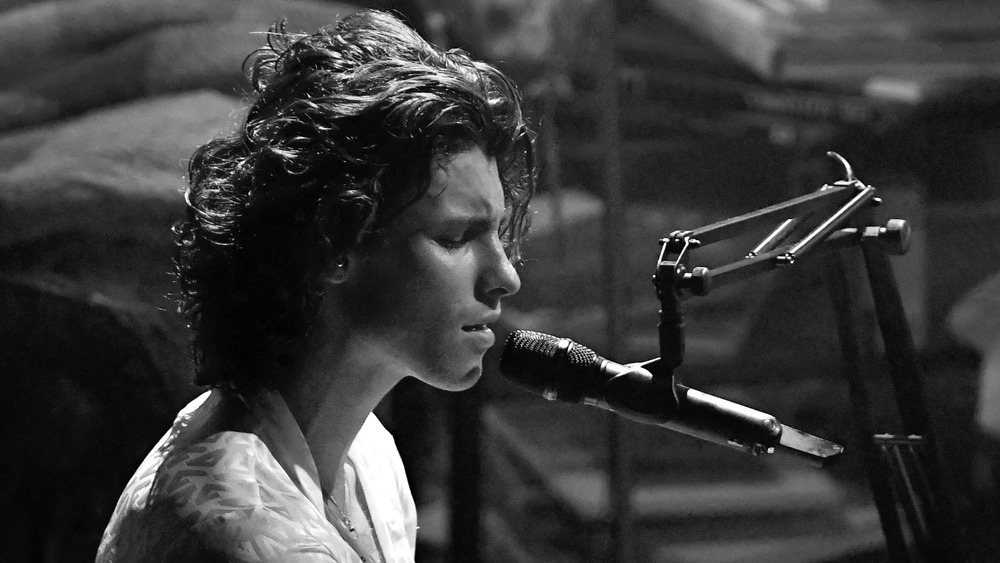 Netflix
While singing his hit song "Stitches" during his 26th show on tour, Shawn Mendes' voice started to cut out, and there was visible frustration on his face. "I'm so sorry guys, my voice is cutting out on me so much tonight," he said. "I'm gonna need your help as much as I can. I promise to sing my heart out, but I only got what I got in my voice." Mendes was able to keep a smile on his face, but he took a moment backstage to collect himself. From his body language, we could tell that Mendes was absolutely exhausted in that moment. 
So why was his voice starting to give up? Well, singing and performing all out like he was doing doesn't help, but The Guardian described what exactly happens to singers' vocal chords. Basically, when we sing, air comes from the lungs and the vocal cords come together in a "rapid chopping motion." So the more the voice is used at high notes (and Mendes was shown to really sell those screaming high notes), the more the cords "thwack" together. Just talking about it sounds painful.
In a moment of vulnerability, Shawn Mendes shared this wish for himself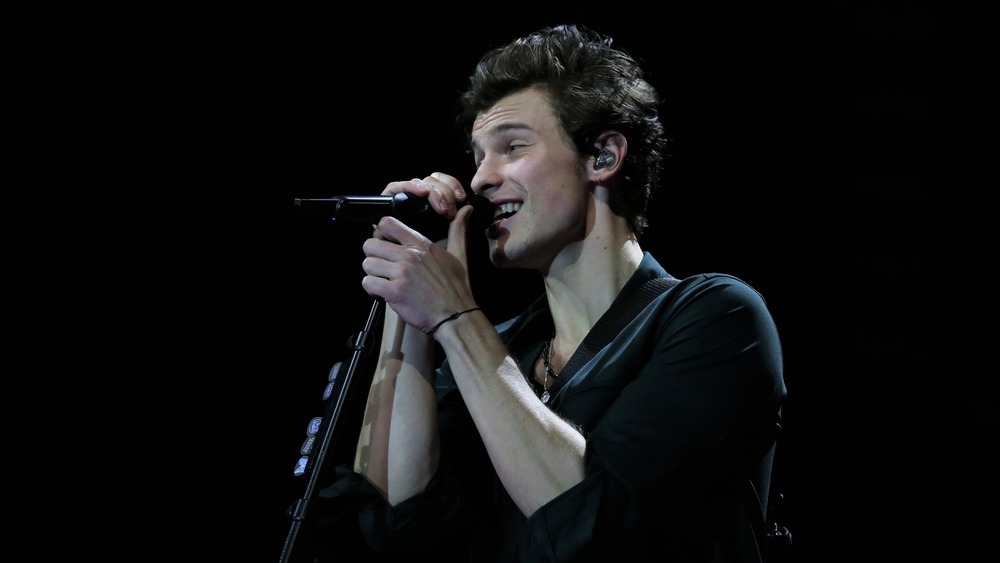 Medios Y Media/Getty Images
We'd be lying if we said that our day-to-day routines don't burn us out, and given how busy his career is, Shawn Mendes is in the same boat. "We're in a 104-show tour, and the half of me right now is like 'Make sure you say you're grateful,' because I am," Mendes shared during the documentary, Shawn Mendes: In Wonder. "But at the same time I also want to hang with my parents and watch movies. Drive around a suburb, lay on a soccer field ... smoke a joint and stare at the stars with my friends ... I think I miss that a little bit right now." 
As seen in the documentary, Mendes went to his parents' house and spent three days there, and it was the most amount of time he had been home in a year. His mom shared that every time he goes home, she tries to get him to stay for just a little bit longer so he can relax. It's important for everyone to remember to slow down from time and time and just watch a movie with your mom.
During the last leg of his tour, Shawn Mendes experienced vocal cord distress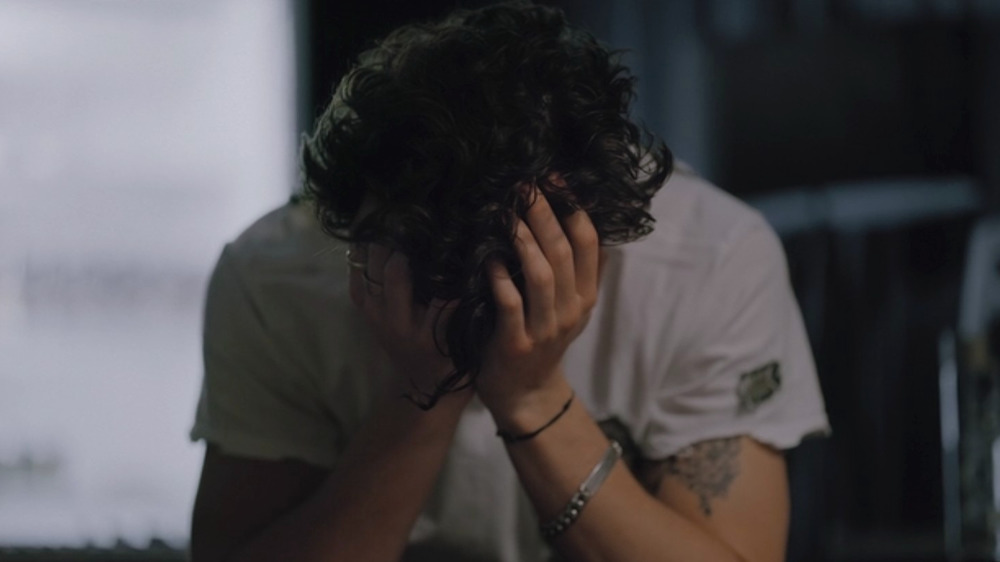 Netflix
Just a half an hour before the stadium opening for Shawn Mendes' São Paulo show, he made the call to cancel due to distress on his vocal chords. The documentary revealed that Mendes' vocal coach, Eric Vetro, was nervous that the singer would hurt himself given how strained his warm-up vocals sounded. At that point in the tour, Mendes had 11 shows left, and he and his team made the difficult choice to cancel in order to preserve the remaining performances. "I'm gonna step in now and tell you, you have really no voice, we have 11 shows to go," Vetro said. "For an outside stadium, you're going to hurt yourself for the next 11." 
It was an overwhelming decision, as Mendes was seen with his head in his hands during the conversation. Even though it was down to the wire, Mendes opted out of doing the show, and he made the announcement on social media. The documentary showed footage of crying fans outside the venue, as many were already waiting to head inside. We do not envy being in that position.
Shawn Mendes said that it was "more sweet than bitter" to wrap up his busy year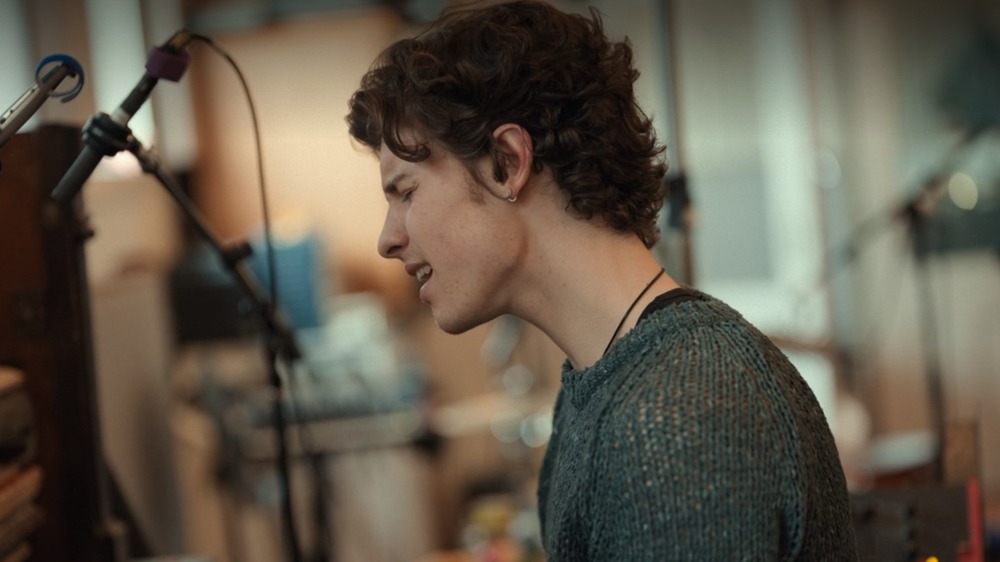 Netflix
The documentary. Shawn Mendes: In Wonder, ended with Shawn Mendes wrapping up his tour after 105 shows. "The last year of my life has been this tour and it's bittersweet. It's a little more sweet than bitter to be honest," he said, but then he shared that the tour made him realize that he wants to be a performer and musician for the rest of his life. But given the stress of the tour, it's no wonder that he needed some time off. 
So what has Mendes' life looked like since finishing the tour? Like many of us, he found himself on lockdown due to the COVID-19 pandemic, but he shared with E! News that the prolonged time of being at home was one of the best things that ever happened to him. "It was the first time I was quiet and I was able to be like, 'What is happening in this world and how do I feel about it and what can I do and where does this go from here?'" Mendes said. "That was the best gift I think I've ever, ever been given in my whole life."