BTS Had An Adorable Reaction To Their Grammy Nomination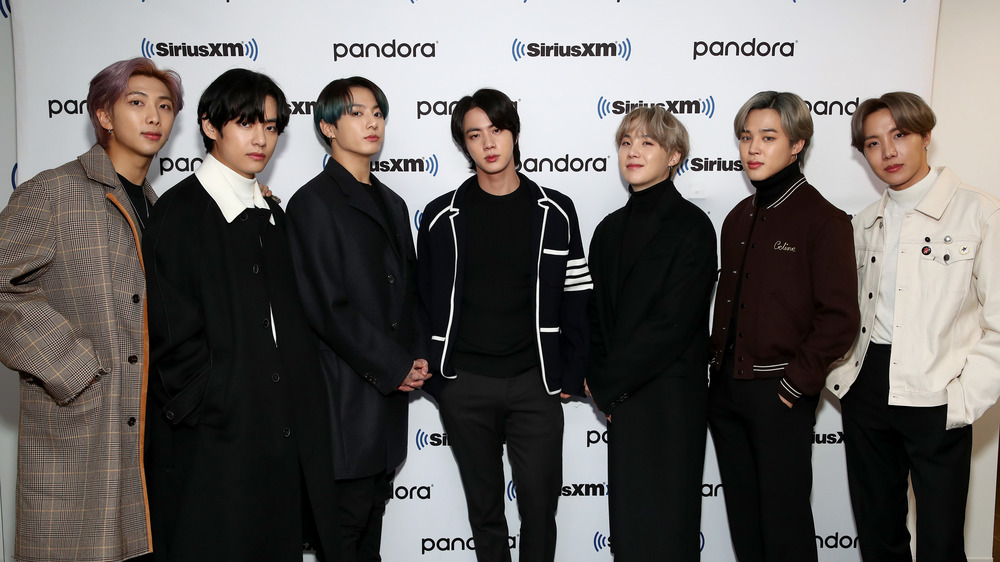 Cindy Ord/Getty Images
K-pop is more than music, but an experience including performance, personality, and jaw-dropping fan power. K-pop is most definitely not a fad, instead a force in the global music scene. When it comes to recognition, however, American critics have been slow to jump on this entertainment-filled bandwagon — until Tuesday. Following recent wins at the American Music Awards (via ABC6 News), BTS just got nominated for a Grammy. 
Despite selling millions and attracting devoted fans, K-pop artists have largely been ignored by the Grammy scene. ET Online shares that no K-pop groups were even nominated for a Grammy last year, although BTS got a nod for their artistic director in 2019 as well as being invited to present. Tuesday's nomination was for the group itself, adding BTS to the category of Best Pop Duo/Group Performance for their English-language single, "Dynamite." The nomination has turned heads beyond the U.S. too.
Excited Canadian fans just shared, "This is not only a win for @BTS_twt, but it's also a MASSIVE win for every Asian-Canadian and BIPOCs. Representation matters; the boys are doing one heck of a job at breaking through conventionally White spaces. So proud!" (via Twitter).
But even better is the reaction of BTS themselves.
BTS shares a legacy of musical excellence
In the clip already viewed of 6 million times, four members of the seven-person musical group appear watching a television announcement. Video shows V, Jungkook, RM and Jimin leaning forward in nervous anticipation (via Twitter). As the announcement plays in Korean, it's clearly good news as the young men jump up and celebrate. The caption on their post really says it all, "Ohmmmmmmyyyyyyyyggghghhhhhhhgggggggggdhdhsjsixudbslsogbdsisgshdbxidjdbdidhdifjfir #GRAMMYS #BTS."
People can't get enough of this wholesome and heartwarming reaction video as fans (called the A.R.M.Y) keyboard smash their way across social media in celebration. One fan sums up the spirit of this reaction well, writing, "Your efforts over the years have brought many successes and this one was the biggest. Your dream has finally come true. I'm proud of you. I am so so so happy. My heart is with you. I love you so much," (via Twitter).
Adorable offstage, talented and driven onstage, we expect to continue to hear more about BTS as North American audiences finally discover what they were missing. The critics are listening now and the only path for BTS is up. Congratulations.