The Heartbreaking Death Of Diego Maradona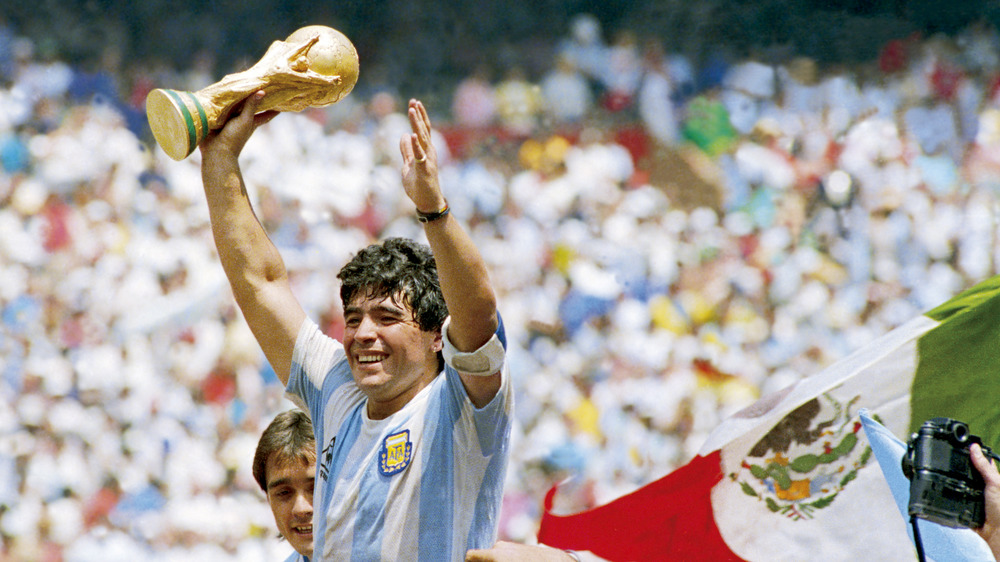 El Grafico/Getty Images
After brain surgery earlier this month, Argentine soccer superstar, Diego Maradona, passed away from a heart attack on Wednesday, Nov. 25, 2020. Argentina has declared three days of national mourning in honor of its legend (via The Guardian). "To see the ball, to run after it, makes me the happiest man in the world," Maradona once said (via France 24). If you watched him play, you know it's true. Soccer fanatics everywhere will remember the five-time South American football player of the year perhaps best for his "Hand of God" goal against England in the 1986 World Cup, a world cup that Argentina went on to win. Maradona, the team's captain, brought home the FIFA World Cup Golden Ball and FIFA World Cup Silver Shoe award that year (via Express).
Soccer teams across the world are paying tribute to the legend with heartbreaking moments of silence (via Twitter). Pele, who share's FIFA's title of "best player of the 20th century" with Maradona, was also quick to mourn Maradona's death (via AP). "Certainly, one day we'll kick a ball together in the sky above," he told Reuters. Portuguese soccer star, Cristiano Ronaldo, Instagrammed his tribute. "Today I say goodbye to a friend, and the world says goodbye to an eternal genius," he wrote, "one of the best ever. An unparalleled magician... you will never be forgotten." 
The devils that Diego Maradona battled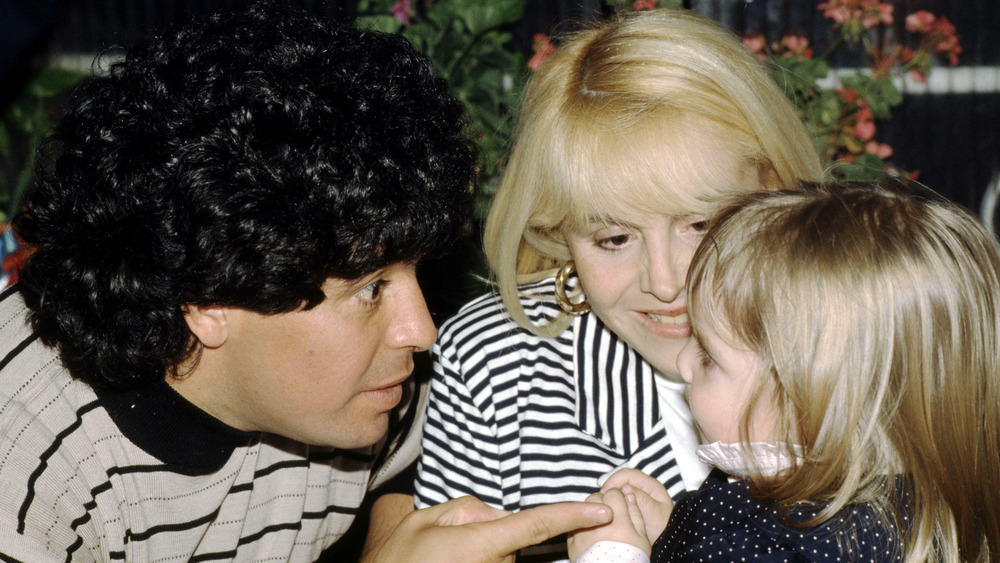 Franco Origlia/Getty Images
Despite, or perhaps because of his superstardom, Maradona's personal life was marred with tragedy. While playing for Napoli in Italy, Maradona brushed shoulders with the Neapolitan mafia. According to The Guardian, in 1991, he was suspended from play for 15 months due to drug violations. Maradona had become hopelessly addicted to cocaine. "I was wasting away ... when I was using I was falling apart," Maradona reflected afterward (via Goal). He gives his two daughters credit for saving him. "I was left without a cent ... my youngest daughter [Giannina], who was four, convinced me, she said I had experienced things with [my oldest daughter] Dalma and not with her. When I was in a coma and she touched my bedsheet to wake me up," Maradona remembered.
While he claimed otherwise, Diego Maradona may have never truly gotten over his addiction. Earlier this year, even as AP celebrated Maradona's 60th birthday, it also reported that, per Maradona's doctor, the soccer legend still "struggled" with alcohol. Despite his recurring health problems, he never let go of his love for the game. "I dream to score another goal against the English, this time with the right hand," Maradona told a French news outlet recently.