President Trump's Thanksgiving Proclamation Is Raising Eyebrows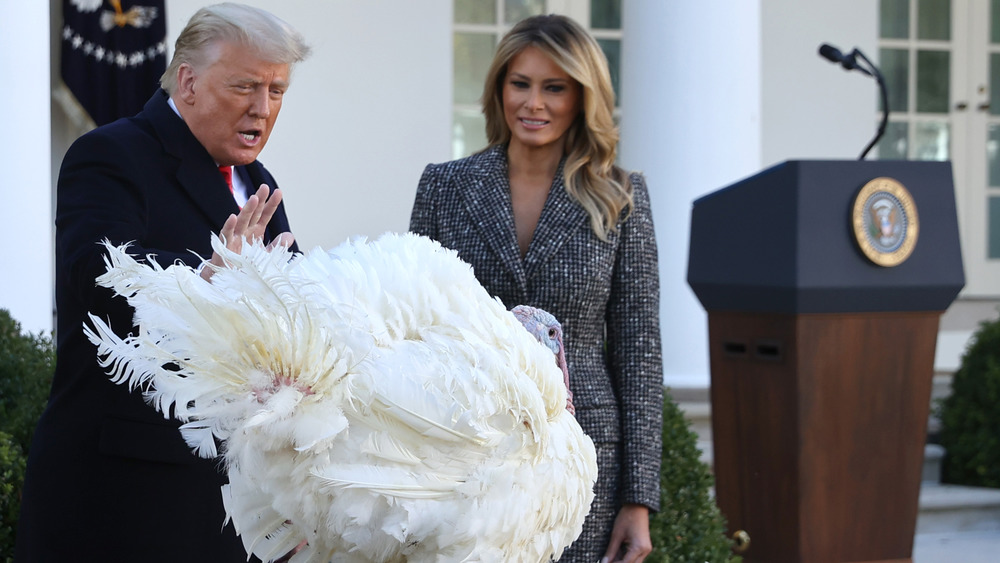 Chip Somodevilla/Getty Images
One of America's cherished Thanksgiving traditions — apart from watching the Macy's parade and falling into a food coma in the middle of the college bowl games — is the holiday proclamation from the White House, when the president sends warm greetings to the country and grants an official pardon to a turkey who might otherwise have been doomed to be a main course. This year was no exception, as President Trump delivered the annual address from the Rose Garden the day before Thanksgiving as the first lady looked on. He also gave the nod to two proud birds named Corn and Cob, noting that Corn was a "beautiful, beautiful bird" as he released him to a life of leisure (per The Guardian). 
But this being 2020, this November's proclamation had many viewers crying "fowl." True, Trump's official speech had some moments of inspiration; he remembered the members of the armed services who are spending the holiday away from home, and noted that the first Thanksgiving was "a continual reminder of the power of faith, love, perseverance, prayer, and fellowship." But one portion in particular seemed inappropriate at best — and dangerous at worst. 
The president's call for gathering prompted criticism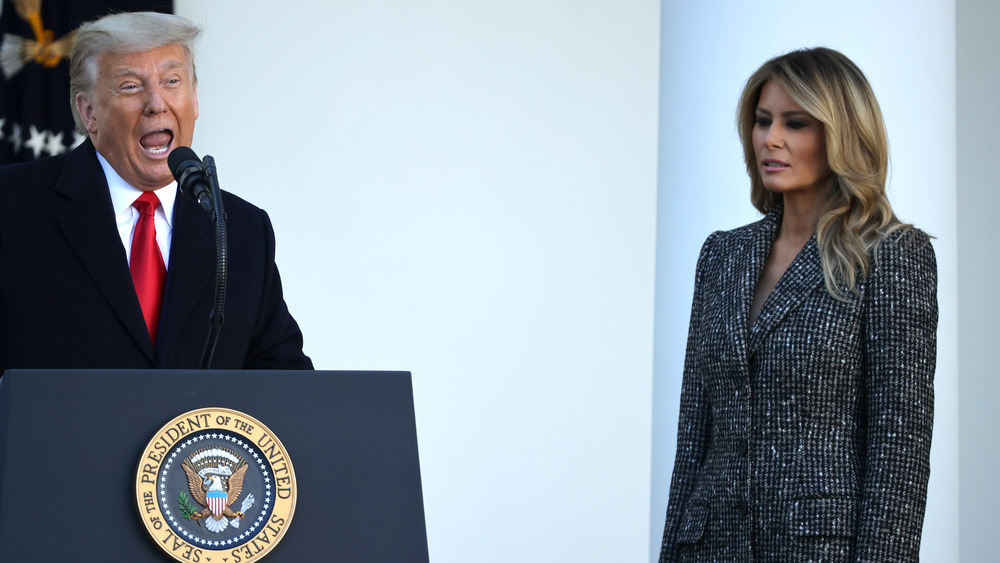 Chip Somodevilla/Getty Images
As is traditional, the president declared the fourth Thursday in November a national day of thanksgiving "to reaffirm our everlasting gratitude for all that we enjoy, and we commemorate the legacy of generosity bestowed upon us by our forbearers. ...we resolve with abiding faith and patriotism to celebrate the joys of freedom and cherish the hope and peace of a brighter future ahead."
But Trump concluded with this statement: "I encourage all Americans to gather, in homes and places of worship, to offer a prayer of thanks to God for our many blessings." He also repeated the phrase "gather with our loved ones" in the paragraph immediately preceding. As CNN noted, this seemed to be a direct defiance of common-sense advice. Noting the current spike in COVID-19 cases nationwide, the federal Centers for Disease Control has urged Americans to avoid Thanksgiving travel and large gatherings, which increase the risk of spreading the virus across state lines and to vulnerable family members. Certain houses of worship have also come under fire for defying state recommendations and holding in-person services, sometimes with hundreds of worshipers (via The Guardian). 
Trump himself will be forgoing his traditional Thanksgiving at his Florida Mar-a-Lago resort — usually held with a host of paying guests — for an intimate dinner at the White House (as confirmed by MarketWatch). Considering that he, Melania, sons Barron and Donald Jr., and a host of his own cabinet members have all fallen ill with the coronavirus, perhaps Americans might pay more attention to his deeds than his words.