The Real Reason Sandra Oh Was Written Off Grey's Anatomy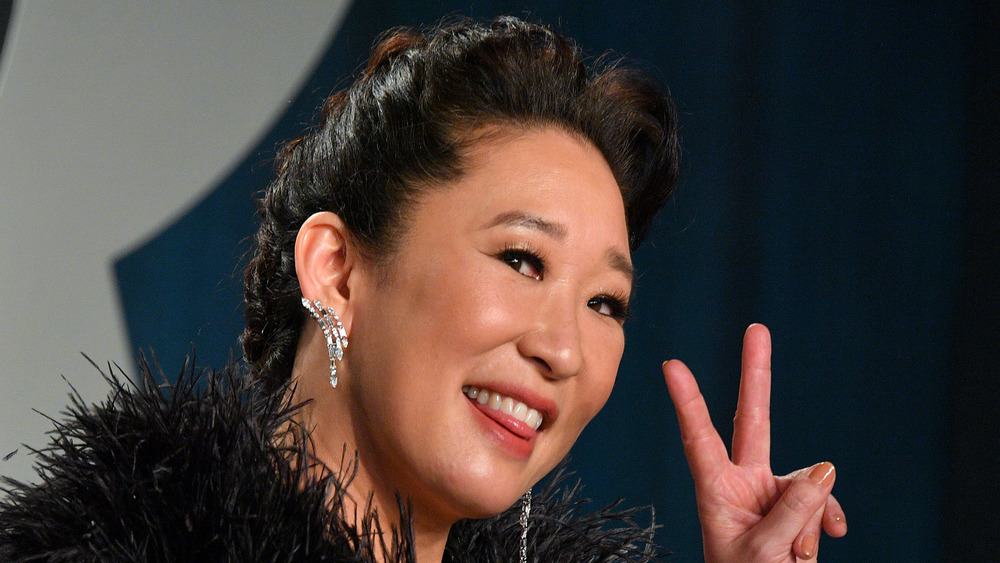 George Pimentel/Getty Images
After watching Sandra Oh embody Dr. Cristina Yang — Meredith Grey's person — on Grey's Anatomy for ten seasons, it was hard to imagine the series without her (via The Hollywood Reporter). Okay, it's still hard many years later. Yes, it was back in 2013 when Oh left the ABC drama. We know — we can't believe it either.
Fans will recall how on the show, Yang would move to Zurich, Switzerland to replace Dr. Preston Burke, her one time love interest — he left her at the altar, remember? — at his facility (via Insider). But in reality, the actress knew season ten would be her last long before her emotional last dance off with Mer, saying about a conversation with creator Shonda Rhimes, "I told her I was going to go at the end of season nine."
Oh added, "We didn't really talk about [how Cristina would exit] until the back-half of season 10." And this may have been a point of contention, for as Oh told Variety about her time on the show, "I would go toe-to-toe with Shonda and a lot of the writers, which has been challenging."
So, was the real reason Oh left the show that made her a household name her determination to fight for her character's storyline? Did the tension between the star and the writers just get to be untenable? Or was there another reason that fans were forced to say goodbye to the brilliant surgeon that was Cristina Yang?
Sandra Oh was actually ready to leave Grey's Anatomy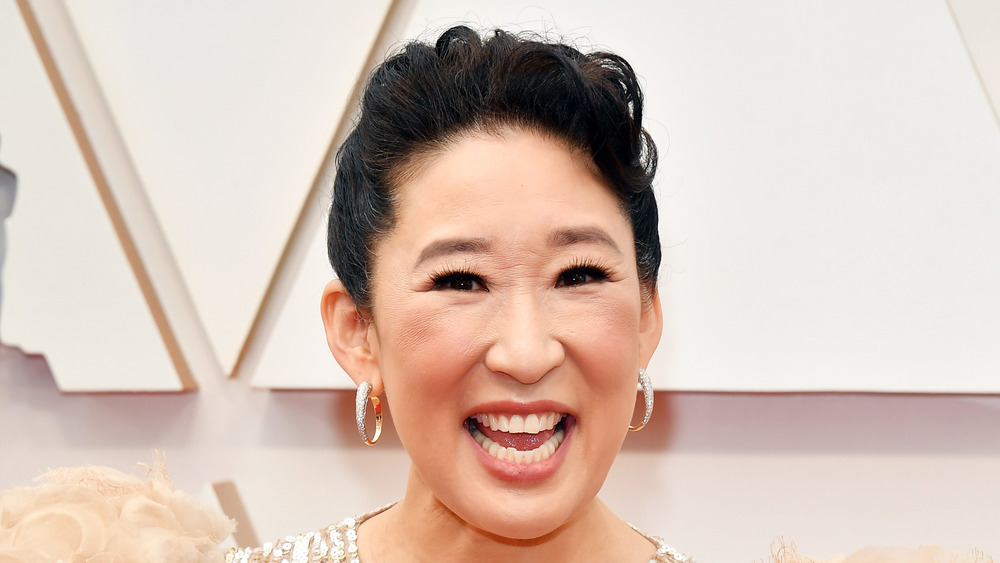 Amy Sussman/Getty Images
It turns out having Yang written off Grey's Anatomy was Oh's idea, not that of Rhimes or the writers. In fact, Rhimes asked the actress what she wanted to do in season ten, and the Killing Eve star said, "I think I'm ready to go" (via Cheat Sheet). 
The "Cardio God" added about her character at the time, "Creatively, I really feel like I gave it my all, and I feel ready to let her go." Oh added, "It's such an interesting thing to play a character for so long and to actually get the sense that she wants to be let go as well. [Cristina] wants to be let go, and I am ready to let her go" (viaGood Housekeeping). Sniff. We're okay. How are you doing? Should we keep going? Let's give it our best shot.
How Sandra Oh dealt with her Grey's Anatomy departure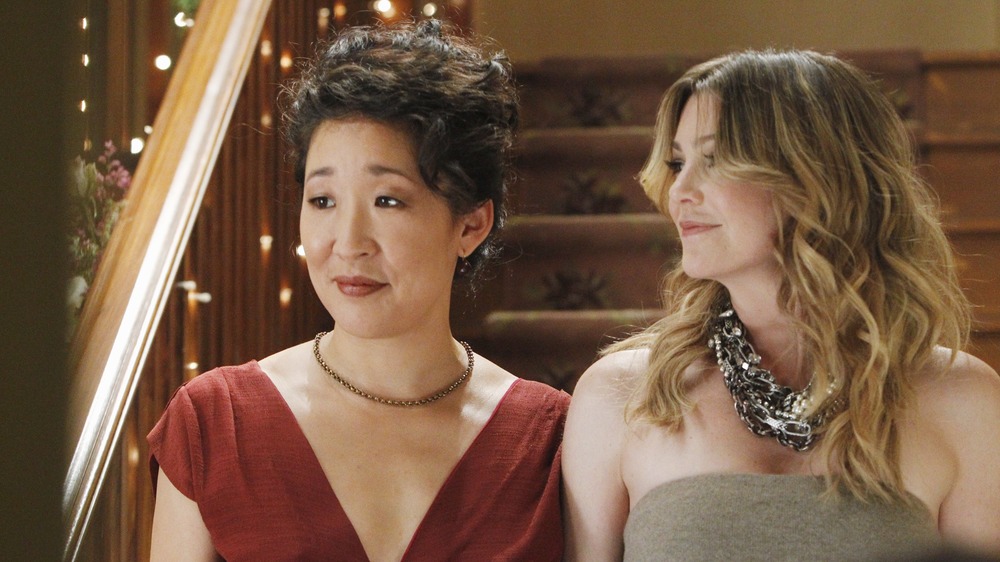 Mark H. Preston/Getty Images
Although the star was ready to leave the addictive hospital soap, she told The Hollywood Reporter about her final moments at her last table read, "I was completely in tears — but not broken. It was not a place of being sad. It was a place of being tremendously moved."
And the good news is that despite any past conflicts over her character's direction or decisions on Grey's, Oh was happy with how Dr. Cristina Yang's story arc ended, saying about the showrunners, "We had a lot of discussions about it. They so beautifully gave Cristina a year-long sendoff ... They wrote it beautifully. It was a great year of work."
Still, Good Housekeeping reports Oh even went to therapy to deal with the end of such an important chapter in her professional life. We get it! We almost went to therapy, too. 
How the cast and crew reacted to Sandra Oh leaving Grey's Anatomy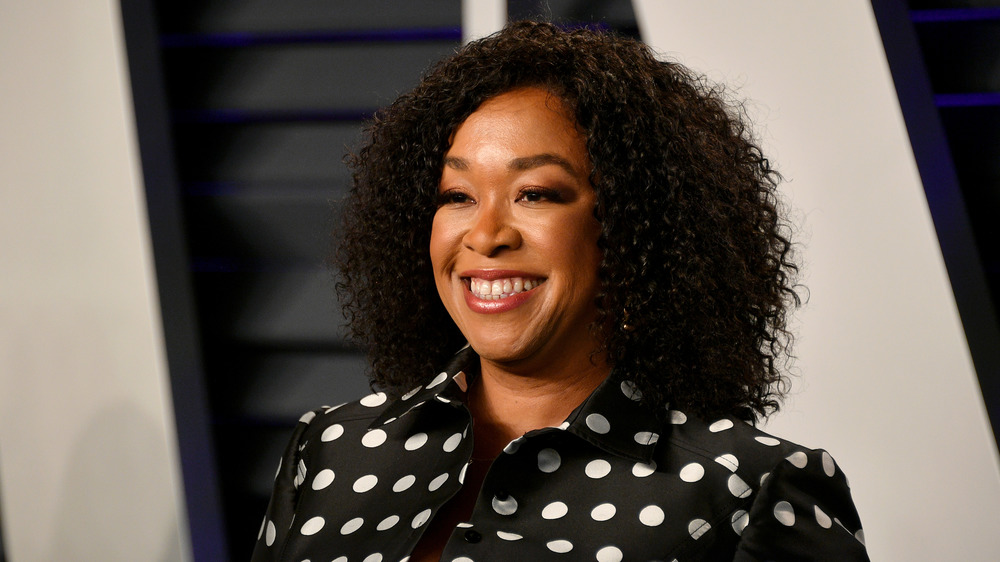 Dia Dipasupil/Getty Images
It turns out the actress was not the only person who struggled with the huge shakeup of the Grey's Anatomy cast — come on, we were still getting over saying goodbye to Izzie Stevens and George O'Malley! 
As Rhimes said in a statement per USA Today in 2013, "Over the past 10 seasons, I have been made better by Sandra's trust, faith and friendship and I can't quantify how grateful I am for her collaboration on a character we both love so deeply. This year is going to be bittersweet for us – we're both going to savor every moment of Cristina Yang and then we're going to give her the exit she deserves. And when Sandra walks out of my door, Grey's Anatomy will once again be forever changed."
Meanwhile, according to Cheat Sheet, Ellen Pompeo, who of course still plays Meredith Grey, said about Oh leaving, "She was such an amazing scene partner. Then I was like, 'Is there a show without Sandra?'"
Well, there is a show, but many fans would argue it was never the same once Oh left Grey Sloane. And don't even get us started on Dr. Derek Shepherd's departure!