The Truth About Tyler Baltierra And Catelynn Lowell's Relationship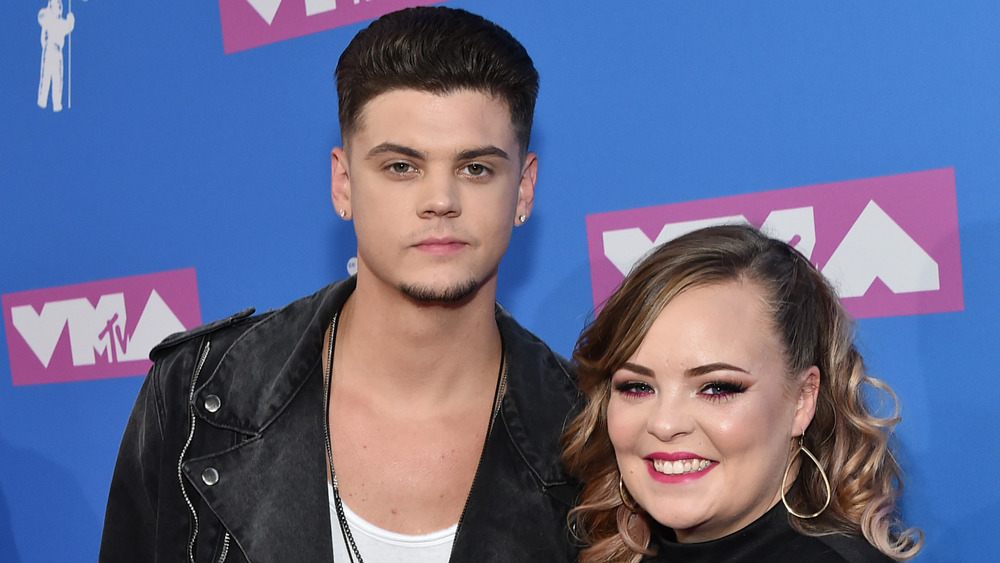 Mike Coppola/Getty Images
Tyler Baltierra and Catelynn Lowell's relationship is arguably the most enduring and life-affirming across the entire 16 and Pregnant and Teen Mom franchise. The happy couple has been together since they were youngsters, enduring troubled family backgrounds including absent parents with prison records and addiction problems, while their own relationship has been tested by crisis pregnancy, a miscarriage, mental health issues, and the pressure of being known figures with hugely popular TV shows.
In spite of everything they've been through, Baltierra and Lowell remain 100 percent committed to each other and their growing family, which at the time of writing, includes two daughters (their first child was put up for adoption when MTV first came calling — more on that later). It hasn't been an easy road for these two, but having each other's backs no matter what has seen them through hardship that would easily destroy others. This is the story of how a couple of kids from Michigan became the stalwarts of one of the biggest franchises in reality television.
Tyler Baltierra and Catelynn Lowell met in middle school
As E! News reports, Tyler Baltierra and Catelynn Lowell — who's undergone a stunning transformation — were middle school sweethearts in Algonac, Michigan; they originally hooked up for the first time all the way back in seventh grade. Three years later Lowell fell pregnant, at just 16 years old. When MTV's 16 and Pregnant premiered in 2009, Lowell was already 16 weeks along and torn over what to do. 
As revealed in Baltierra and Lowell's joint memoir, Conquering Chaos, published in 2015, the two first locked eyes during music class. Apparently, Baltierra was initially attracted to Lowell because she was, er, more endowed than any of the other girls in school (via OK! magazine).
Lowell, meanwhile, was certain Baltierra was the one in eighth grade. As she revealed during an after show for Teen Mom OG, "I just knew that I wanted to be with him forever." Although Baltierra ended up dating somebody else for a while, Lowell was steadfast in her belief that one day they'd end up together. And, naturally, she was right.
Tyler Baltierra and Catelynn Lowell are definitely not related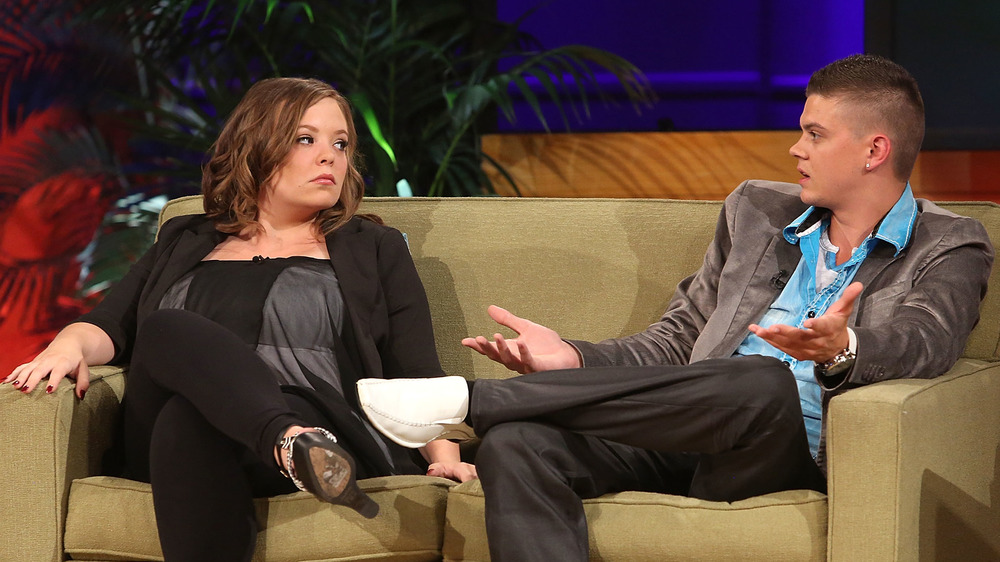 Jesse Grant/Getty Images
Fans have wondered for years whether Tyler Baltierra and Catelynn Lowell are actually related, since there was a time when his father and her mother were romantically involved. E! News advises the couple was already going out by the time their parents shacked up together. And as The Hollywood Gossip notes, Lowell's mom and Baltierra's mom tied the knot in 2009, which made their kids step-siblings (at least until they divorced in 2013).
However, Baltierra was residing with his mother at the time so they never lived together, Brady Bunch style, in the one house. During an Instagram Live session, Lowell was asked straight up about whether it was "weird" to be with her stepbrother. "I don't know what you are talking about," she responded. 
It's worth noting, too, that in Conquering Chaos Baltierra and Lowell detailed how out of control the living situation was when their parents were together. "They'd drink all night, or take pills, or even smoke crack together," the duo recalled (via OK! magazine).
Tyler Baltierra and Catelynn Lowell put their first child up for adoption
Viewers will know that Tyler Baltierra and Catelynn Lowell made the painful decision to put their first child, Carly Baltierra, up for adoption early in their 16 and Pregnant journey. They were the only featured couple not raising a child, and their choice caused plenty of drama both on and offscreen. As In Touch details, with the help of their adoption counselor (who still appears on Teen Mom OG now and again), the young couple found Brandon and Teresa Davis, who adopted their baby.
The new family frequently showed up during the early days of Teen Mom, especially as Baltierra and Lowell arranged heartbreaking visitations with their daughter. However, as the concerned parents ensure Carly Baltierra stays out of the spotlight as she gets older, it's become increasingly difficult to feature the little girl on the show. In fact, at one point the Davises put their foot down and requested the reality stars no longer discussed Carly on TV or on social media, lest they lose visitation rights.
The relationship between the foursome remains strained but it's active, which is the main thing.
Tyler Baltierra got Catelynn Lowell two engagement rings
Tyler Baltierra and Catelynn Lowell have been together since they were kids, but the young couple still had plenty of growing up to do, even without the pressures of being teen parents. Getting married seemed like the last thing on their minds when, during an episode of Teen Mom OG, Baltierra popped the question. As People noted at the time, although they were thrilled at the development, the duo was also in couples counseling to sort through their issues. "It's kind of weird because we've found our soulmate at such a young age," Lowell confessed. "I would never give him up for any guy out there, even if he was famous and hot as hell!" She added that they're best friends, too.
Just a few years later, Baltierra replaced Lowell's engagement ring with a new, sparkly upgrade, which she happily shared on Instagram. "Babe got me a new engagement ring... I wasn't expecting this at all," she gushed alongside a photo of the rock.
Tyler Baltierra and Catelynn Lowell initially called off their wedding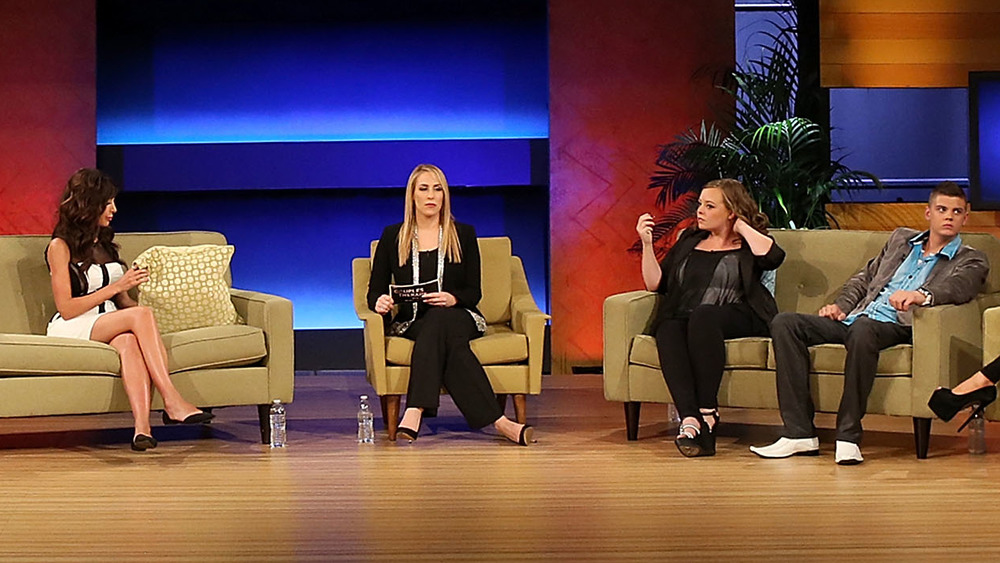 Jesse Grant/Getty Images
Although all seemed to be well with Tyler Baltierra and Catelynn Lowell, in 2013 the Teen Mom OG stars abruptly called off their planned nuptials. They subsequently appeared on another reality show, Couples Therapy, to work through their issues with therapist Dr. Jenn Berman, who reassured Hollywood Life all was not lost. That's even though Baltierra admitted, "I thought I was ready, but as the time gets close, I just don't think so."
Berman argued that Baltierra and Lowell were on the right path and better off being completely honest, even if it hurt at the time. "I think that what Tyler and Catelynn did shows tremendous courage and I hope that they will be a role model for other young couples out there," she opined. Berman also expressed complete confidence they'd eventually make it down the aisle, noting that's there's clearly a lot of love there, but work needs to be done before the couple can make that commitment to each other.
Tyler Baltierra and Catelynn Lowell welcomed a second child together in 2015
After making the tough decision to give Carly Baltierra up for adoption, in 2015 Tyler Baltierra and Catelynn Lowell welcomed a second daughter. As Us Weekly reported at the time, another Teen Mom star, Kailyn Lowry, who features on sister show Teen Mom 2, actually revealed the news on Twitter. (Her account no longer exists at the time of writing). Proud new father Baltierra tweeted back, "Thanks Kail! Can't wait for you to meet her either!"
Baltierra later gushed to fans in another tweet. "OMG guys, my daughter is BEAUTIFUL," he proclaimed. "Can't wait for you guys to see her!" He added that she was born at 3:15 on January 1, 2015. 
Baltierra previously made reference to their adoption experience in another social media post. "Thinking a lot about Carly right now," he confessed on Instagram. "It's bringing me back. Even though I know this time I will actually be taking her home." The Teen Mom stalwart later confirmed their new daughter's name was Novalee in a tweet, or Nova for short.
Tyler Baltierra and Catelynn Lowell finally wed after more than 10 years together
There were several stumbles en route but finally, after a decade together, Tyler Baltierra and Catelynn Lowell tied the knot. As Us Weekly reported, the happy couple said "I do" on Saturday, August 22, 2015 at the stylish Castle Farms venue in Charlevoix, Michigan. There were 154 guests present, among them Teen Mom OG co-stars Maci Bookout and Amber Portwood, as well as Teen Mom 2's Kailyn Lowry. Nova Baltierra acted as their flower girl, pulled down the aisle in a well-decorated wagon decked out for the occasion.
Carly Baltierra, then 6 years old, attended with her adoptive parents and even danced with Baltierra at one point. "I was bawling like a baby," he revealed of watching Lowell walking down the aisle. As part of his vows, the reality star promised to never make his new wife doubt how beautiful she is. The happy couple wrote their own vows, with Lowell gushing, "They were so heartfelt and emotional. He said he wants to love me forever, until his last breath." Mostly, though, she was just relieved they'd finally made it.
Catelynn Lowell sadly suffered a miscarriage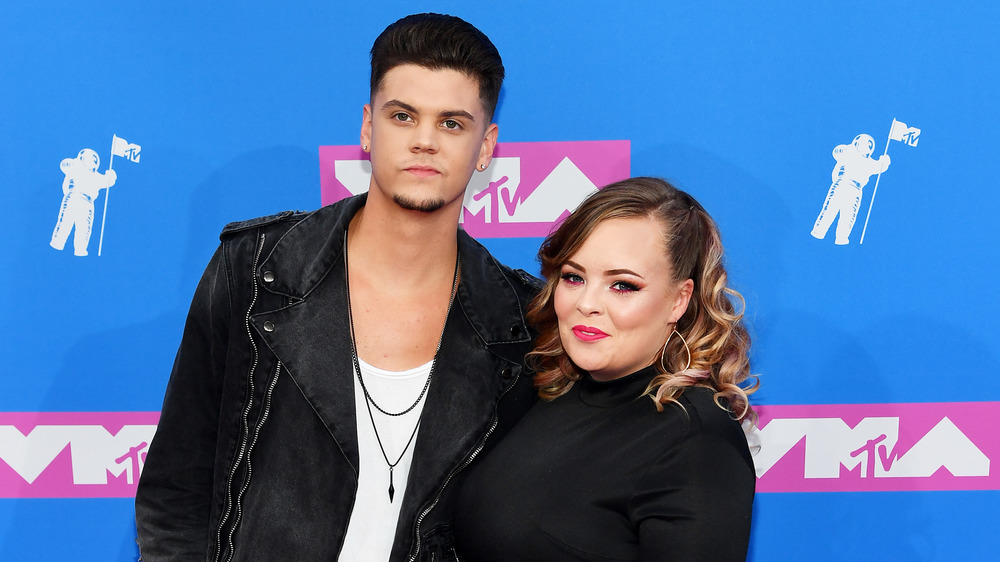 Mike Coppola/Getty Images
Tyler Baltierra and Catelynn Lowell are used to sharing every detail of their lives with MTV viewers, having grown up in front of the cameras. Sadly, the bad stuff also gets captured, and in 2018, fans learned that Lowell had suffered a miscarriage — after Teen Mom OG showed her and Baltierra excited for a new pregnancy that never materialized. As The Ashley's Reality Roundup reported at the time, a preview for an upcoming episode found Lowell excitedly telling Baltierra that Nova Baltierra is going to be a big sister, complete with a novelty T-shirt to mark the occasion.
However, Lowell was in treatment for an anxiety disorder in Arizona at the time, so there was no public announcement of an impending pregnancy. Still, according to sources close to the couple, the expectant mother sadly suffered a miscarriage. "The crew and production staff heard she was about six weeks pregnant when it happened, but no one is 100 percent sure," advised the insider. Lowell went into treatment soon after, remaining there for six weeks.
Tyler Baltierra and Catelynn Lowell fought back fiercely against divorce rumors
In spite of being the most solid couple across the Teen Mom franchise, Tyler Baltierra and Catelynn Lowell continue to fend off rumors of their impending breakup. After changing her last name on Instagram from "Baltierra" back to "Lowell," the Teen Mom OG star was forced to defend her relationship yet again, telling Us Weekly in a very clearly-worded statement, "Tyler and I are not getting a divorce. Couples go through ups and downs. That's normal life." Lowell added, "We are a solid couple that will work through anything life throws at us."
However, fans of Teen Mom OG did watch Baltierra and Lowell live separately for a month after Lowell got pregnant again, admitting to producers that it wasn't the best timing. "He decided he wanted to try living separately for a month," Lowell explained. "I was devastated, at first, but now that I've started my own therapy, I'm more comfortable with the idea," she shared (via People). 
Lowell also admitted that sometimes it's difficult to know who they are without each other, but made it clear neither Baltierra or Lowell wanted to see other people.
Tyler Baltierra and Catelynn Lowell welcomed their rainbow baby in 2019
Following the sad loss of their baby due to miscarriage, Tyler Baltierra and Catelynn Lowell announced they were expecting once again in September 2018. "This baby is our rainbow after the storm," the expectant mother gushed in a chat with Us Weekly. "I'm super excited." 
Lowell also shared that she and Baltierra were using protection, but the rainbow baby clearly was meant to be. "We were not planning it, especially after the miscarriage and how I went downhill with my mental illness," she continued. Fortunately, Lowell's anxiety was monitored throughout the pregnancy by a psychologist who specializes in trauma. "I really believe in my heart that I was meant to have that miscarriage because I spiraled so hard that it forced me to go to a place where I really had to dig into my childhood traumas," Lowell confessed.
Baltierra and Lowell welcomed daughter Vaeda Luma Baltierra on February 21, 2019, confirming the happy news with Us Weekly. The couple previously shared during an episode of Teen Mom that they were considering Tezlee as a name, but subsequently changed their minds (via People).
Catelynn Lowell acknowledged she and Tyler Baltierra aren't the perfect couple
No relationship is perfect, but given everything Tyler Baltierra and Catelynn Lowell have been through — in front of the world, no less — it's hugely impressive that they're so well-adjusted and committed to each other. In a wide-ranging 2019 interview with Us Weekly, Lowell looked back on their time together and confirmed that, after a huge amount of work, they're finally "in a good place." 
The reality star wasn't shy about detailing everything it required to get there, either. "We did couple's therapy together and therapy on ourselves as individuals, which I think helped a lot," she revealed. "We were just honest with ourselves and with each other."
On why their relationship continues to endure all these years later, Lowell surmised that they just make sense, in spite of the fact they butt heads on most things. "I feel like some people are just meant to be with one another and I really just feel like that's him and I; we just really bond and click and connect," she gushed.
Tyler Baltierra and Catelynn Lowell set the haters straight
Tyler Baltierra and Catelynn Lowell have been together since they were around 13 years old, enduring a crisis pregnancy, the emotional trauma of putting their first child up for adoption, unstable home lives, as well as trying to cope with their own mental health-related setbacks. Through it all, Baltierra and Lowell have remained steadfast in their devotion to each other. But that doesn't stop online commentators from guessing when the couple are finally going to call it quits. Thankfully, such easily-refuted rumors no longer bother the Teen Mom stars.
As Inquisitr reports, Lowell put fans on edge after alluding to taking "a big step personally," which many interpreted as getting divorced (it was actually a makeup class). Following up in a since-deleted post, the mother of three wrote, "I'm sick of people talking about EVERYTHING I post and talk about and do. It's my page and I can do what I want." She also included a link to an article about their relationship timeline, saying "Here's the truth about Tyler and I. So you all have your answers." There was no new information included, suggesting all was (still) well.
Tyler Baltierra and Catelynn Lowell renewed their vows
In 2020, Tyler Baltierra and Catelynn Lowell decided to prove just how committed they were to each other; they celebrated their fifth wedding anniversary with an intimate and romantic vow renewal ceremony. Us Weekly chatted with Lowell about their reasoning. "I actually planned the vow renewal so Tyler had no clue," the busy mother shared. She added it was largely due to the difficult year they'd had, describing it as a "new beginning and recommitting." 
As Lowell sees it, the vow renewal was a celebration of everything they'd been through, and a reminder of having come out the other side stronger. Lowell chose Hawaii as a destination because that's where the couple went on their honeymoon. "It was just him and I — and a TV crew. It was very small and intimate," Lowell recalled. The couple decided a vow renewal was apt because, "We are going on 14 years together and we plan on a lifetime."
Tyler Baltierra and Catelynn Lowell are stronger than ever
With more than ten years behind them and a happy future in their sights, Tyler Baltierra and Catelynn Lowell are more solid than ever before. And yet, critics just can't seem to accept that the MTV stars are happy. Lowell shot back at claims her husband cheated, telling Us Weekly in no uncertain terms, "Tyler and I are together all day every day! For people to think that he cheats is ridiculous and you obviously don't know his character because he would never be able to cheat and not tell me. It would drive him insane."
On why people keep trying to pick them apart, Lowell suggested they "just have a hard time believing in our relationship." She also pointed out that if there were any truth to such stories, someone would've sold them to the tabloids and provided the requisite proof. 
On what makes their relationship work after so long, Lowell told Hollywood Life that it's simply about working hard at it every day. "There's always going to be things that you have to go through," she explained. "It's choosing to work on it even when it gets hard because it's possible."