Emma Corrin Reveals A Surprising Connection To Princess Diana
Hit Netflix show The Crown tells the stories of the British royal family, and season 4 was much anticipated as the season where we meet Princess Diana. Emma Corrin, who plays the beloved people's princess, nearly blacked out when she heard the news, according to Interview. Fainting was the same reaction some patrons at a London train station café had two decades earlier when Corrin's mother and Corrin as a toddler walked in, just hours after the Princess died in a Paris car accident, noticing Corrin's resemblance.
"I hesitate to tell that story because it almost sounds too insane to be true. There's this theme throughout my life of Diana cropping up. It doesn't feel ordinary," she explained to Interview.
Despite her close resemblance to Diana, it turns out, she wasn't actually originally in the running for the role. On Today, she said, "I was asked to come in and help read opposite the girls auditioning for Camilla. And Josh [O'Connor, who plays Prince Charles] was there as well, so yeah, that's the first time we met. It's kind of crazy, thinking back."
Corrin understands why people might be upset by the series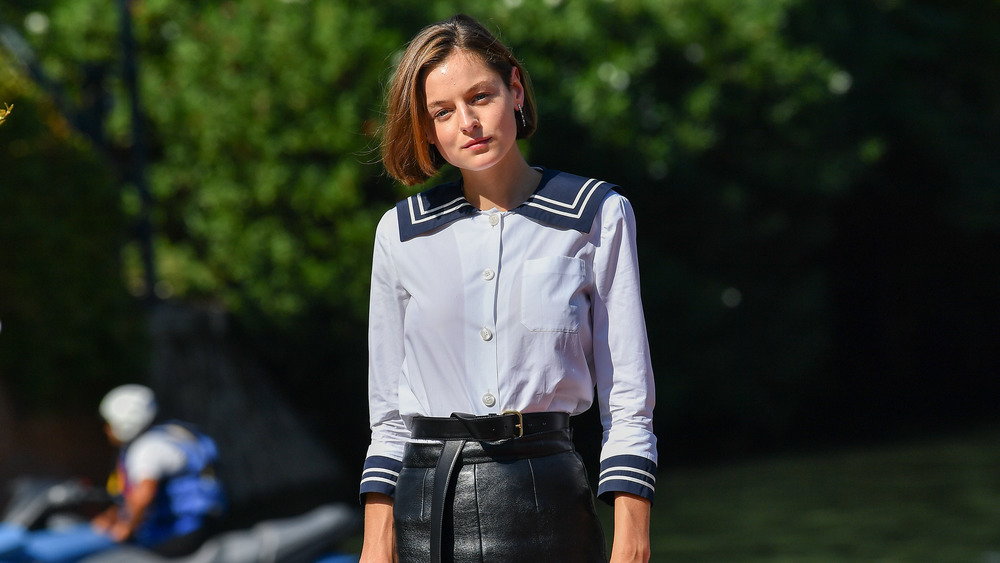 Jacopo Raule/Getty Images
The actor is also honest about the weight of playing such a famous figure. As a teenager, she waved a daffodil outside Buckingham Palace wedding of Prince William and Kate Middleton, and now she's playing William's mother. She said, "I feel a lot of responsibility. I try not to think much about it. Otherwise, it does get overwhelming" (via Interview).
Fans seem confident she nailed the challenging role, and they are raving about Corrin's portrayal of Diana with tweets like "Emma corrin's professionalism, talent and grace deserves all awards" and this one, "emma corrin was the PERFECT diana, and i will NOT be taking any criticism at this time. #thecrown".
Though not everyone is a fan of the series and Corrin's portrayal. The actor explained why she thinks that is to Harper's Bazaar, "It's a difficult one. I think for everyone in The Crown we always try and remind everyone that what we are, the series that we're in, is fictionalized to a great extent. Obviously it has its roots in reality and in some fact but Peter Morgan's scripts are works of fiction... I understand why people would be upset, because this is history. And even with Diana, it's still very much fresh, I suppose, everything that happened. So I do really understand if people would be upset."