Inside Amanda Kloots' Marriage To Nick Cordero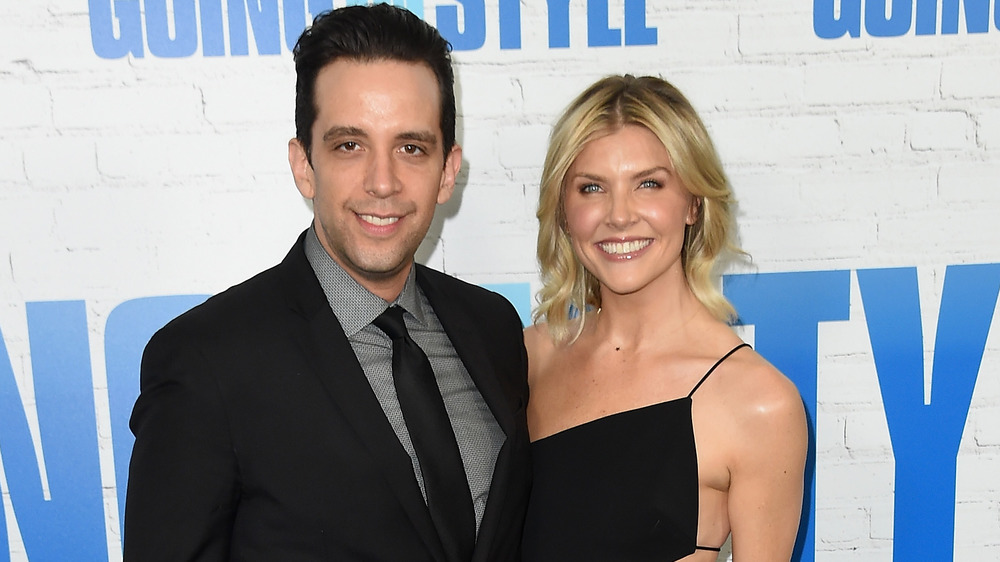 Nicholas Hunt/Getty Images
We may receive a commission on purchases made from links.
Amanda Kloots and Nick Cordero should be living a fairy tale happily-ever-after right now. The gorgeous couple had a meet-cute Broadway romance, a whirlwind wedding, and a young son. Kloots was just announced as one of the new co-hosts of The Talk, following the departures of Eve and Marie Osmond (via Page Six). But their promising life together was cut tragically short in July, when Cordero lost a three-month battle with the coronavirus. "It's not fair. He was getting better," Kloots explained in an interview with The New York Times. "It just felt like he could not catch a break." She added that although the hospital did everything possible for him, things might have been different if Cordero had fallen ill later in the year, when more was known about the disease and its treatment. 
The heartbreaking news put an abrupt end to a promising relationship. The two met in 2014 when both were cast in Bullets over Broadway, a Broadway musical based on Woody Allen's hit comedy. Kloots, recently divorced, was in the ensemble, while Cordero had a featured role that landed him a Tony nomination. As E! News explains, the couple hit it off during the making of the show, engaging in long Skype sessions at home after rehearsals. While the show itself was a flop, closing after just three months, the romance definitely wasn't. Cordero and Kloots became engaged in March 2017 and wed a mere six months later (per Playbill). In June 2019, the couple welcomed their son, Elvis Eduardo.
Amanda is paying tribute to Cordero's memory and talent
In addition to being a gifted actor and singer, Nick Cordero was also a composer who had been singing an original song, "Live Your LIfe," as part of a cabaret show. As USA Today recounts, as Cordero's illness worsened, Kloots urged fans to sing the song at 3 p.m. every day as a show of support. The day after he passed, Kloots sang it one final time: "I kept telling him that he had the whole world singing his song, knowing who he was and what kind of an amazing person he was." The song is part of a memorial album, Live Your Life: Live at Feinstein's/54 Below, released in September, with proceeds going to help Amanda and Elvis (per Broadway.com).
Kloots, a former professional dancer turned fitness trainer, is slowly learning to adjust to life without the husband she loved. On Thanksgiving, she posted on Instagram, "It would be easy...to [count] my losses, but I'm choosing to count my blessings. [Elvis] is one of them." She recently posted a video discussion about "firsts" with her friend Zoey, also a young widow. She is also collaborating with her sister, Anna Kloots, on a memoir to be published by HarperCollins next June. Titled Live Your Life: My Story of Living and Losing Nick Cordero, it will chronicle their romance, the agonizing weeks of Nick's illness, and her courageous efforts to heal and find meaning in her loss.