The Adorable Sasha Obama TikTok That Has Twitter Talking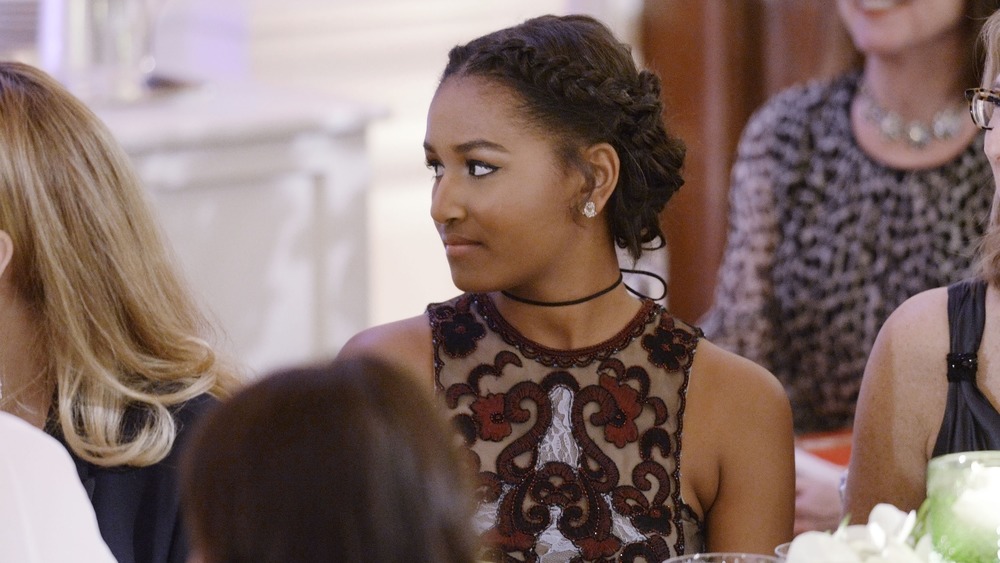 Pool/Getty Images
It would appear that no one can resist the TikTok addiction — not even Sasha Obama herself. The 19-year-old has been in the public eye for more than half her life as a result of her father's political career and was known as the adorable younger Obama daughter. However, Sasha is a sophomore at the University of Michigan now (via People) and is beginning to establish herself a rather independent young woman.
Sasha has recently appeared on TikTok in a video showing herself and a few friends dancing and lip-syncing to "Adderall (Corvette Corvette)" by Popp Hunna (via Twitter). The video has been viewed millions of times, and while it's surprising to see such a stark contrast in how she's been depicted in the media thus far, it's honestly just refreshing to see her appear normal. In this video, she's dancing the way that everyone on TikTok dances, dressing the way that people her age dress, and just overall appearing to be having fun — like 19-year-olds should.
Sasha Obama is thriving living a 'normal person' lifestyle
It's no secret that the Obamas haven't really lived the typical American life as a result of being so heavily in the public eye, and this is even more true for Sasha and older sister Malia. Now that their father is no longer president, it would seem that they're finally able to venture out more and experience the sort of lives that young women should.
While Sasha doesn't seem to have her own TikTok account — or at least one that is public — this isn't her first time appearing on the app. She has been seen in other people's accounts, presumably her friends, dancing and lip-syncing. TikTok user @cohen_twins explains that she was scrolling through TikTok one day when suddenly, a video of a group of young people dancing to Hunna's song popped up. She said she was shocked to see that in that group of teens was Sasha Obama, but the video "didn't have that many likes." When she went to the comments section of the video, she realized they were disabled, and then eventually, the video was taken down entirely (via TikTok).
People on Twitter are absolutely loving seeing Sasha in this way. One person shared the video in question, writing "Sasha living her best life" (via Twitter). One Twitter user said, "Beautiful young woman Sasha Obama has become. Live your life young sis." Another commented, "Well adjusted young adults need room to be themselves. This is nice to see her with her friends."