The Truth About Kyle Richards' First Marriage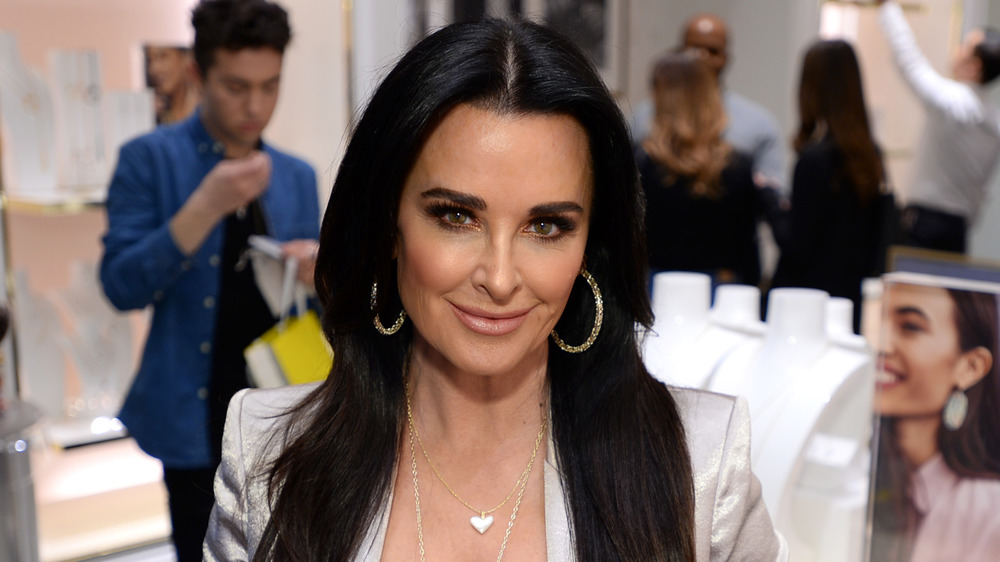 Andrew Toth/Getty Images
While Real Housewives of Beverly Hills star Kyle Richards and Mauricio Umansky's marriage may be the stuff of fairytales, many were shocked to learn of her first marriage to Guraish Aldjufrie that took place some decades ago. After meeting at a concert, the two went on to get married and welcome a child together. The reality TV star talked about the relationship on the Juicy Scoop with Heather McDonald podcast, saying that they met at a Tina Turner concert when she was just 18 years old (via Bravo's The Daily Dish).
"I lied and I said I was 19 and I had braces and I was hiding my braces," she explained. "And then I got scared so I had my friend come with me and then it was like a group of people and he was in the group and we became friends. He speaks good English, but he didn't when we first met. He's Indonesian, so he's Indonesian, Arab, and Dutch. He had not lived here long when he had to get up the courage with his English to ask me out on the date," she continued.
In 1988, the two married in a small ceremony while Richards was pregnant, and the pair welcomed their daughter Farrah later that year. While transitioning into her role as Mom came easily to her, being a wife proved more difficult. "I struggled with the being married part. Now I've got the wife part down, but that's hard to be a wife at that age," Richards revealed.
Kyle Richards' first husband was rumored to be a prince
Thanks to his quiet, kind demeanor, along with his family's wealth, Guraish Aldjufrie gave off princely vibes, according to his ex-wife. "Well he was shy and cute, and I liked the fact that he was that — and sweet and very much a gentleman. In fact, people said when I got married, 'Oh well she married a prince.' That was the rumor. He wasn't a prince, but he just acted like one because he was very reserved and sweet," she revealed to Heather McDonald.
Today, Aldjufrie remains close with Kyle Richards, Richards' second husband, and the pair's daughter, Farrah. Recently, Farrah shared a photo of the two for his birthday. "Happy birthday Dad. Always so caring, loving, and kind. Thank you for teaching me and guiding me through life. I'm so grateful for our amazing bond. I love and miss you so so much [and] I cannot wait to see you soon! (ps- am I not their twins?!)," the Instagram post read. 
Farrah told The Daily Dish that she think of Umansky and Aldjufrie as her "two dads," adding that she's had "the best of both worlds" by having them both in her life.