The Reason Dame Maggie Smith Hasn't Watched An Episode Of Downton Abbey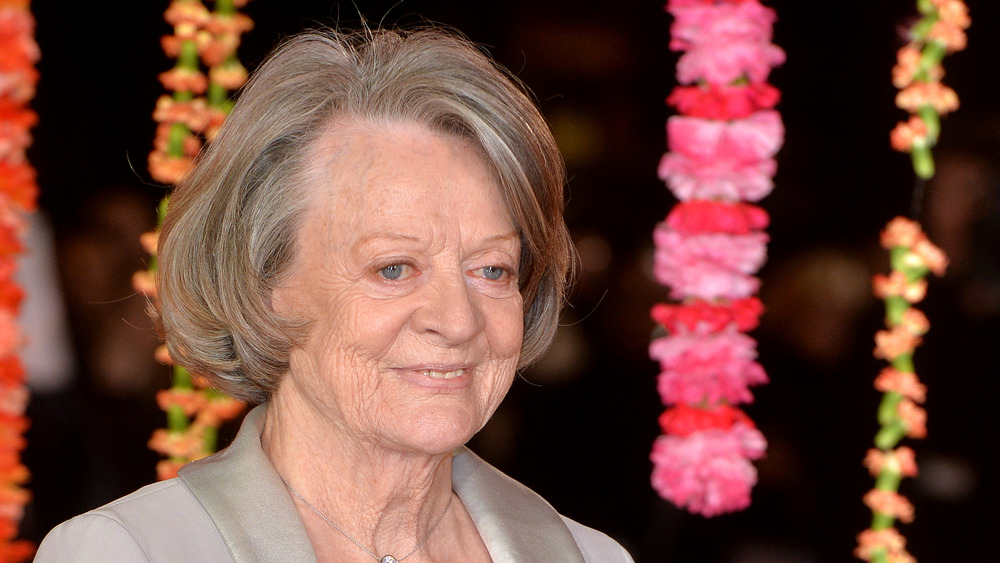 Anthony Harvey/Getty Images
With quips like, "Principles are like prayers. Noble of course. But awkward at a party," and, "Don't be defeatist, dear, it's very middle class," the Dowager Countess of Grantham a.k.a. Violet Crawley's dry, piercing wit stole the show in nearly every episode of Downton Abbey (via Downton Abbey Online). Strangely though, it seems Dame Maggie Smith, the actress behind the memorable character, can't appreciate her own stellar performance. According to The Guardian, Smith told 60 Minutes, "I've never actually seen it. I don't sit down and watch it. No, I've never watched it."
Downton Abbey was cancelled after six seasons but before that news broke, Dame Maggie Smith had already announced her intention to quit the series. Smith told The Sunday Times (via Vanity Fair) that the show had made her all too recognizable and left her with no privacy. During her time on Downton, Smith won three Emmys and was nominated for two more (per the Television Academy). Smith's character of Violet Crawley ranked number one in British Period Dramas' poll of the top 25 most popular Downton Abbey characters, taking 18.2 percent of the votes. And, the Countess is the subject of countless memes online — a true sign of superstardom if there ever was one. So why is it then that Dame Maggie Smith has never watched an episode of Downton Abbey? In her words to 60 Minutes, "... because it's frustrating."
Dame Maggie Smith is critical of her acting
It may be hard to believe, but even an actress as accomplished as Dame Maggie Smith has insecurities about her performance. The Downton Abbey star explained to 60 Minutes, "I always see things that I would like to do differently, and think, 'Why in the name of God did I do that?'" Smith elaborated on the topic to Mindfood in 2019, revealing that her concerns are based in fear. She told the outlet, "I really don't like to watch myself — I hate it. You are helpless to do anything to stop it once it's out there, and that has always terrified me."
Smith began her acting career in theater before moving on to film and offered a comparison to Mindfood, explaining, "In the theatre things are a little different because you can say to yourself 'I'll have another go at that tomorrow night... I'll change that, alter that...', but with cinema it is there forever." However, at 85 years old, Dame Maggie Smith seems to be at peace with her self-criticism. She noted, "The truth is, I'm critical of everything because I care and worry too much. I'd love to be more relaxed, but after all this time I don't think I'm going to change now."