What Maggie Smith Has Been Doing Since Downton Abbey Ended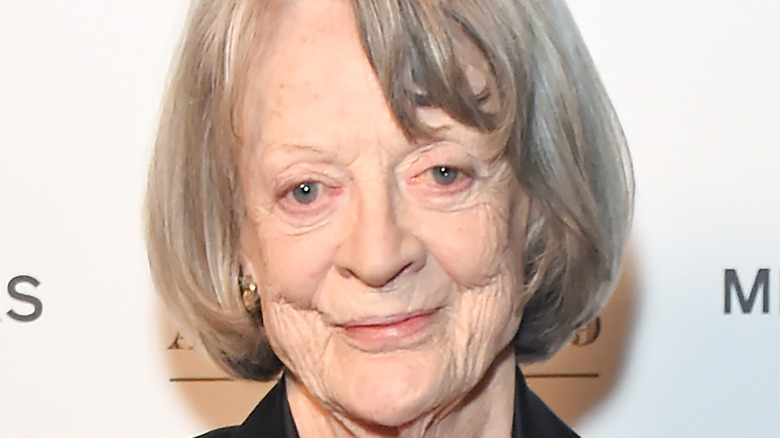 David M. Benett/Getty Images
Maggie Smith is one of the most iconic actresses in living memory. She was already a seasoned veteran when she landed the role of Violet Crawley, Dowager Countess of Grantham on "Downton Abbey," which is one of her best-known roles (at least to modern audiences).
Smith spoke about her decision to become an actress during a 2019 interview with The Evening Standard. "Honest to God, I have no idea where the urge came from," Smith told Evening Standard. "It was such a ghastly time and we didn't go to the theatre. I got into terrible trouble once because the neighbors took me to the cinema on a Sunday. But I had a wonderful teacher, Dorothy Bartholomew, who also taught Miriam Margolyes, and who encouraged me."
Despite having an incredibly successful career leading up to her debut as the matriarch of the Crawley family (she has been acting in productions since the 1950s and even appeared as Professor Minerva McGonagall in the "Harry Potter" franchise), Smith claims that her appearance in "Downton Abbey" is to blame for her lack of anonymity when she is out and about. "I led a perfectly normal life until 'Downton Abbey,'" Smith said during an appearance on "The Graham Norton Show," per HELLO! Magazine. "I'm not kidding. I'd go to theatres, I'd go to galleries, things like that on my own. And now I can't and that's awful."
Smith has taken on fewer roles in the past few years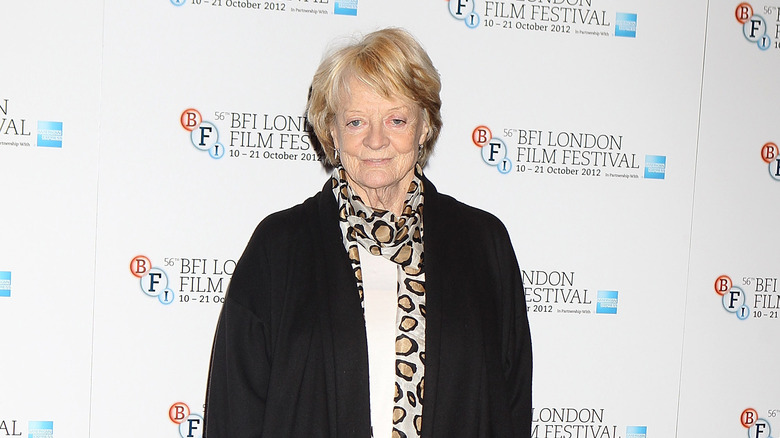 landmarkmedia/Shutterstock
Since "Downton Abbey" wrapped in 2015, Maggie Smith has only had a few roles. With a career dating back to the 1950s, though, she's more than earned a break. She has a slew of awards, including an Oscar for her role in "The Prime of Miss Jean Brody," and three Emmy Awards for her "Downton Abbey" role. She is also a Dame Commander of the Order of the British Empire.
Following "Downton Abbey," Smith reprised her role as Professor Minerva McGonagall from the "Harry Potter" films. The voice role was for the 2018 video game "Harry Potter: Hogwarts Mystery." Smith also voiced Lady Bluebury in "Sherlock Gnomes" the same year. One of her most recent roles was an appearance in "A Boy Called Christmas," which was released in 2021.
Smith was also convinced to rejoin her "Downton Abbey" castmates for the 2019 "Downton Abbey" film. Convincing Smith to reprise her role must have been quite the challenge as she had been adamant about not wanting to appear in a "Downton" film. The executive producer of the "Downton Abbey" film, Gareth Neame, told Parade that Smith was the last cast member to sign on to the movie but, thankfully for her fans, finally agreed to appear in it. "I suspect in a lot of ways, Maggie missed working with the other actors," he said. "When she was completely sure everyone was going to do it and it was happening, then she was on board."
Smith will also be appearing in another "Downton Abbey" film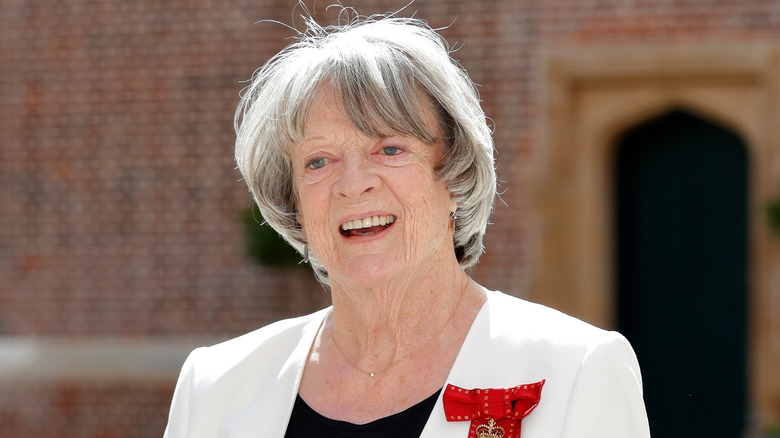 Max Mumby/indigo/Getty Images
Despite her protests regarding future appearances in "Downton Abbey" films, Maggie Smith will indeed be returning to star in the second film, called "Downton Abbey: A New Era," per Town & Country. The movie, set to debut in the late spring of 2022, will apparently follow Tom Branson as he marries for the second time and will perhaps even cover Violet Crawley's illicit affair.
Though all of the principal characters will be returning to "Downton Abbey: A New Era," Producer Gareth Neame admitted back in 2019 that gathering all of the cast together once again would be a challenge. "We're working on what the story is, and when we might be able to make it," Neame told The Hollywood Reporter. "But it's the same as the first time around: We have to try to get everyone back together again. And that was very challenging."
Many might be surprised to see the Dowager Countess, given the fact that she appeared to be gravely ill towards the end of the last "Downton Abbey" film. Smith also seemed to feel that her illness would mean that she wouldn't appear in the upcoming film. "I was firmly convinced it would start with the funeral. I could croak it and it would just start with the body," Smith said of her imminent appearance in "Downton Abbey: A New Era" while being interviewed on "The Graham Norton Show," per HELLO! Magazine. However, Neame never counted her out. "All I would say is that one of the things that's been commented on over the years about Downton is that we've had plenty of medical misdiagnoses," Neame told The Hollywood Reporter.