How To Get Perfect Wings Every Time On Hooded Eyes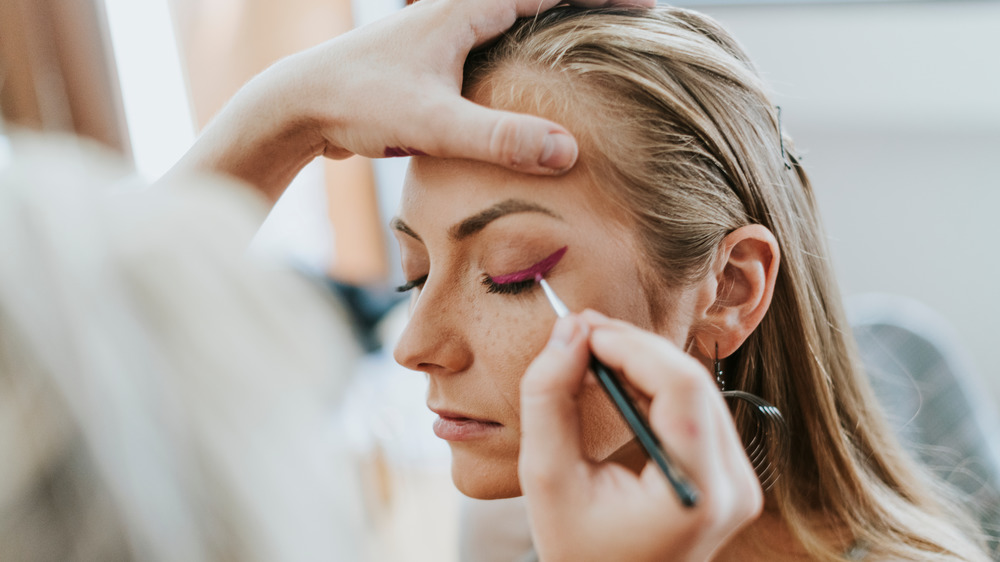 Shutterstock
Ever since the winged-eyeliner trend has taken off, those with hooded eyelids have had to learn how to discreetly deal with smudging. Even without the wings, eyeliner can leave long black lines on droopier lids. But, being left with frazzled marks all over your eyes can be a thing of the past when you learn the proper technique for your eye shape.
According to Byrdie, keeping your eyes relaxed as you trace your eyeliner's shape is a little-known key to success. When you relax your face only after you're finished drawing, the lines can be skewed after application.
You can start with an eyeliner pencil to lightly "sketch" the shape you're looking for. As for the angle, use the other features of your face to make the most clear, effective line. Celebrity and editorial makeup artist Katie Jane Hughes tells the outlet, "The general trick is, hold the pencil in line with your nose and the corner of your eye, and then angle it toward the eyebrow. So [from] the tail of your brow, to the corner of your eye, to the corner of your nose, that is the direction in which your eyeliner should go." Then, if you want a sharper line, use concealer to clear up the edges.
Start your wing where your hood starts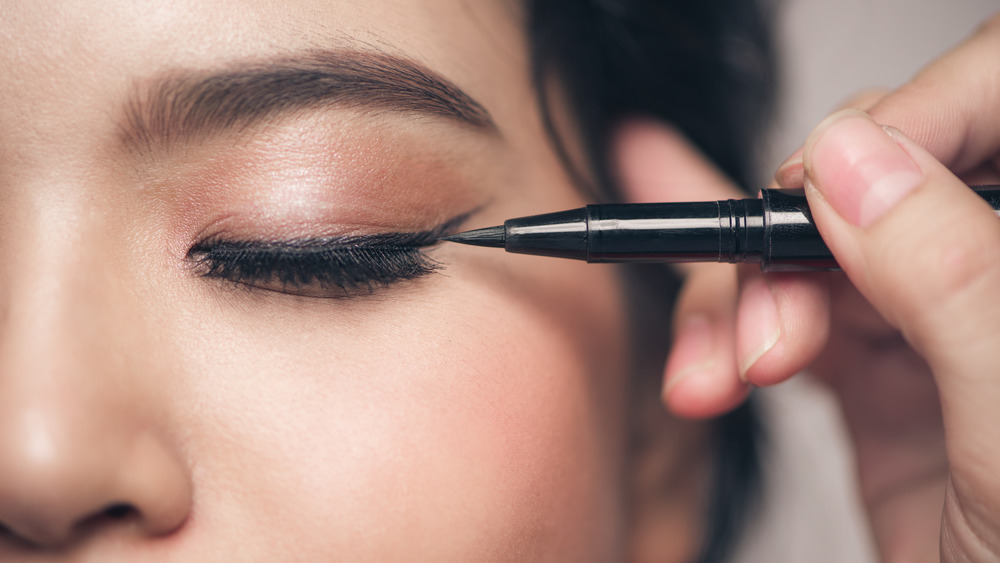 Shutterstock
Simple tricks can make a big difference when it comes to little black lines. Good Housekeeping explains that people with hooded eyelids should start their wings at the spot where their hood starts. This means that the spot at the corner of your lids where your lid and upper eye meet should be the place you angle your line from. Furthermore, the outlet also suggests working your way inward, choosing your level of thickness as you apply.
But, as far as smudging goes, one tip can be a game changer. Once you've found the right angle and spot from which to start your line, taking your pencil only a third or half the way across your lid can make your eyes look wider and minimize running, Bustle explains. This trick helps emphasize the space where you can still see the liner, since hoods can often hide your top lid.
Finally, for excessively hooded eyes, you can use eyelid tape or glue to lift the entire upper part of your eye, according to the outlet. Providing a non-surgical option that keeps your eyes looking bright, your liner can rest easier across your lid without obstruction with this tool. Just make sure to use this tape sparingly, as too much pulling can damage the delicate skin.