The Real Meaning Behind Miranda Lambert's Tattoos
Kevin Winter/acma2013/Getty Images
Miranda Lambert is no stranger to symbolism. Her lyrics are full to the brim with metaphor and imagery, from her early days of "soaking [high society] in kerosene" to her most recent musical assurance to her fans that she will always keep a "bluebird in [her] heart." It's not surprising, therefore, that Lambert has several tattoos, all of which have their own distinct and significant meanings to the singer. 
First, and easiest to analyze, is the cross on the inside of her right wrist. The cross has a heart in the center of it. Lambert is of the Christian faith, and this classic symbol is a representation of that faith (via bodyartguru.com).
On her right forearm she has a tiny music note, and she isn't alone. She, along with collaborators on her 2015 Certified Platinum tour Raelynn and Gwen Sebastian, had the same work done in advance of going on tour together. 
Not far from the cross and the music note is the arrow on the side of her hand. While Lambert has never discussed her reasons for this tattoo, arrows usually represent protection from harm and can also represent direction. Above this tattoo is another, the word "tumbleweed." While the singer hasn't explained this one either, tumbleweeds blow in the wind freely, going wherever the breeze takes them. This seems in line with her free spirit attitude (via amomama.com).  
Miranda's four other tattoos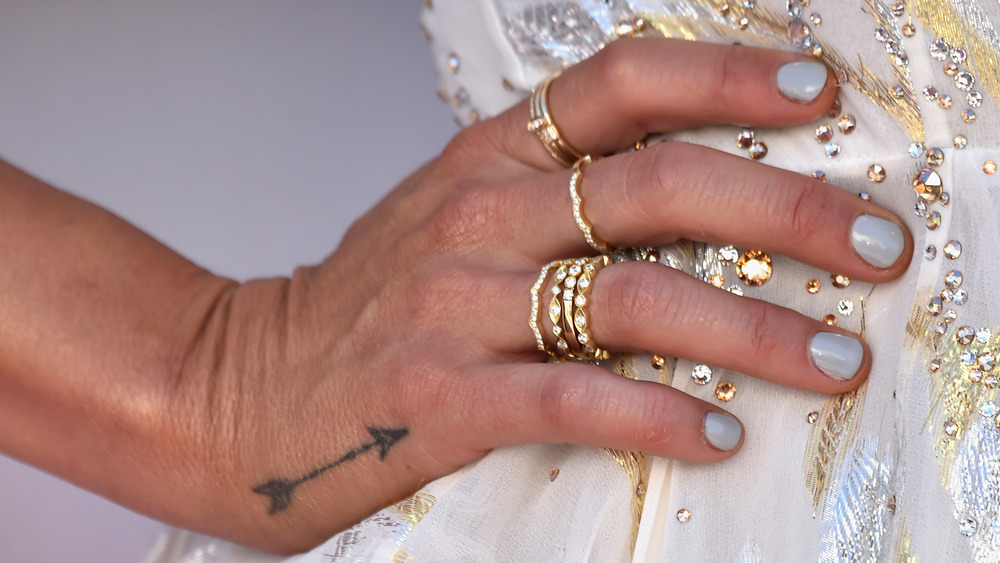 Frazer Harrison/Getty Images
The guns with wings on Miranda Lambert's left forearm has become her most famous tattoo and, for all intents and purposes, her logo. It appears on liner notes of albums, on clothing, and many things she owns. But her father wasn't happy about it when she had it done at the age of 22. In fact, there is a line in her song, "Heart Like Mine," that directly references this — "Daddy cried when he saw my tattoo; he loved me anyway" (via bodyartguru.com). 
Just before she married Blake Shelton in 2012, the singer had a pink, paw-shaped heart tattoo applied to her right foot. On her left foot she sports a feather and the word "wild." While we haven't heard from her own mouth what it means, it's not hard to imagine the imagery of the feather along with that word indicate freedom to fly wherever she wills, untamed.
Lambert's most recent tattoo is a playing card with a large heart on the inside of her right forearm. She had this one done right after she married husband Brendan McLoughlin. She says this one has significant meaning to her. "It represents a lot of things in my life. I was going from one phase of life to a new one [...]. It's about making sure I know that I'm the queen of my own heart," said the singer (via amomama.com).