The Internet Is Seeing Red Over Melania Trump's White House Tennis Pavilion
After spending the last few months campaigning for her husband and recovering from her bout with COVID-19, First Lady Melania Trump has come forward to unveil her latest work — a tennis pavilion to go with the refurbished White House Tennis Court and Grandchildren's Garden. 
In a press release announcing the garden's debut, the White House says the project had been in the works since early 2018, and in June of last year, the project was approved by the Commission of Fine Arts and the National Capital Planning Commission (via WhiteHouse.gov). The new structure's design was inspired by the White House's East and West Wings. De zeen reports the tennis pavilion replaces a building that once had restrooms and storage space. Before the Trumps, the White House tennis court was also known as the venue for the annual Easter Egg event.
In a press release, the First Lady said: "I am pleased to announce the completion of the Tennis Pavilion on the White House grounds. Thank you to all of the talented craftsmen who made this project possible and to the generous supporters of the White House. It is my hope that this private space will function as both a place of leisure and gathering for future First Families." The building was said to have been paid for with private donations.
The internet is upset over the timing of the tennis pavilion's announcement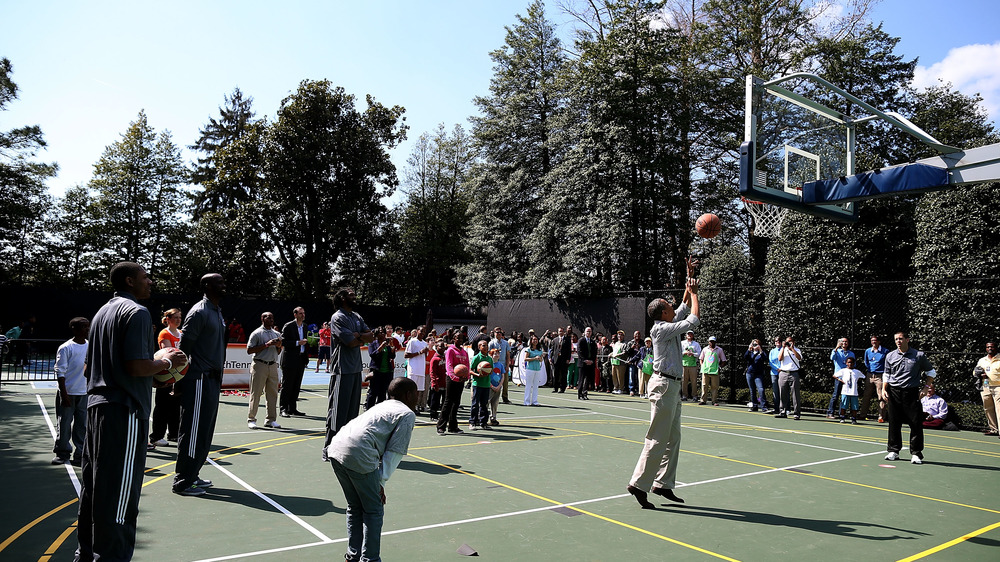 Mark Wilson/Getty Images
Unfortunately the completion of the new tennis pavilion couldn't come at a seemingly worse time for Melania Trump. The country continues to see a rising number of COVID-19 infections, and because of this, the internet had plenty to say about the latest addition to the existing White House tennis complex.
One public health expert posted a photo of the new structure on this Twitter account, posting: "Good news — WH just announced today that they just completed the WH Tennis Pavilion. WH is so excited that they put out a press release. How many PPEs, tests, masks, contact tracers, and ICU beds could that have bought instead? #COVID19" Other users were more than a bit flabbergasted by the timing of the announcement, with one Twitter user noting: "So, on Pearl Harbor Day, as we close in on 300,000 dead from a pandemic that has turned our lives upside down for nearly a year — the White House celebrates building a new tennis pavilion."
A third social media user simply tweeted: "So glad she's finding ways to keep herself occupied in the middle of a pandemic ... meanwhile people are running out of money, have been evicted, lost loved ones to Covid, and trying to figure out how they can buy groceries."