Melania Trump Finally Opens Up About Her Experience With COVID-19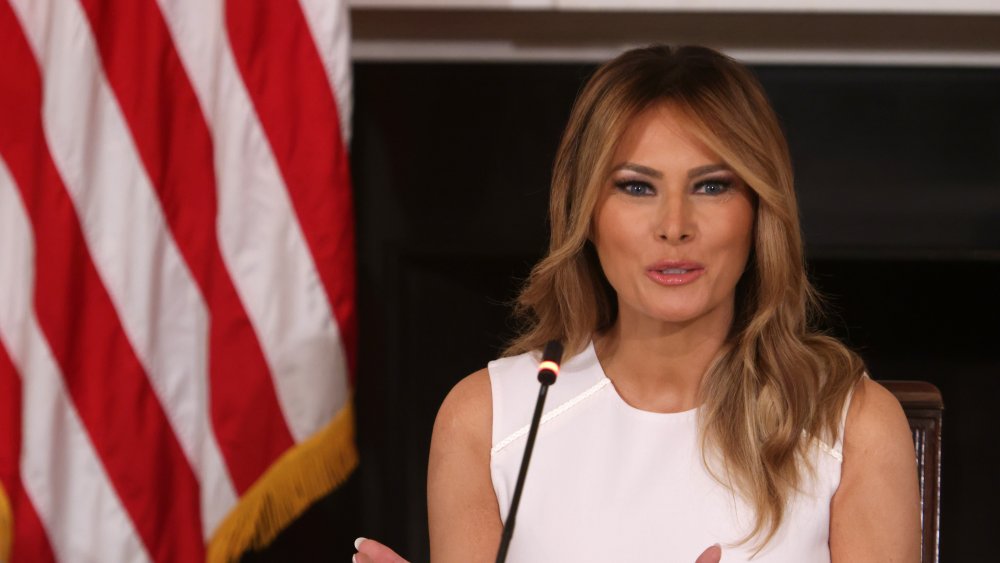 Alex Wong/Getty Images
Between the helicopter rides to and from Walter Reed Medical Center, a surprise appearance in the midst of his hospitalization to assure the public that he was fine, and his tweets about feeling better than he has in 20 years, Donald Trump's COVID-19 experience has dominated headlines for weeks. But the president was not the only member of the Trump household with a positive coronavirus test; First Lady Melania Trump was diagnosed with this infection as well, as were 34 other members of Trump's inner circle at the White House (per ABC). So how did the FLOTUS fare with her bout with the pandemic? Melania recently shared a first-person account of her illness on the White House's website.
While she was concerned about her husband's health and her own recovery, Melania Trump said her son Barron's positive COVID-19 test was what worried her the most. "Naturally my mind went immediately to our son," she wrote. "To our great relief he tested negative, but again, as so many parents have thought over the past several months, I couldn't help but think 'what about tomorrow or the next day?' My fear came true when he was tested again and it came up positive. Luckily he is a strong teenager and exhibited no symptoms."
Melania Trump was hit with a 'roller coaster' of symptoms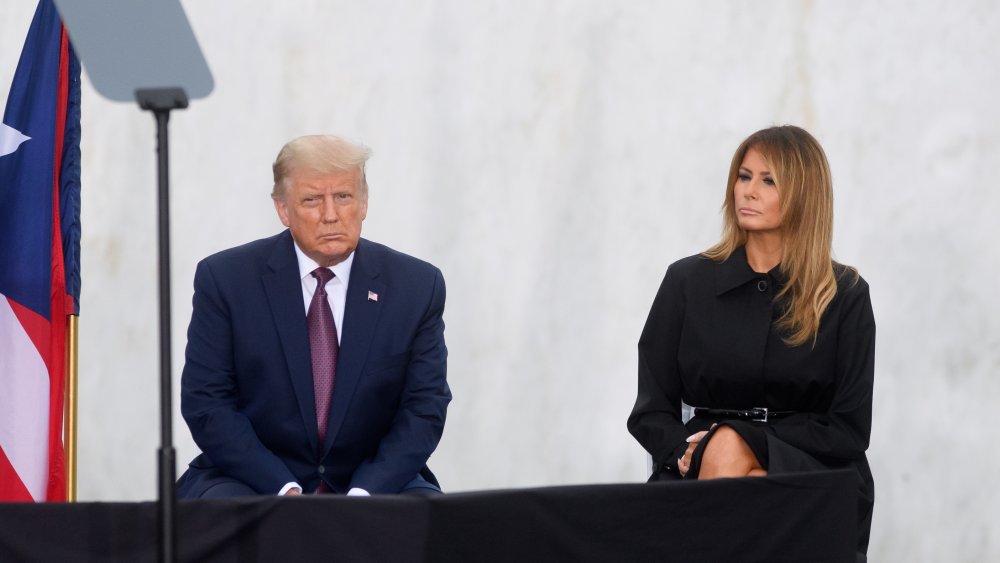 Jeff Swensen/Getty Images
Most of Melania Trump's account of her illness focuses on the emotions she felt, as she grappled with her family's infection, and then rejoiced in their recovery — but she also provided details about how the virus affected her physically. "I was very fortunate as my diagnosis came with minimal symptoms, though they hit me all at once and it seemed to be a roller coaster of symptoms in the days after," noted the first lady, who has recently tested negative for coronavirus. "I experienced body aches, a cough and headaches, and felt extremely tired most of the time."
In contrast to her husband, who was treated with an experimental drug cocktail that included Regeneron, Melania said she was able to recover with minimal medical intervention. "I chose to go a more natural route in terms of medicine, opting more for vitamins and healthy food," she explained, adding that her healthy lifestyle prepared her to fight off the illness quickly. "I encourage everyone to continue to live the healthiest life they can. A balanced diet, fresh air, and vitamins really are vital to keep our bodies healthy," she advised. "For your complete well-being, compassion and humility are just as important in keeping our minds strong. For me personally, the most impactful part of my recovery was the opportunity to reflect on many things—family, friendships, my work, and staying true to who you are."