Katy Perry Reveals Reality Of Postpartum Life With Hilarious Spanx Video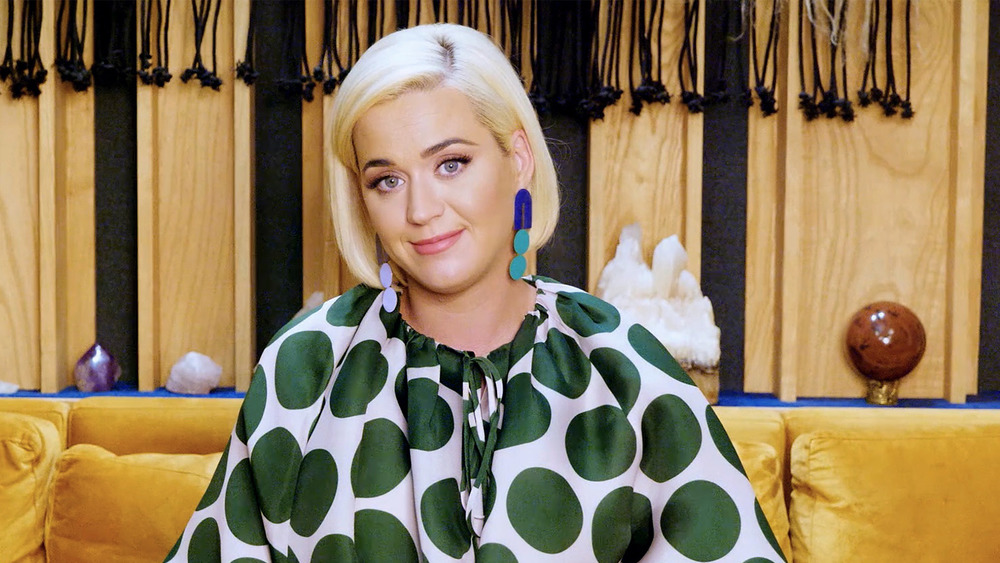 Getty Images/Getty Images
Ah, we love Katy Perry. The new mom is always game to make us laugh — at her own expense. Remember when she shared a postpartum photo featuring her maternity mesh underwear and nursing bra? Well now, the singer, who recently welcomed her first child, a daughter named Daisy with actor Orlando Bloom, has done it again, taking to TikTok to share the "secret" of what makes a woman (via E! Online). Is it power, attitude, or style? Well, sure. But there's more to womanhood for Perry than these attributes.
In the viral video, we see the American Idol judge strutting down a mock runway in what looks like a fantasy closet, wearing a chic blue trench coat and heels, her blonde hair fully coiffed, and her face fully made up. Is she going to an event? No matter — Perry looks gorgeous, and, wait, did she really just have a baby?
But then, the star flashes the camera — yup, seriously — to reveal how she really pulled her look together.
Katy Perry isn't afraid to keep things real
As the sexy strains of "Whatever Lola Wants" plays in the TikTok video, Perry lifts up her coat to show her 5.1 million followers that she is sporting a big old pair of Spanx, the slimming garment women worldwide swear by.
Then, the camera pans down to the carpet to show a Spanx tag, and confirm that yes, this star mom has the best sense of humor ever. The video was also shared over on Perry's Instagram, with followers reacting with laughing emojis, and stars weighing in with their appreciation for the honest post. "HAHAHAHA YESSSS," Demi Lovato commented. Katharine McPhee, who is expecting her first child with husband David Foster, also commented with crying laughing emojis.
We join the many fans who laughed out loud at Perry's video, and commend her on keeping things real, yet again. And of course we look forward to your next share, mama Katy!