The Bachelor's Lauren Bushnell Reveals First Pic Of Her Baby Bump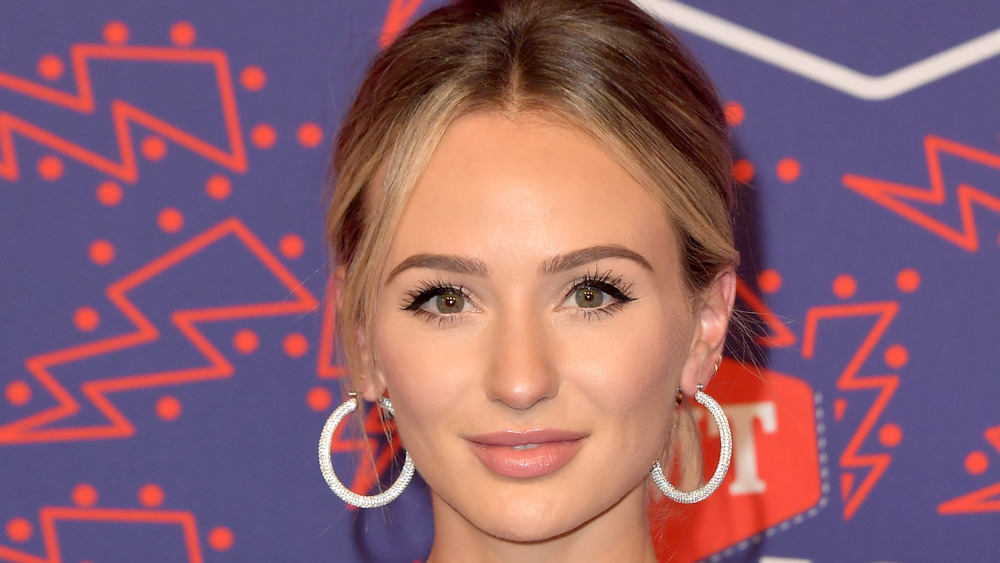 Michael Loccisano/Getty Images
After The Bachelor's Lauren Bushnell recently shared the exciting news that she is expecting her first child with her country singer husband Chris Lane, following their whirlwind trip to the altar, the former reality star gave fans their first sneak peek of her teeny, tiny baby bump.
In an image she shared on Thanksgiving with Lane and their dogs, Bushnell admitted she'd been trying to hide her burgeoning belly. But just a few weeks later, the star admitted in an Instagram Story that this was no longer possible, writing, "Baby was really making an appearance on Thanksgiving. And this was pre-stuffing and turkey" (via Us Weekly).
The soon-to-be first time mom also shared an update on how she is feeling with the pregnancy thus far: "Today! Finally feeling better over the last few weeks and [I've] been able to sneak in 15-20 minute daily workouts. Feels so good to not be a couch potato anymore."
Lauren Bushnell also shares when her baby is due
Fans of Bushnell and Lane will also be excited to learn that the 30-year-old is revealing when her baby is due — something many celebrities shy away from. In the Instagram Story that she shared a bump shot and told her followers how she is doing following the pregnancy announcement, the star noted, she is "due beginning of June." It's clear Bushnell is excited to share her pregnancy journey with her fans, every step of the way. And we are loving it!
Meanwhile, Lane is obviously also pumped about the couple's growing bundle of joy — something they made clear they were hoping for since they said "I do." Over on Lane's Instagram, he shared the same ultrasound video Bushnell used to announce their baby on the way, with this heart melting caption: "Prayer works! Hope you look like your Mama." Country stars from Scotty McCreery to Chuck Wicks to RaeLynn were quick to comment on the sweet post, sharing their congratulations at the happy news.