Rudy Giuliani Gives A Surprising Health Update After COVID-19 Diagnosis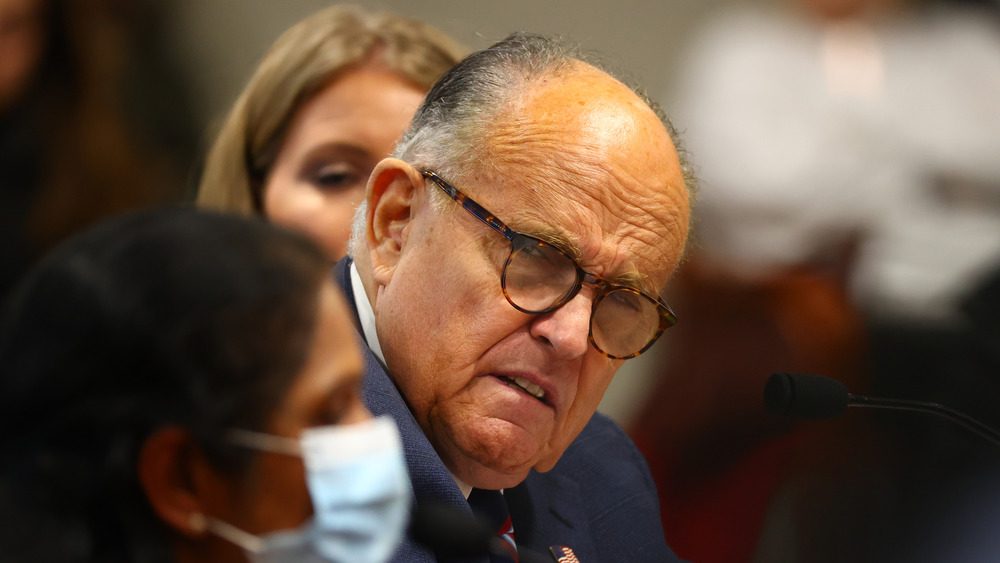 Rey Del Rio/Getty Images
It seems like only yesterday that former New York Mayor Rudy Giuliani tested positive for COVID-19. Now, two days after being admitted to the hospital, he says he's on the road to recovery and expects to be discharged later today. He also took to Twitter to credit his son for being by his side throughout his stay, posting: "Couldn't get all this work done and still recover so quickly without the help of my son @AndrewHGiuliani. He's been with me every minute and is doing the work of an entire staff. And he's taking care of his father. A great son and a great person."
During an interview with TalkRadio 77 WABC on Tuesday, Giuliani said he was "doing fine, pretty much all the symptoms are gone, I have no fever, I have very little cough which is also gone. I've been walking around, and I think they're gonna let me out tomorrow [Wednesday] morning." He also said he hadn't wanted to go into the hospital, but was talked into it by President Donald Trump's doctor, who said the same cocktail treatment of Remdesivir and dexamethasone could help him "get it [COVID-19] over in three days if we sent you to the hospital."
Rudy Giuliani had been traveling across the country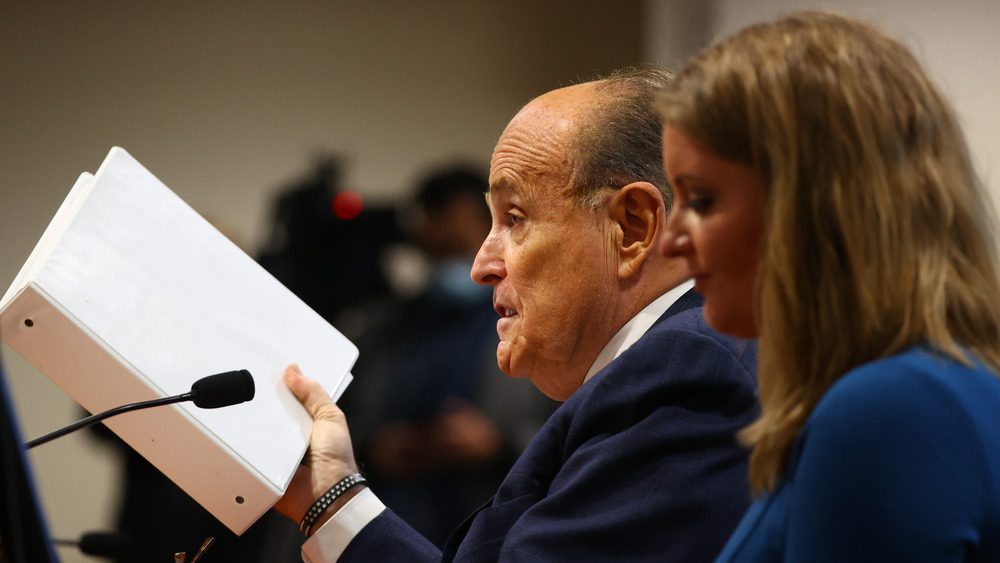 Rey Del Rio/Getty Images
It's still not certain how Giuliani, who is also Trump's personal lawyer, might have gotten infected, since he has been traveling across the country. During the past week  he made a stop in Georgia, where he spoke, maskless at a state Senate hearing. Republican state Senator William Ligon has since asked everyone who has come in contact with Giuliani to self isolate. He also met with members of Arizona's state legislature, which has had to close for a week "out of an abundance of caution." From Arizona, Giuliani travelled to Michigan, where he took part in a Zoom call with Michigan Republican Party Chairwoman Laura Cox (via USA Today). 
Giuliani's fellow counsel, Jenna Ellis, has also tested positive for COVID-19, but The New York Times says it is not clear whether she had any symptoms or whether she had taken any tests to confirm her diagnosis.