This New Netflix Film Has Ariana Grande Fans Excited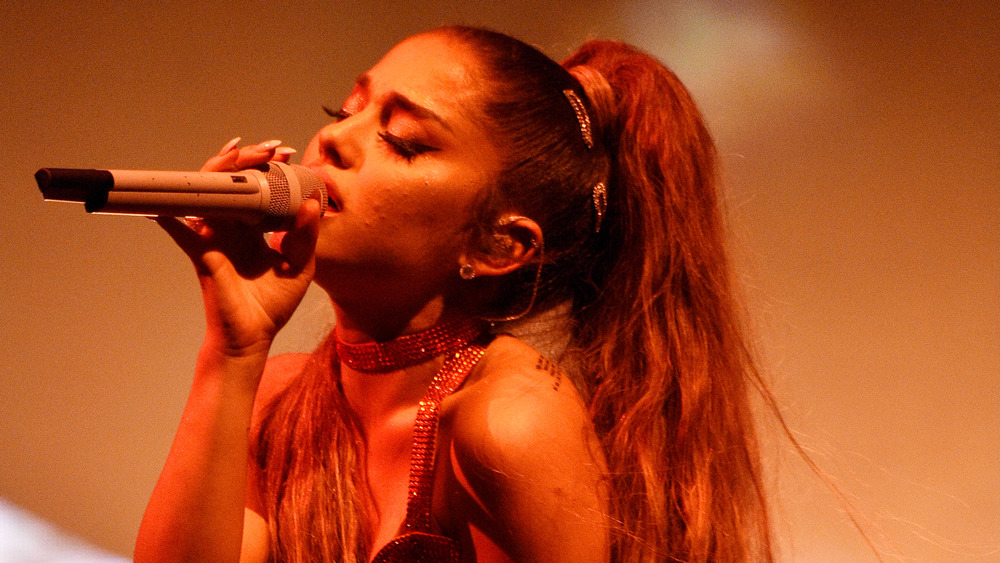 Kevin Mazur/Getty Images
It would seem that we've all been nice this year, as Santa is giving us a gift that we didn't even know was on our Christmas list. Just when we thought we had gotten all of the new Ariana Grande content that our hearts could handle this year, she went ahead and teased a Netflix film. Grande posted on Instagram today a quick teaser for a mysterious film called "excuse me, i love you" which according to the post, will premiere on Netflix on December 21. News of the film should come as no surprise to eagle-eyed Grande fans, as on December 8, she tweeted black and white photos of her Sweetener World Tour with the caption, "@netflix", and in response, Netflix tweeted back, "excuse me, i love you" (via Twitter).
While we don't have much more confirmed information regarding the film, Grande accompanied the post with a long caption discussing the release of the film. "releasing this as a love letter to u all, in celebration of all that we've shared over the past few years," she gushed. "i know this project only captures some of one tour... but i just wanted to thank u all for showing me more in this lifetime already than i ever dreamed of." She ends the post by saying that a trailer will be released tomorrow.
Some fans speculate that the film will detail her relationship with Pete Davidson
At this point, all we can do is speculate. It's possible that the film will cover the events that inspired her song "R.E.M," a song that includes the line that her film was named after. This song, as well as the subsequent songs featured on Sweetener, were not only monumentally successful, but they were created during a time that Grande was in her intense, whirl-wind of a relationship turned engagement with SNL star Pete Davidson (via Insider). The relationship sadly ended after only a few months, but nearly the entire album was dedicated to their relationship.
The film could also possibly detail Grande's love for her fans, which she is very open and emotional about (via Twitter) — as if that wasn't clear from her lengthy, lovey-dovey Instagram post to her fans (via Cheat Sheet). Her Twitter post today teasing the film said, "dec 21st, a year after closing, the sweetener world tour is coming home to u."
We can't wait to see what Ari has in store for us!