The Internet Reacts To Taylor Swift's Evermore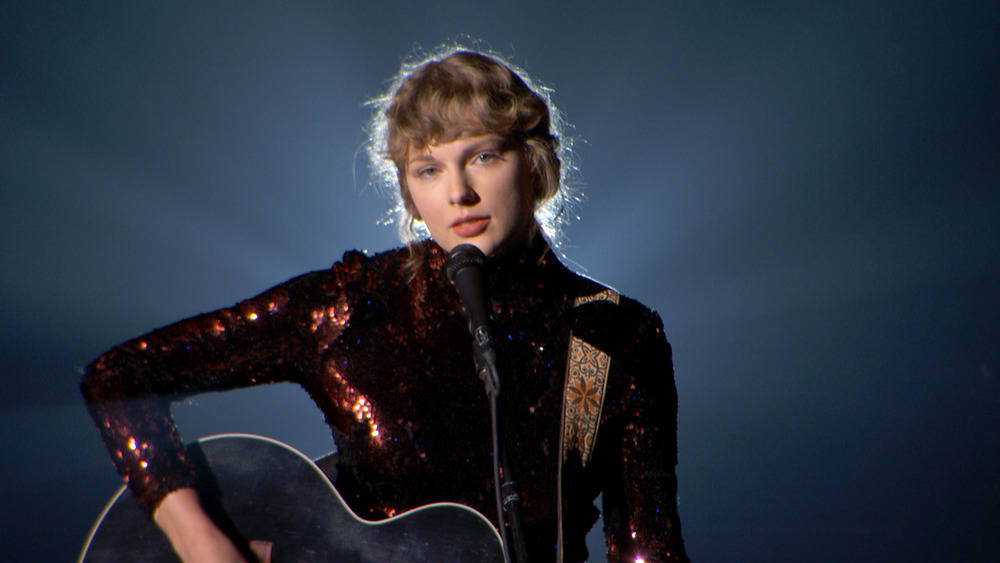 Acma2020/Getty Images
It's been a long 2020, and apparently Taylor Swift has our backs. Less than six months after releasing Folklore, an album that was widely praised by both critics and fans alike, the soon-to-be 31-year-old surprised fans with a "sister album," Evermore (via Los Angeles Times). "To put it plainly, we just couldn't stop writing songs," Swift explained about the album via Instagram, adding, "To try and put it more poetically, it feels like we were standing on the edge of the folklorian woods and had a choice: to turn and go back or to travel further into the forest of this music. We chose to wander deeper in."
Well, it seems fans are glad she continued to wander. While the Los Angeles Times notes Swift's "prodigious songwriting talent," and Yahoo! calls Evermore the "cooler little sister" of Folklore, the Internet is just basically freaking out over the new tracks. One Twitter user calls her a poet in light of the new release of her ninth studio album. "did #evermore make me sob... yes," tweeted another exuberant listener. And perhaps one fan said it best with this tweet: "can we all collectively thank @taylorswift13 for saving 2020?"
More fan reactions to Taylor Swift's Evermore
Twitter users seem to be unanimous in their praise of Swift's 15-track album, with tweets like, "Another masterpiece by @taylorswift13." Another opined, "WHAT IS THIS LIFE WHERE TSWIFT READS THE MIND AND HEART OF THE ENTIRE WORLD AND SETS IT TO MUSIC SO WE CAN CRY TOGETHER?" More congratulations for Swift poured in with one tweeter writing, "Unexpected and brilliant. If only all of 2020 was as good as this..."
Over on Facebook, in light of the songwriter releasing yet another quarantine album, a fan called Swift "the most productive person on the planet." Another clearly-impressed fan enthused, "OMG her mind is unbelievable!"
Indeed it seems the iconic singer gave the internet a gift for her birthday, with Insider claiming fans were really, truly shocked by this album drop. Memes of gratitude are everywhere, with people saying they can't go to work because they have to listen to the album. More than any other sentiment, it's clear many feel Swift's second release is 2020's true savior.