The Surprising Movie Taylor Swift Possibly References In Evermore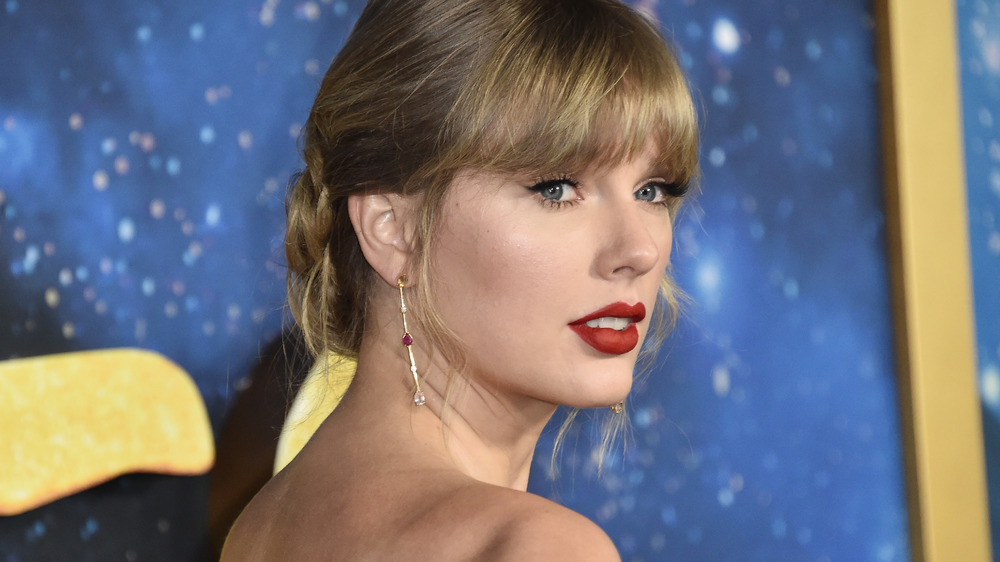 Steven Ferdman/Getty Images
What a year 2020 has been for Taylor Swift's career: debuting two new albums, collaborating with incredible names in the music industry, and helping jump-start her boyfriend Joe Alwyn's own songwriting career, among other feats (via Vulture). While Swift's career has always been a beacon of hard work and positive reception, there is one part of her career that sticks out like a sore thumb, a sort of elephant in the room via her resume: her participation in Cats. Let's just get it out of the way, the movie was weird and it made lots of viewers uncomfortable — and we've got nearly the entirety of Twitter to back us up on that claim. In fact, we owe Twitter a huge thanks for making such light of the horror show that was Cats, as people's reaction tweets to the film really got us through it.
Swift, however, was seemingly very fond of her experience with Cats, even though she described it to Variety as a "weird a** movie." But she added, "I'm not gonna retroactively decide that it wasn't the best experience. I never would have met Andrew Lloyd Webber or gotten to see how he works, and now he's my buddy. I got to work with the sickest dancers and performers. No complaints." With that hearty defense of a film that was so widely skewered by audiences and critics alike that it sits at a dismal 20% Rotten Tomatoes rating, let's dive into the theory that she did, in fact, retroactively swipe a paw at the flopped flick. 
Did Taylor Swift just throw shade at Cats in just one line?
It wouldn't be very Taylor Swift of Taylor Swift to express feelings of discontent in a shady or rude way. But what is very on brand for the star is addressing drama through her music — and we think that might be exactly what happened.
Last night, Swift released her brand new album, evermore, which she calls the "sister record" to folklore. Amongst the 15 songs on the record (or 17 if you splurge on the deluxe edition) includes the title track song, "Evermore," featuring the indie group Bon Iver. Part of the lyrics in that song state, "Motion capture/ Put me in a bad light," which Vulture has speculated is meant to be throwing a little subtle shade at her transformation into Bombalurina, the "Red Queen" of Cats. While Swift hasn't confirmed if this speculation is true — and we would be surprised if she ever did — it's hard to believe that this very specific line would be referencing anything other than her motion capture romp on the big screen.