How Dr. Fauci Really Feels About Brad Pitt's SNL Impression Of Him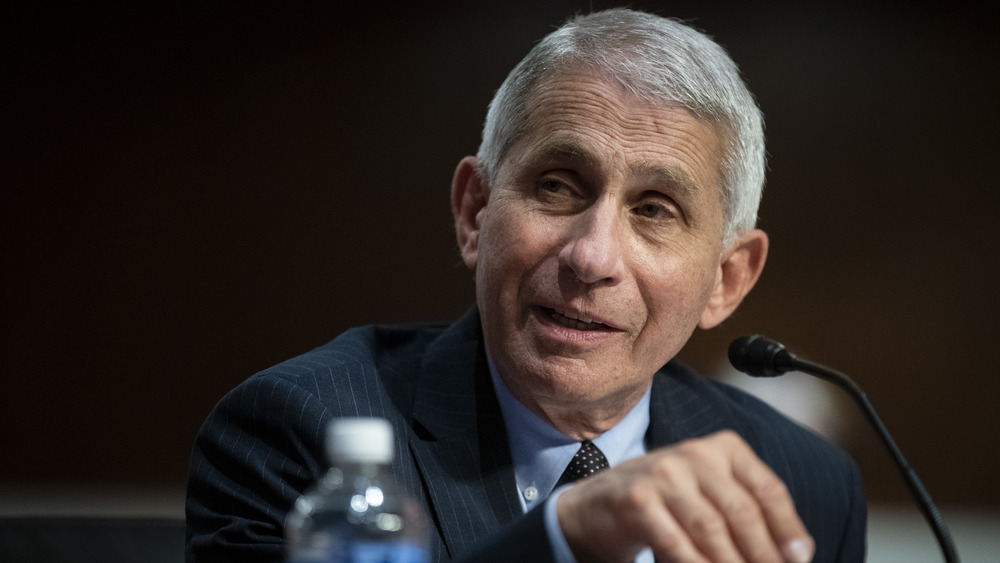 Pool/Getty Images
This year has been full of small, pleasant surprises that make up for the larger dumpster fire we've all been through. One of those moments came courtesy of Saturday Night Live. The late-night sketch comedy classic made the dreams of infectious disease specialist and national treasure Dr. Anthony Fauci come true this year in one of the best ways. 
It all started when Fauci appeared on CNN's New Day. During a conversation, host Alisyn Camerota asked if he had any ideas for who should portray him if SNL ever decided to feature him. She joked about Brad Pitt and Ben Stiller taking him on. They shared the doctor's answer in a video on Twitter. "Brad Pitt, of course," he laughed. Little did he know, we would get to see just that. Pitt portrayed the director of the National Institute of Allergy and Infectious Diseases in a cold open in late April (via YouTube).
Dr. Fauci was impressed, but not surprised
Of course, the real Fauci quickly got wind of the actor's portrayal. He went back to New Day to share his review. "I think he did great," he shared, per The Hollywood Reporter. "I mean, I'm a great fan of Brad Pitt, and that's the reason why when people ask me who'd I like to play me I mention Brad Pitt because he's one of my favorite actors. I think he did a great job."
The story went viral and was praised as one of several strong points in SNL's recent season. Then, it got some more official praise. On July 28, the 72nd Annual Primetime Emmy Award nominees were announced and Pitt was among them. He was nominated for Outstanding Guest Actor in a Series at the Daytime Emmy Awards, though as Vanity Fair reported the award ultimately went to Eddie Murphy.