The Little Girl From The Holiday Is All Grown Up
The Holiday is one of those Christmas movies that you look forward to watching every year — the perfect blend of romance, humor, and feel-good festiveness mixed in with plenty of Jude Law screen time that makes you want to curl up on the couch in your favorite holiday jammies with a large glass of wine!
Hold onto your Santa hats because you won't believe that this year marks the film's 14th anniversary, and adorable little Sophie, who invited Cameron Diaz's character into her living room fort and ended up getting an impromptu lesson in lipstick colors, is not only all grown up, but she's got a baby of her own!
People caught up with the now-21-year-old Miffy Englefield, who, after starring in a variety of British TV series, is enjoying her new role as mom to seven-month-old baby girl Frances Rosanna Lee Englefield. The self-proclaimed "punk parent in training" has an edgier look than she did during her days as a child and teen actress, and although her piercings and ink make it a bit harder to land roles with casting directors, the stunning Englefield revealed to The New York Times that she hasn't completely ruled out returning to the big screen, explaining, "Maybe one day it'll be an industry I'm involved in once more, that's the dream!" (via Bustle).
The cast of The Holiday was like a real family on-set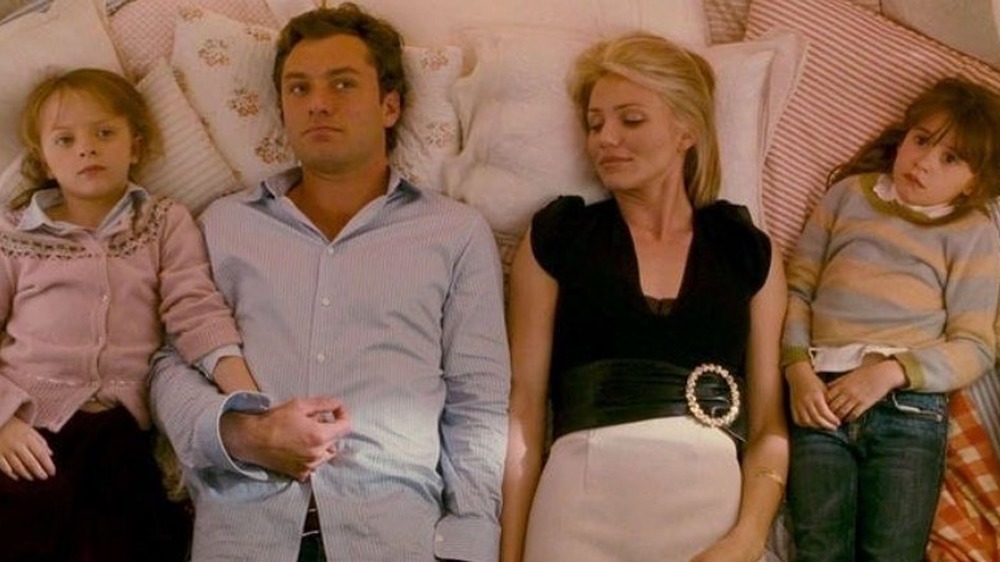 Sony Pictures Releasing/Universal
Although she was just a little girl in The Holiday, Miffy Englefield recalls her time on-set fondly, especially with her on-screen family. In an effort to make the actors' interactions with the kids more believable, the on-set sisters had input in everything from the dialogue to the decorations and layout of their special tent/fort. Englefield explained to The New York Times (via Stylist), "They made all this time for these two little kids running around," also recalling how Jude Law and Cameron Diaz gifted the girls with personalized denim jackets when filming ended.
Even better than that, in a recent interview with Vulture, Englefield reminisced how sweet both Law and Diaz were while shooting, as well. She sweetly remembered, "Jude used to pop his head round the door when we were doing our schooling and things like that. He used to sit and chat with my dad. We did act like a family a little bit, and I think that shows in our relationship onscreen. We were all so close and that wasn't just for when the cameras were rolling. We were always just chatting, making jokes, and having a really good time. I don't know how they put up with us, to be honest."