The Truth About Hayley Atwell's Friendship With Chris Evans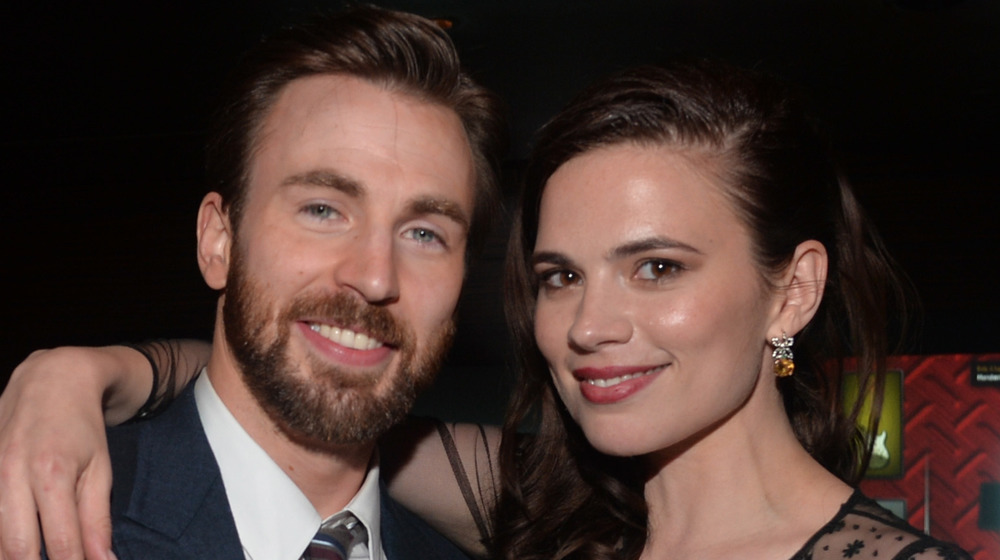 Alberto E. Rodriguez/Getty Images
It's been almost a decade since Captain America made his debut in the Marvel cinematic universe with Captain America: The First Avenger in 2011. It was the first time fans got to see Captain America (Chris Evans) and Peggy Carter (Hayley Atwell) share the screen together, but what was their relationship like behind the scenes? Well, it seems these two not only have great chemistry on-screen, but off-screen as well. Back in 2011, Atwell spoke with PopSugar and gushed about Evans, saying, "There's a lot more to Chris that will be revealed, I'm sure, in his career. He's a very, very talented young man." 
She even revealed at Wizard World Comic-Con in 2015 that her favorite scene with Evans was their kiss, according to Vanity Fair, which she followed up by saying, "Obviously! Duh!" Another scene she enjoyed making was the Captain America buff body reveal — you know the one. Atwell confessed that filming that scene was the first time she had seen Evans "with his top off," and the reaction you see in the film is her actual one (via YouTube). She said he came out of the pod "looking like an Adonis," and "impulsively just grabbed his boob." This hilarious moment is a fan favorite, and Atwell's confession just shows the kind of fun relationship these two have together. 
Chris Evans and Hayley Atwell text each other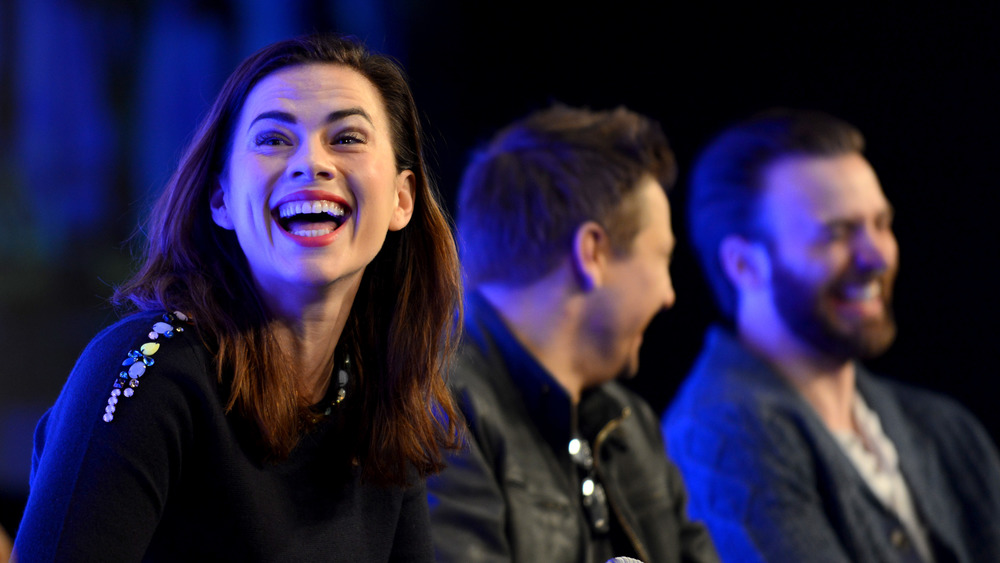 Albert L. Ortega/Getty Images
Atwell only has nice things to say about Evans, and the feelings seem to be mutual. While filming Captain America: Civil War, it was revealed that Evans sent her a super sweet text the day they filmed Peggy's death scene (via Cinema Blend). The text read, "I'm so sad today. You just died." This aw-worthy moment is that perfect blend of adorable and funny, which sums up the two actors' relationship. 
Evans even hilariously pranked his co-star, back in 2015, by scaring her in his kitchen, to which she playfully responded with a middle finger (via ET Canada). These two also made their very own Dubsmash video together, which makes them the ultimate friendship goals (via YouTube). While they haven't appeared in any movies since their final scene in Avengers: Endgame, which Atwell told The Hollywood Reporter was "a fitting end to a story that has affected so many people," there's still hope. Maybe one day, we'll get another Atwell/Evans film, and can look forward to even more adorable friendship moments when the cameras aren't rolling.