SNL's New Joe Biden Has People Talking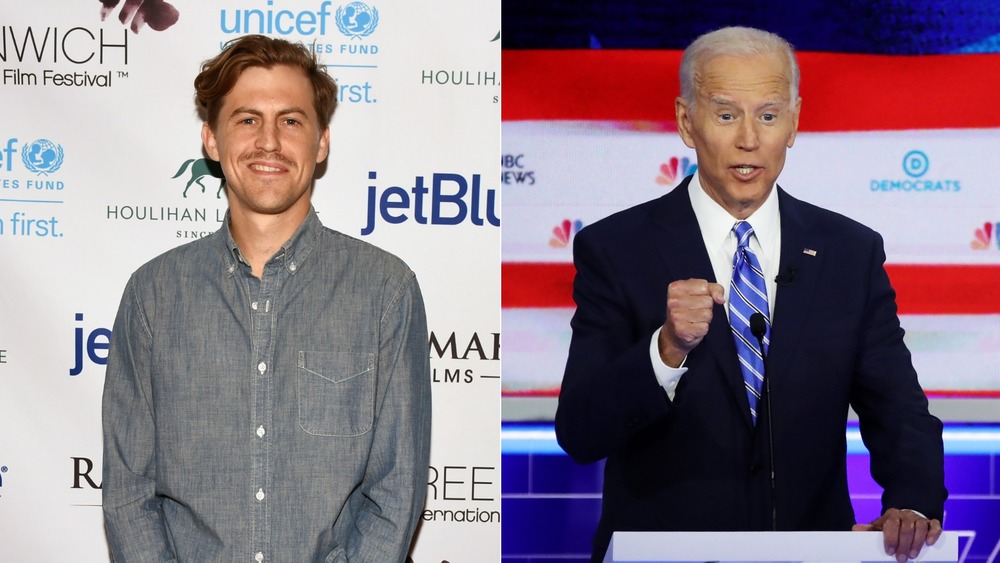 Andrew H. Walker, Drew Angerer/Getty Images
Not many people shed tears when Jim Carrey announced his resignation as SNL president and Biden impersonator on Dec. 19, 2020. "Though my term was only meant to be 6 weeks," the comedian tweeted, "I was thrilled to be elected as your SNL President...comedy's highest call of duty. I would love to go forward knowing that Biden was the victor because I nailed that s***."
"Nailed that s***?," asked the Twitterverse in disbelief, calling Carrey out for his perceived "bitterness & anger" and questioning whether he'd truly understood "what Mr. Biden represents in totality." As both Carrey and Variety pointed out, Carrey's successor on SNL follows a long line of SNL Bidens, including Jason Sudeikis, Woody Harrelson, John Mulaney, and SNL's first-ever Biden, Kevin Nealon. That was something that SNL was quick to pick up on Saturday night, when it introduced its new president.
"You look different somehow," said Beck Bennett-as-Mike-Pence when he saw SNL's new Biden somersault onto the stage. "Yep," the new Biden replied, "I'm like Colonel Sanders. Every time you see me, I'm a different guy. This time next year I'm going to be Mario Lopez." If you caught the show you know that stepping in to take over for Jim Carrey is none other than Alex Moffat, who you might recognize for his portrayal of Eric Trump (via YouTube). And Moffat hit it out of the park.
Viewers are gushing over Alex Moffat's Biden impression
"Alex Moffat is the new Biden, and it's already BEYOND better," celebrated Esquire staff writer Justin Kirkland after watching the skit. "If you're mad that Alex Moffat is playing Joe Biden on #SNL instead of a celebrity, you don't actually like SNL," admonished Politico reporter Bill Kuchman. Even The Washington Post approves, writing that Moffat's "slow, almost whispered, cadence most closely mirrors the president-elect's actual speaking voice."
When The Wall Street Journal talked to impressionists for their piece, they told the news platform that Biden is a "deceptively difficult target," because of Biden's age, his "shifting public image," and the fact that portraying him as a daft grandfather only goes so far. But Moffat seems to be up to the task, having already successfully impersonated the likes of Anderson Cooper, Mark Elliot Zuckerberg, and Prince William (via AAE). Per the Chicago Sun Times, Moffat has been part of the SNL since 2016. Before that, the professional comedian made a living doing improv and stand-up comedy in Chicago, Illinois.