The Truth About Ariana Grande's Unusual Engagement Ring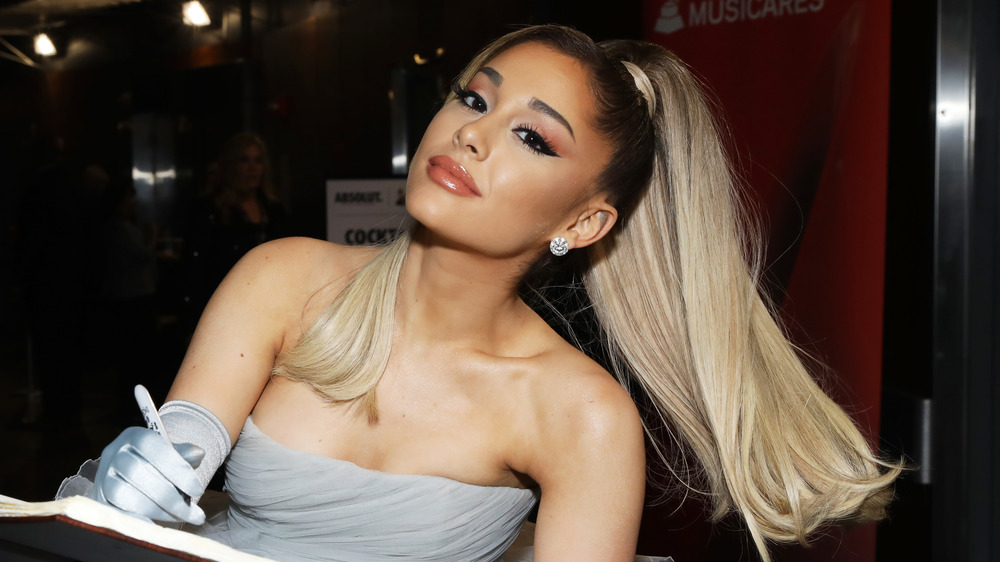 Robin Marchant/Getty Images
Christmas came early for Ariana Grande this year. On Sunday, the superstar singer announced her engagement to real estate agent Dalton Gomez via a gallery on Instagram. The photos showed the couple together, as well as a close-up of Grande's French-manicured hand sporting a huge sparkler. She captioned the post: "forever n then some." As People reports, the two began dating early this year and made their relationship public in June, as they began quarantining together in her L.A. home. 
Congratulations from family, fans, and friends quickly followed: Mom Joan sent her blessings: "Sooo sooo sooo happy!!!! Love you two!!!" Kim Kardashian rejoiced, "Soooo happy for u guys!!! Love you!!!" and sister Khloe echoed, "Ahhhhhhh congratulations beautiful!!!!!! Forever blessings!!!!!!" Hailey Bieber responded, "YAYYYYYY!!!! so happy for you guys!!" and Bella Hadid cried, "OMGGGGGG!!!!"
As if the news itself weren't wonderful enough, the details emerging about Grande's unique engagement ring make the occasion even more special and heartwarming.
Ariana Grande's ring has special sentimental value
"Leave it to Ariana Grande to redefine what is unique in the typically been-there-done-that world of celebrity engagement rings," Ira Weissman, founder of The Diamond Pro, tells The List. "In a style I have never seen before, her approximately 5 carat perfectly cut oval-shaped diamond is set Northwest to Southeast. And if that weren't exceptional enough, the stone is set next to a perfectly spherical pearl with an amazing inner glow." Weissman estimates the ring's value to be more than $200,000 — about double the value of the $100,000 diamond solitaire ring Grande got from Pete Davidson during their five-month engagement in 2018 (per People).
However, the new ring Ariana is sporting carries with it a value far greater than mere money. PopCrave reposted a tweet she wrote back in 2014, which showed a photo of a gold ring set with a large pearl. "[N]onna had a ring made for me w/ the pearl from grandpa's tie pin. she says he told her in a dream it'd protect me," said the caption. Fans are speculating that Gomez had the pearl removed from the memorial jewelry and re-set into the engagement ring next to the oval diamond. If that's the case, then the "amazing inner glow" is certainly coming not just from the iridescence of the pearl itself, but also from the love of a grandfather for his granddaughter. 
Coming on the heels of her new album, Positions, this announcement — as well as the history of her gorgeous ring — is a beautiful capper to Ariana Grande's eventful year.