Here's How To DIY Perfect Hair Layers At Home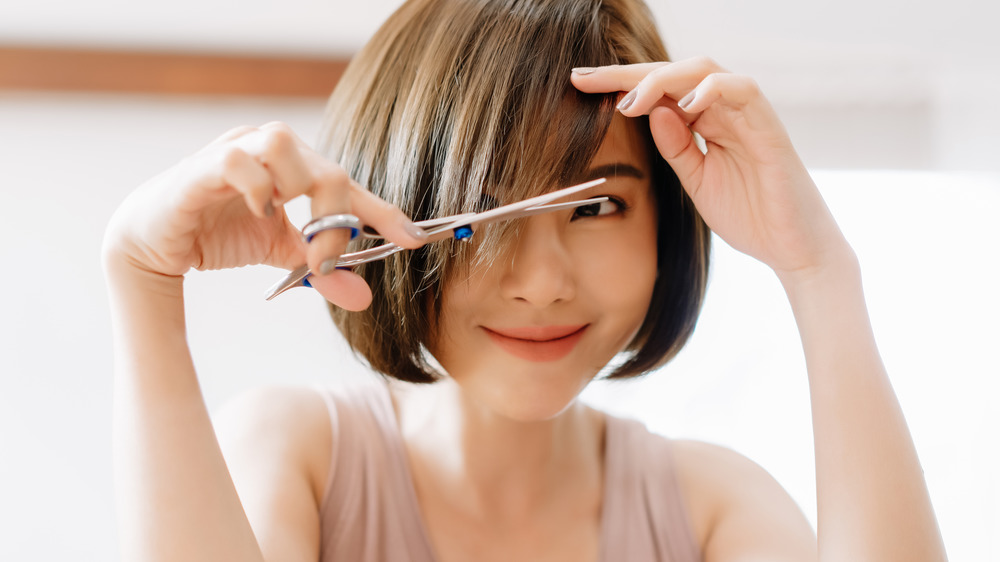 Shutterstock
With all the lockdowns and stay-at-home orders that have happened this year, people haven't been able to make it to their hair salon as often as they'd like. Despite the risks of cutting your own hair at home, a lot of people have given it a try. Just a simple bang trim can be easy to manage with a quick YouTube video tutorial, but if you're looking for how to cut the perfect layers at home, you'll need help from an actual stylist. Luckily, there are a number of step-by-step guides out there from the pros for all lengths of hair to consult (via Today).
According to PopSugar, "choppy layers" are back in style for 2021, so it makes sense that you would want to hop on this trend for a new 'do in the new year. As the professionals explain, the first step in attempting a choppy look or face-framing layers is to invest in a pair of hair-cutting shears. That means those scissors in the sewing basket won't make the cut. You will also need a cutting comb, cape, well-lit mirror, hair clips, and a blow dryer, which can all be found at your local beauty supplies store or online.
DIY cutting layers: Err on the side of caution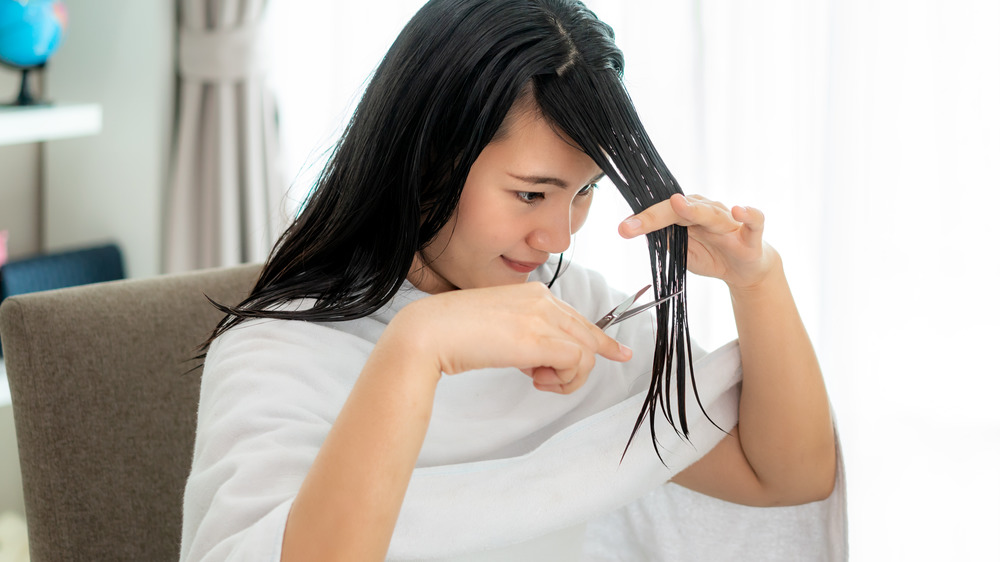 Shutterstock
While you can keep telling yourself that hair will grow back, it's better to start off slow. As Good Housekeeping put it, "cut less than you think you need to." If it's not as short as you would like, you can always cut more. It's adding hair back that's impossible. 
In a DIY guide for Byrdie, stylist Ashley Rubell recommends dry cutting for any hair type — curly or straight, while other experts suggest cutting straight hair while it's wet for sharp lines. You can decide which you're more comfortable with, but Rubell explains that by cutting dry, you'll get a better idea of what your hair will look like naturally and "be able to cut the hair in response to its cues, not against them." 
Rubell is also partial to slide cutting when creating layers. This method, in which the shears never fully close, allows "less room for error." Once your DIY haircut begins, be sure to continuously cross-check that both sides are even to avoid ending up with a lop-sided 'do. Always start with the front and then blend in the back. For visual learners, it might help to watch a few YouTube tutorials before beginning. The Washington Post notes there are tons of videos that "can guide you through some basic techniques," and with enough how-to's and tutorials, you'll be more than ready to give yourself a salon-worthy layer haircut in no time.