The Truth About Kacey Musgraves And Willie Nelson's Relationship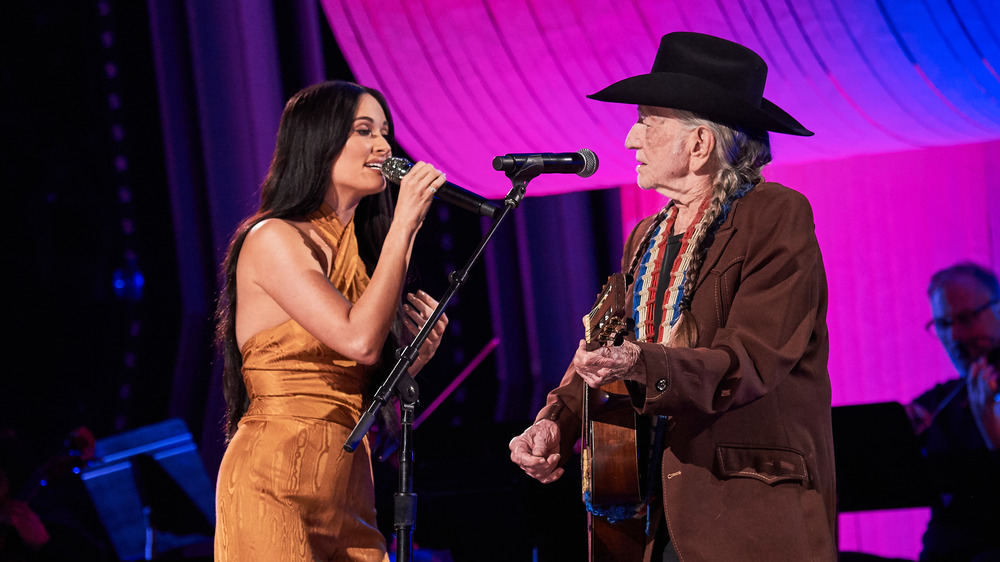 John Shearer/Getty Images
On their own, country singers Kacey Musgraves and Willie Nelson have both had impressive careers and impacts on mainstream culture. At just 32 years old, Musgraves has already established quite an impressive resume, having won six Grammy Awards, six Country Music Association Awards, and three Academy of Country Music Awards (via Forbes). And, of course, Nelson, with over six decades of musical success under his belt, has become a household name and friend to many in country music and beyond (per Rolling Stone).
As two heavy hitters in the country music industry, it stands to reason that Musgraves and Nelson would have had the opportunity to strike up some sort of relationship throughout the years. Despite the age difference between the pair (nearly half a century), Musgraves and Nelson have managed to become friends. Though Musgraves was a fan of Nelson's long before their relationship, much of their mutual connection likely stems from the many musical collaborations the pair have undertaken in the past few years.
Kacey Musgraves & Willie Nelson share an unlikely bond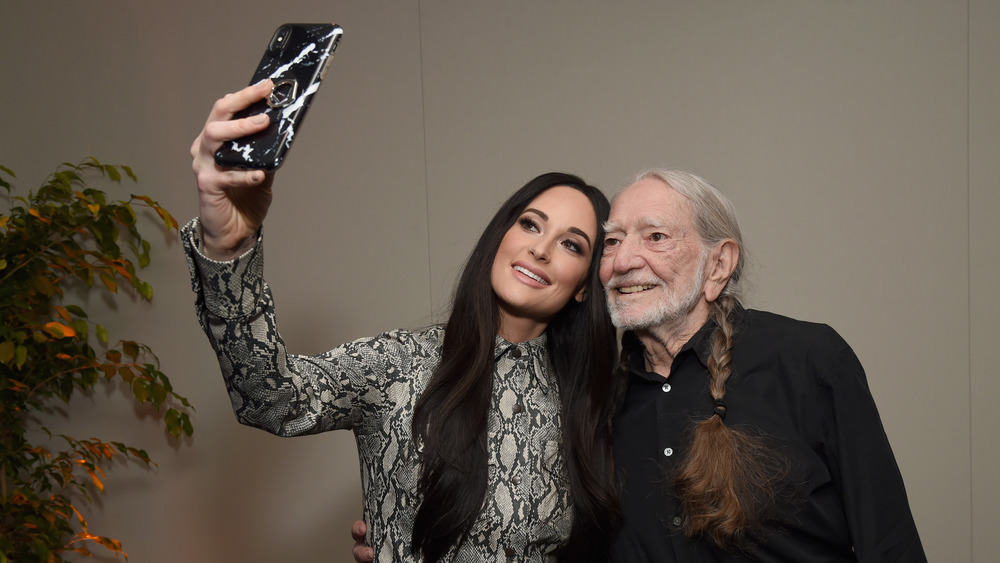 Michael Kovac/Getty Images
After going on tour together in 2014, Musgraves and Nelson collaborated on Musgraves' 2015 album Pageant Material and her holiday record, A Very Kacey Christmas (per Austin 360). In fact, Pageant Material features a hidden track called "Are You Sure" that Nelson originally released in 1965. Nelson sang along with Musgraves in the updated version of the song released on her 2015 album.
In 2019, the pair came back together again to perform a rendition of "Rainbow Connection" from the 1979 film The Muppet Movie at the Country Music Association Awards (per Vice). Later that night, Musgraves won the CMA Awards for Female Vocalist of the Year and Music Video of the Year for the song "Rainbow" off her 2018 LP Golden Hour.
Aside from professional collaborations, Musgraves and Nelson have struck up a genuine friendship complete with iconic social media moments. Over the years, Musgraves has posted photographs on her Instagram that have proven the purity of their bond, like the time a few years back when she Instagrammed Nelson and his famous guitar named Trigger during the Farm Aid concert (per Austin 360).
To this day, Musgraves can still find the time to gush about her famous friend. "He's an interstellar human being," she told The San Francisco Chronicle. "I love his crowds. People aren't there to see a ton of fireworks, they're just there to see a legend and hear some really incredible songs."