Chrissy Teigen Reveals The Beauty Product That Changed Her Life
Amy Sussman/Getty Images
If you've ever longed for Chrissy Teigen to teach you her ways (and who among us hasn't?), we've got some good news. The multi-hyphenate has blessed us with the nightly skincare routine that gives her that flawless complexion — and it's only two steps.
As Glamour reported, Teigen shared her routine on Instagram Stories in November 2020 and made clear that it's the real deal. "This is not an ad, you always think I'm tricking you," the star quipped (via Glamour). So what's the skincare regimen that she vows "changed" her life? Let's get to it.
Teigen starts by cleansing her face with the very affordable Eyeko Mascara Off Wipes, which retail for $9. But the product that really kicked things up a notch? Why, that would be Le Prunier Plum Beauty Oil. The oil costs $72 for a 30ml bottle but as Glamour noted, the stuff is totally sold out. On the bright side, you can pre-order it so it'll ship once it's back in stock. (We're going to take a wild guess that Teigen's glowing skin and glowing endorsement has something to do with this shortage.)
What exactly is plum beauty oil and why did Chrissy Teigen call it 'magic'?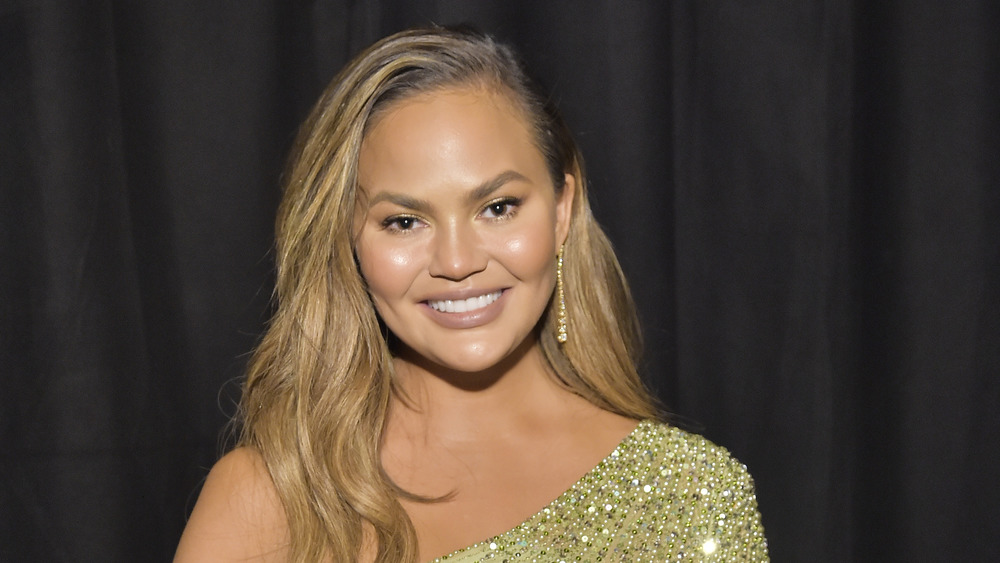 Stefanie Keenan/Getty Images
In her Instagram Stories  — which Le Prunier couldn't wait to share — Teigen said she first tried the product when it was given to her by makeup artist Nova Kaplan. Despite her initial skepticism, it ended up changing her life. "I have so many face oils, so I didn't really believe it," Teigen told viewers. "When I tell you I woke up and my skin was plump and supple and even, it was like magic. Magic."
That's a ringing endorsement if we ever heard one! But what exactly does this magical product contain? According to the Le Prunier website, the oil is "a patent-pending blend of plum varietals from our 100-year-old California family farm." Shape points out that plum seed oil often shows up in skincare products because it's a great moisturizer. But Teigen has found that the real secret is just putting the oil alone on your face rather than using a moisturizer that contains it. 
Where Teigen leads, we'll follow — just as soon as plum beauty oil is back in stock, of course.