The Truth About Tayshia Adams' Engagement Ring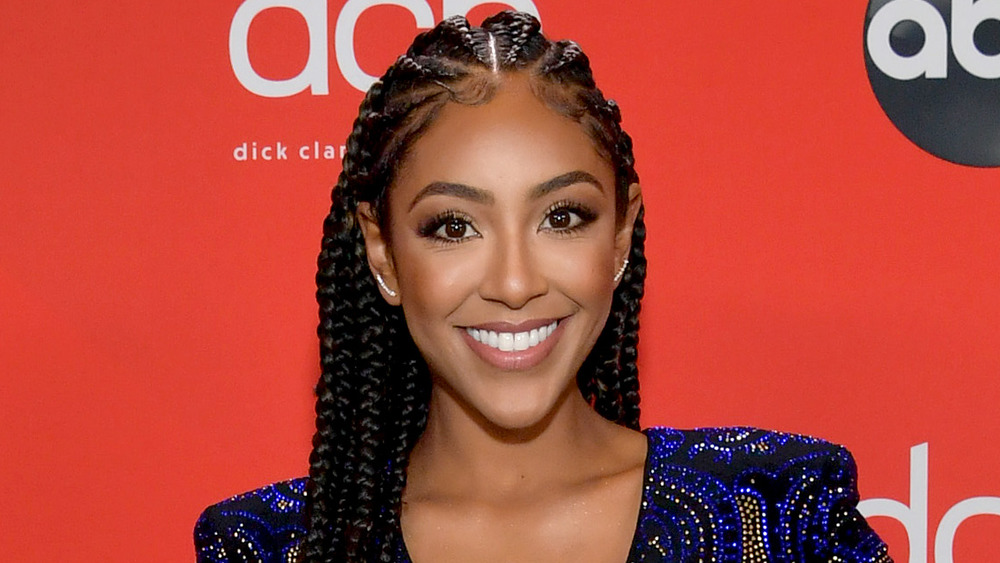 Emma Mcintyre /ama2020/Getty Images
Contrary to reports that Tayshia Adams' Bachelorette season wouldn't have a happy ending, she and Zac Clark are now engaged. Per Bachelor Nation tradition, Zac popped the question with a stunning ring from jewelry designer Neil Lane. "The emerald cut is very classic, very 1920s, vintage and high-style," the designer told People.
He also weighed in on the whirlwind season, which started with Clare Crawley getting engaged to Dale Moss, clearing the way for Tayshia to take over as the Bachelorette. "It was all totally unexpected and hectic, but ultimately really exciting and fun," said Neil. "I thought I was going out of the country to shoot this season, but then we went on lockdown and quarantine and in the end there was not one but two proposals!"
The ring designer got to know the now-engaged couple during filming, as he joined them in quarantine at the La Quinta Resort. "Zac's a really nice guy and he's smitten with her and talked about her kindness, poise, and her honesty... Like Tayshia, he'd been married before, and he was really thoughtful about her and honest about respecting their individual journeys," he said. "He was certain, nervous and excited all at the same time."
Tayshia Adams' engagement ring has a lot of diamonds
The engagement ring Zac picked out for Tayshia consists of a 3.25 carat diamond surrounded by a halo of 27 round diamonds and accented by 67 more round diamonds. Neil said that as soon as Zac saw the ring, he knew it was the one. "It's classic, bright and very, very elegant," he said. "The emerald cut is a very elegant shape, a classic, very 1920s, vintage and high-style, and he said, 'That's it, she's elegant'... He loved the simple elegance."
Neil added that Tayshia loved the ring Zac picked out for her. "She's quite sweet, direct and sincere," he said. "It wasn't easy to come on the show but she found her guy. This was a giant step for both of them, but they both seem open and she seemed ready to embark on this new journey. I wish them great happiness!"
Fans suspected Tayshia had gotten engaged before the finale of her Bachelorette season had even aired. Per ET, Tayshia was spotted on her Instagram Story wearing what appeared to be a diamond ring. While Tayshia later said on The Ellen DeGeneres Show (via Cosmopolitan) that she simply likes to wear diamonds, it seems likely that the ring seen on her Story was actually the engagement ring Zac presented her with.