The Best Box Of Chocolate Cake Mix You Can Buy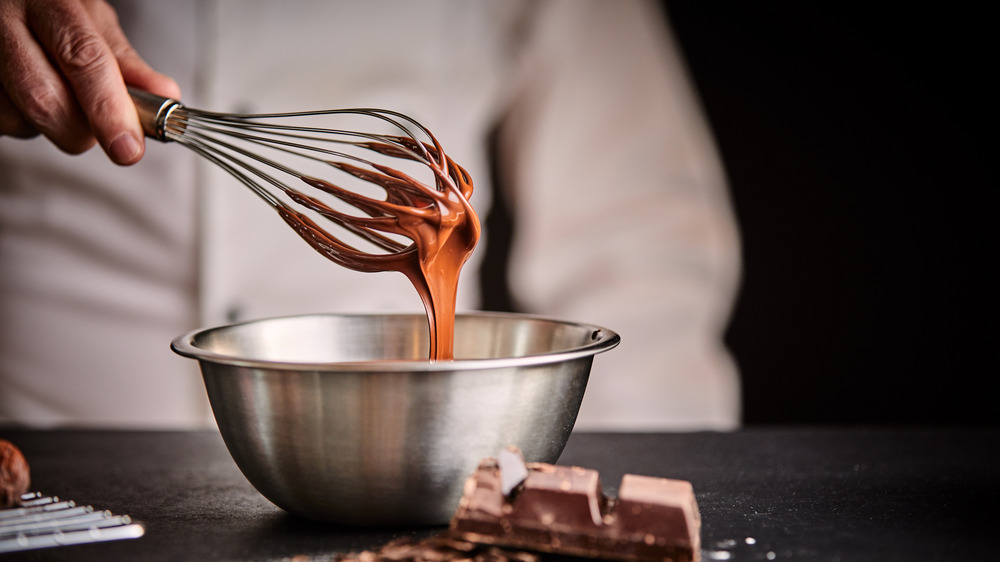 Shutterstock
Forgive us. We made a Herculean attempt not to sound corny when writing this article and failed spectacularly. Some things are worth going cliche for, such as love, cake mixes, and especially chocolate cake mixes you love. Finding the best chocolate cake mix, of course, is like playing a game of swipe left or swipe right on Tinder (or whatever the cool kids are using these days). Type "chocolate cake mix" into Walmart's search function, and you'll get roughly 160 potential suitors, which are too many to try in a year — unless you're committed to making a new chocolate cake every 2.28 days. 
Should you pay $3.08 for a box of Ghirardelli's Dark Chocolate Premium Cake Mix? Or should you pay $10.99 for a Chocolate Keto Cake Mix from Whole Foods? Is Betty Crocker moister than General Mills and is Duncan Hines moister than Pillsbury? These are, no doubt, existential questions, ones we resolved for you with the power of bakers' reviews. Out of a battlefield filled with heroes, both sung and unsung, one chocolate cake mix rose above the rest: Duncan Hines Classic Dark Chocolate Fudge. 
What experts say about Duncan Hines Classic Dark Chocolate Fudge cake mix
There aren't many things you can still buy for a dollar, except an individual serving of a Snapple drink powder and a Whoopee cushion,per Tough Nickel. And at Walmart, a single Duncan Hines Dark Chocolate Fudge cake mix. It's incredibly friendly price point aside, there's another reason that Duncan Hines Dark Chocolate Fudge Cake Mix beats out the competition: testimonials.
Lisa Mansour, co-owner of NY Cake, raved about Duncan Hines' classic cake mixes, explaining, "You get a really nice thick batter. The cake bakes so well and gets a nice rise. The final result is a fluffy, moist and delicious [dessert]," according to HuffPost. After doing their own research, The Spruce Eats' editors swore by Duncan Hines Classic Dark Chocolate Fudge Cake Mix too, writing, "You'll be pleased by the final result: A moist treat with incredibly rich chocolate flavor." Influenster's reviewers were equally impressed. "I am a home baker and love this flavor cake mix. I use it in any of my chocolate confections. Especially if they are going to be filled with something," gushed one particularly satisfied customer. "I personally love it for Butterfinger cakes. I also use it to make peanut butter stuffed cupcakes. I usually keep about 2-3 of these on hand at all times."
Our parting advice? Pamper your chocolate cake mix a little. Mansour, for example, recommends replacing water with coffee to boost the chocolate cake mix's flavor profiles.