The Truth About Linda Thomas-Greenfield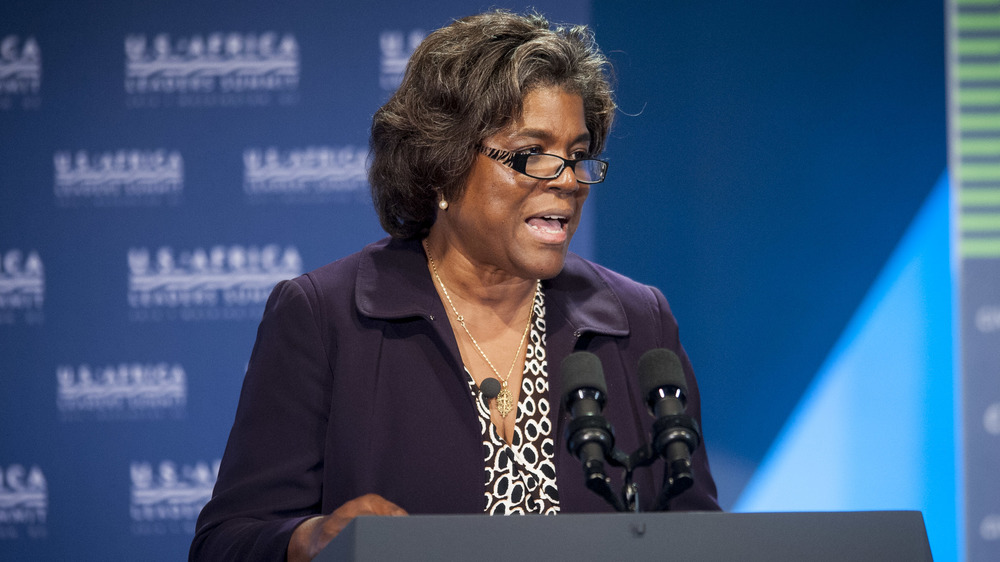 Pete Marovich/Getty Images
"Gumbo" may be a term that's most used in the kitchen, but if and when Linda Thomas-Greenfield is confirmed as President-elect Joe Biden's Ambassador to the United Nations, we could be hearing a lot more of the classic Cajun dish, particularly as a way to describe the career diplomat's brand of diplomacy (via The Hill).
Linda Thomas-Greenfield is a career foreign service officer whose record of service spans more than three decades and several administrations; she stepped down in 2017 when Donald Trump became president. Her storied career includes an assignment to Rwanda in 1994, where she was held at gunpoint until she could prove she was an American (via Bloomberg). She has also served as ambassador to the African country of Liberia (2008-12), as well as completed assignments to the U.S. Mission to the United Nations, Pakistan, Kenya, The Gambia, Nigeria, and Jamaica.
Her postings haven't all been overseas. Thomas-Greenfield has also worked in Washington D.C. as Principal Deputy Assistant Secretary at the Bureau of African Affairs, and at the Bureau of Population, Refugees, and Migration, where she was Deputy Assistant Secretary (via U.S. State Department).
Thomas-Greenfield is a product of the segregated South
Linda Thomas-Greenfield grew up when segregation was practiced in Louisiana, and into a family whose father could neither read nor write. "We were in the Deep South," she shared in a 2018 TEDx Talk. "I'm in a segregated town in which the KKK (Ku Klux Klan) regularly would come on weekends to burn a cross in somebody's yard." She became the first member of her family to graduate not just from college, but from high school, too. 
Thomas-Greenfield received her undergraduate degree from Louisiana State University, which she said "had been forced under court order to take non-white students." There, her classmates included the once and future head of the Ku Klux Klan, David Duke (via Washington Post). "When I started at LSU, David Duke, the famous former grand wizard of the Klan, was a student on campus and he was preaching the same hatred, anti-Semitism, white supremacy that he preached in Charlottesville, Virginia" (via NPR).
From Louisiana, Thomas-Greenfield went on to earn her Master's Degree in Political Science at the University of Wisconsin and then joined the U.S. Foreign Service in 1982. Her first posting was to the U.S. Embassy in Kingston, Jamaica (via BlackPast). In her career, she has been the recipient of several awards, including the Warren Christopher Award for Outstanding Achievement in Global Affairs.
Thomas-Greenfield: "Gumbo... was my way of breaking down barriers"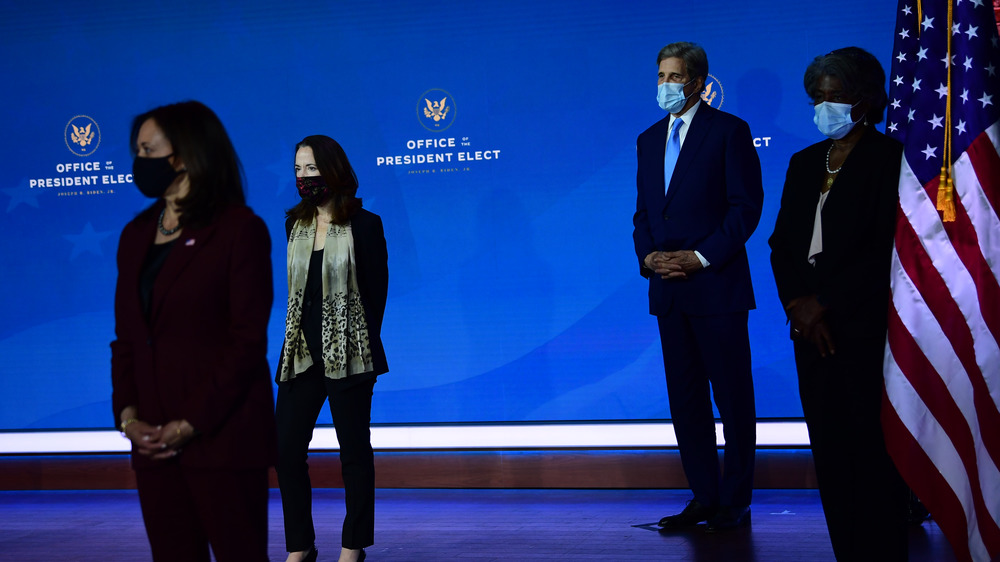 Mark Makela/Getty Images
When her appointment to the Biden team was announced, Linda Thomas-Greenfield stepped forward to share her vision of how the incoming administration might position itself at the United Nations in a post-Trump world. She said: "Wherever I was posted around the world, I'd invite people of different backgrounds and beliefs to help me make a roux and chop onions for the Holy Trinity and make homemade gumbo. It was my way of breaking down barriers, connecting with people, and starting to see each other on a human level. A bit of lagniappe (a small gift) is what we say in Louisiana" (via Ms.).
"That's the charge in front of us today," she continued. "The challenges we face, a global pandemic, a global economy, a global climate change crisis, mass migration and extreme poverty, social justice are unrelenting and interconnected, but they're not unresolvable if America is leading the way." How this will unfold remains to be seen, but if the belief in the power of gunboat diplomacy is indeed out, the nation could already be heading in the right direction on the foreign policy front with diplomat Thomas-Greenfield taking the helm.