The Real Reason Matt James' Bachelor Season Will Be A Completely Different Experience
Craig Barritt/Getty Images
After an interesting turn of events early on in the latest season of The Bachelorette, with Clare Crawley leaving early with early front-runner Dale Moss, the next round of The Bachelor has an unprecedented twist as well. When ABC revealed the newest Bachelor, many were left to wonder if they had ever seen him before. Since the coveted spot as Bachelor or Bachelorette often goes to one of the runner ups from previous seasons, fans were puzzled when they didn't recognize Matt James.
Matt James is one of the first Bachelors to be from outside the franchise — that is, he's never been a contestant on The Bachelorette. For the show's 25th season, instead of picking a runner up or an old fan favorite, the producers spotted James out of the crowd of men lined up for the most recent season of The Bachelorette. Distractify reports that, prior to COVID-19, James was among the contestants ready to compete for Clare Crawley, but after the filming hiatus, producers pulled him from the crowd because they liked him so much. Receiving quite the compliment, James took the offer and later began his journey as the 25th bachelor. 
On Good Morning America, he called the opportunity an "honor," saying, "I'm just going to lean into myself and how my mom raised me and hopefully when people invite me into their homes on Monday night they're going to see that I'm not much different from them and they see that diverse love stories are beautiful."
Matt James is the first black Bachelor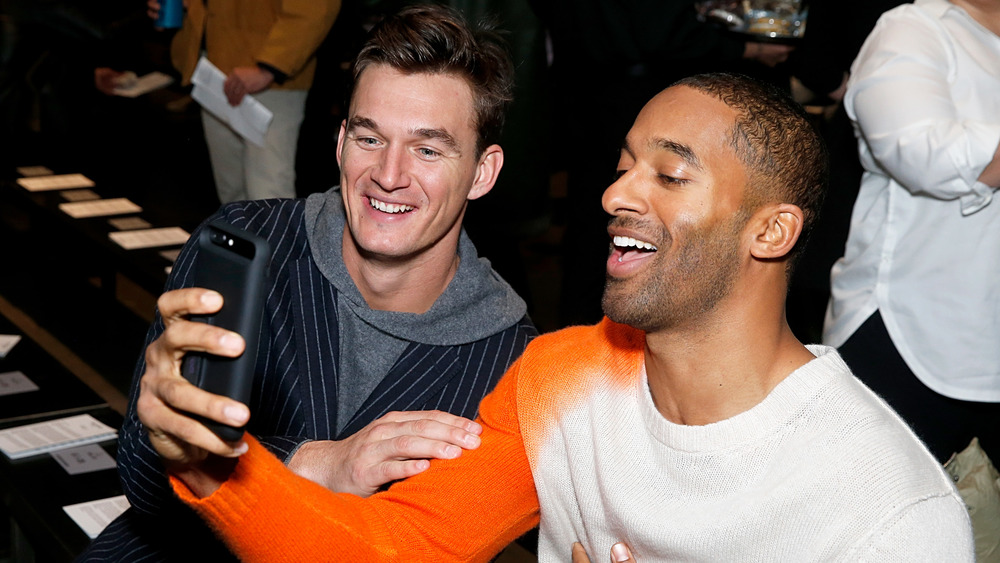 Dominik Bindl/Getty Images
Apparently, the new Bachelor has never been in love before, fans heard in a preview. In fact, Chris Harrison spilled more details about the Bachelor novice, saying to UsWeekly, "It's not that he hasn't said 'I love you' before. I think the problem with him is he realized being the Bachelor, he had never fully understood what it means. He didn't understand the weight of it."
On top of never being in love, Matt James is also the show's first black bachelor, Distractify notes. Following criticism of the show's lack of diversity, production brought him in. Of the historic nomination, James shared his thoughts on Good Morning America, "I don't think it's ever the wrong time to do the right thing," he said when addressing the show's past. "Hopefully this is the first of many black men to be in the position that I'm in now" (via O! Magazine).
His friendship with Tyler Cameron is also a fan favorite topic, since the two met while playing football at Wake Forest University. According to O!, the two are even roommates in New York City!
The deck is stacked for a new experience on The Bachelor this season, fans will have to stay tuned to see Matt James in action.