Chrissy Teigen Shares Poignant Memento She Made For Son Jack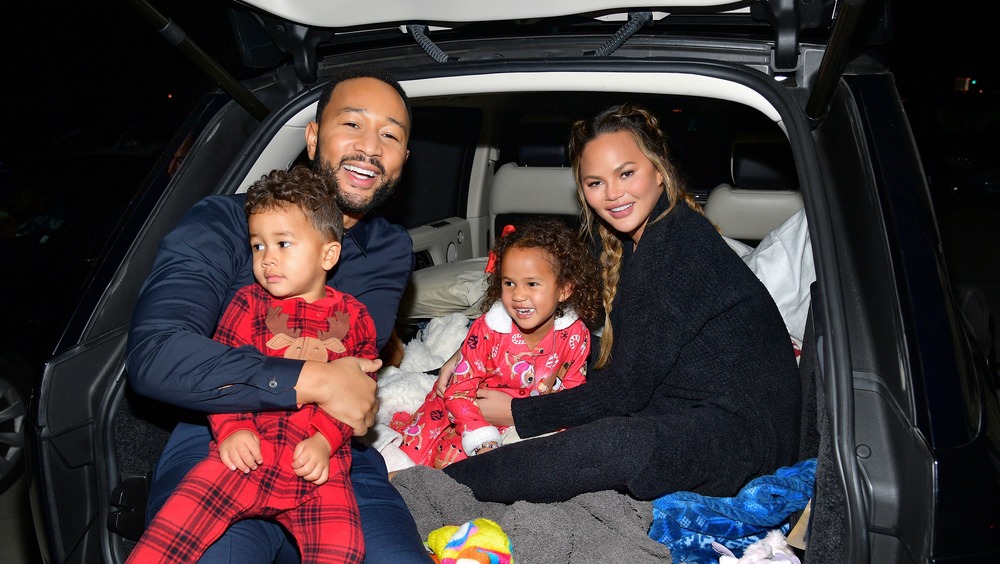 Matt Winkelmeyer/Getty Images
Chrissy Teigen should have been rejoicing as she prepared to ring in 2021. The model and author would have been welcoming her third child with husband John Legend around March of the new year, but in late September she shared the heartbreaking news that she and Legend had lost their son Jack. Teigen underwent an emergency induction to deliver "a boy that would never have survived in my belly," she wrote in an October essay on Medium. She had suffered a partial placental abruption that drained her amniotic fluid to dangerously low levels and caused excessive bleeding that risked her own life.
In the past two months, Teigen has openly shared her journey to healing through her social media accounts, acknowledging both high and low moments. One Instagram post showed a selfie in which she pointed out her still-round belly and mourned the fact, "I never will be [pregnant] again." Most recently, she told fans that she has committed to getting sober following a long battle with alcohol dependency.
Her family Christmas celebration on the island of St. Bart's indicates that the sun is beginning to shine for her again both literally and figuratively. Posts of Teigen romping in the sun with Legend and their children Miles and Luna dot her account. But it's still clear that the baby she lost is never far from her thoughts.
Chrissy Teigen made a special craft for her baby
In an Instagram post she uploaded just before New Year's, Teigen shared a photo of herself cuddling Luna. The two of them hold a handcrafted white paper flower. "Origami for our Jack!" was the simple caption.
The post received much support for the still-mourning mother. One message came from an Oregon support group for survivors of child sexual abuse: "Thinking so much about how when others grieve openly and honestly, it gives the rest of us permission to do the same." Brooklyn Decker wrote, "Sending you the biggest squeeze I can muster," followed by a heart emoji. Selling Sunset's Christine Quinn said, "Chrissy, Jack will be always remembered, loved, and in our hearts forever. Stay strong. You are the most wonderful soul and an amazing mother." Another heartfelt message came from a fellow grieving mom who shared that she'd made "nature art" from her baby's initials. "It helps to create things to remember our babies, doesn't it? In solidarity, Chrissy."
The flower appears to be an orchid, and this would certainly be a natural choice for Teigen: She is Thai on her mother's side, and per Culture Trip, Thailand is a major exporter of orchids to the world. According to Flower Meaning, white orchids symbolize "reverence and humility, innocence and purity, and elegance and beauty." Whatever the significance, this origami creation is a beautiful memento of someone who will always be in the Teigen-Legend family's hearts.