The Truth About Kobe Bryant's Daughter's Ski Accident
A holiday family ski trip resulted in a scare for one of the surviving daughters of basketball legend Kobe Bryant. Bryant's oldest daughter, Natalia, has been spending the holiday season with mom Vanessa and younger sisters Bianka and Capri, along with singer Ciara and her family (via US Weekly). Their adventures have been chronicled in Vanessa's Instagram account, including this mom-daughter selfie in which she affectionately calls Natalia "Nani-Banani." 
The fun was cut short — temporarily — when 17-year-old Natalia sprained her wrist and finger on the trip. No word yet on whether the accident happened on the slopes, at their hotel, or elsewhere, but fortunately the injury appears to be minor. Vanessa joked on her Insta post, "This is payback for making fun of daddy's fingers." She included a video of Natalia receiving treatment from family friend Dr. Dustin R. Glass, a chiropractor who works with sports teams, explaining that "Natalia and his eldest daughter, Shayna, were in ballet together."
The event closed out a tragic year for the Bryants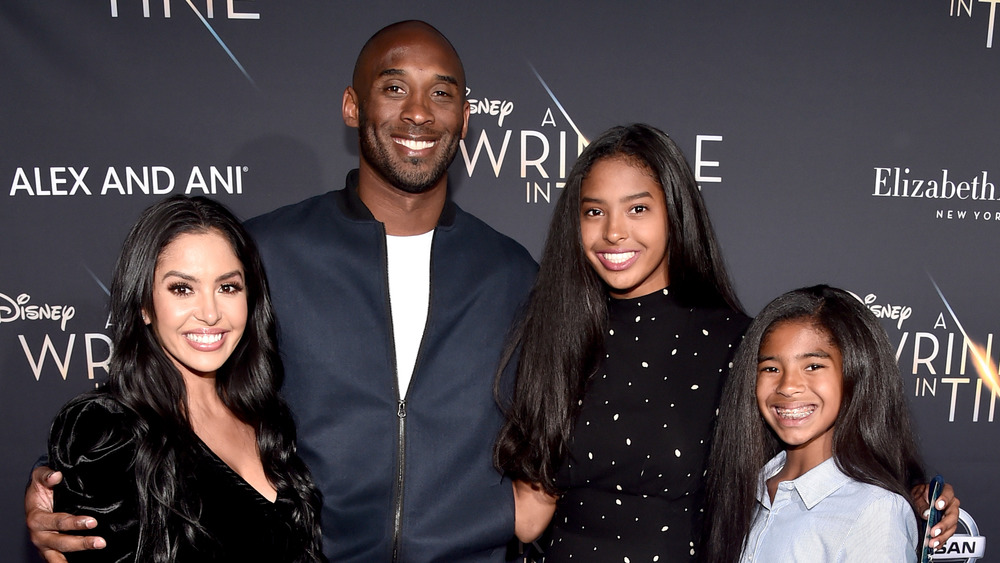 Alberto E. Rodriguez/Getty Images
It was an unwelcome capper to a horrific year for the Bryants. At the end of January, Lakers star Kobe Bryant and his 13-year-old daughter Gianna were among the nine people tragically killed in a helicopter accident en route to a basketball game where Kobe was expected to coach as Gianna played (per CNN). Vanessa was left a young widow struggling to cope and stay strong for her surviving daughters, but the letter she wrote on Kobe's birthday said it all: "Our lives feel so empty without you and Gigi. I've been completely broken inside. As much as I want to cry, I put a smile on my face to make our daughters' days shine a little brighter. I'm not the strong one, they are" (per NBC).
To make things still more stressful, Vanessa's own mother filed a lawsuit in December demanding $5 million and a house as compensation for work she did as a "personal assistant and nanny" to the family (as reported by USA Today). Bryant denies the claims, saying her mom only babysat for the older girls.
The video of Natalia's injury ends with Vanessa receiving a back manipulation from Dr. Glass. Who could blame her for needing a little stress relief?