The Film Series You Forgot Larry King Was In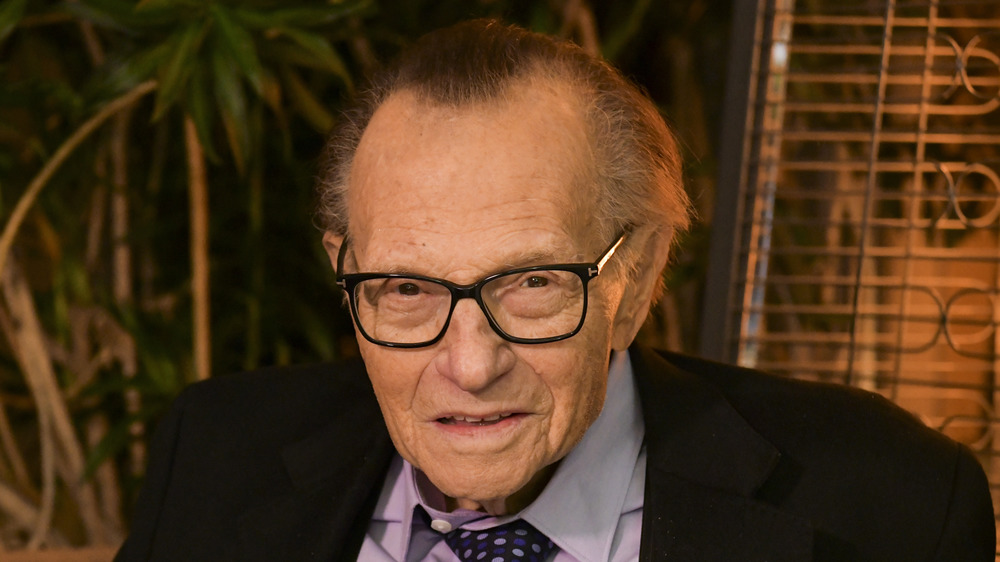 Rodin Eckenroth/Getty Images
As news broke on Saturday that Larry King was hospitalized with COVID-19, thoughts and prayers flooded in from famous and non-famous fans alike. Fellow broadcaster Keith Olbermann tweeted, "...Larry is a loyal friend and his skill at, and knowledge of broadcasting, is limitless. He also treats every small kindness as if it's the most generous act ever." People are sharing memories and favorite moments from King's long history in radio and TV, including his 25 years as host of Larry King Live (per Britannica), and his current stint as lead host of Larry King Now on the Ora network, where he continues to interview personalities as diverse as Chrissy Teigen, 50 Cent, and the Dalai Lama.
True King fans know that the legendary host has also done a host of movie and TV appearances, often appearing as himself (as listed in TV Guide). One of his earliest appearances was in the original Ghostbusters, in which he was seen announcing a topic on his radio show: "The phone-in topic today: ghosts and ghostbusting" (per IMDb). But one of his most famous film roles is also one of his funniest, and the one that today's kids know best — even if they don't realize it.
Larry King played a recurring role in the Shrek movies
Larry King loves appealing to all viewers, as evidenced by his appearance on Sesame Street as himself (via SchoolTube), interviewing the letter W and getting confused over a caller who declares that her favorite W word is "why." But his famous gravelly voice also made the host the perfect fit to play Doris, the Ugly Stepsister, in the Shrek franchise, starting with Shrek 2 (via IMDb). He first appears as the surly bartender at the Poison Apple, where Fiona's father goes in search of someone who can bump off his ogre son-in-law. The character was revived in Shrek the Third, this time as an ally of Fiona and the other fairy-tale princesses (while stepsister Mabel takes over as the resident meanie behind the bar) and again, briefly, in Shrek Forever After. 
King also lent his voice to Doris in a special feature released along with the Shrek 2 DVD: Far Far Away Idol. Here, viewers could watch the movie characters singing (and getting judged by Simon Cowell as himself), then vote online or by phone for their favorite. Once again, America showed its love for the legendary host: King's Doris sang "Girls Just Wanna Have Fun" and walked away with first place over such contenders as Shrek, Fiona, and Donkey (via Wayback Machine).