The Truth About Larry King's COVID-19 Diagnosis
Rodin Eckenroth/Getty Images
Longtime television host Larry King has been hospitalized with COVID-19. While many details are scarce, multiple outlets have reported that King had been sick for at least 10 days prior to his hospitalization. Page Six has also reported that Larry King may have been particularly vulnerable to COVID-19 due to his previous health scares, which have included a heart attack, a stroke, prostate cancer, lung cancer, and diabetes.
A source close to King's family told ABC News that everyone is hoping for the best. "Larry has fought so many health issues in the last few years and he is fighting this one hard too, he's a champ."
So far, King's family and representatives have declined to issue a formal statement about his status, but Page Six reports that no family have been able to visit him in the hospital due to COVID-19 safety protocol.
Two of Larry King's children died last year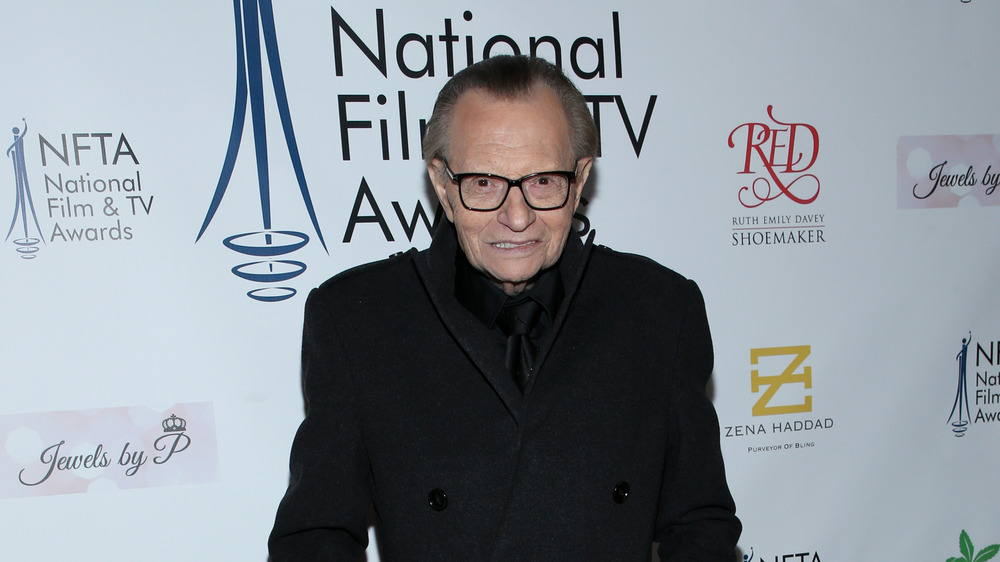 Phillip Faraone/Getty Images
Like a lot of us, Larry King and his family weathered a particularly rough 2020. King's son, Andy, died following a heart attack at the age of 65, and his daughter, Chaia, died from lung cancer only weeks after at age 51. 
At the time of their passing, People reported Larry King announced the deaths of his children in a post written on Facebook. "It is with sadness and a father's broken heart that I confirm the recent loss of two of my children, Andy King, and Chaia King. Both of them were good and kind souls and they will be greatly missed. Losing them feels so out of order. No parent should have to bury a child. My family and I thank you for your outpouring of kind sentiments and well wishes. In this moment, we need a little time and privacy to heal. I thank you for respecting that."
King also told People that at the age of 86, he no longer worried about death. "I'm 86 and it is what it is. I just want to keep working until the end. I'd like to die at work — I'll retire right there!"